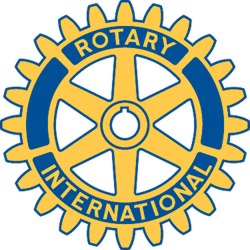 Rotary Club of New Bedford, MA - Weekly GAM
GAM...A nautical term describing the exchange of news between vessels departing from and returning to their ports...
February 7, 20187
This Week
"It is raining and you are doing nothing about it." City Councilor and former Rotarian, Linda Morad, came by this week to share information about the city as well as some constituent stories. A lifelong New Bedford resident, Linda's service on the city council started 12 years ago representing Ward One. Currently, she serves the whole city as Councilor-at-Large. She talked about the amazing opportunity to speak to politicians in Iraq that wanted to know how our city was run so they could run their own city. (Personally, I remember her as the soup lady and running the Battle of the Bells for Rotary.) She has stated her intention to return to Rotary and even took an application with her. We look forward to seeing her soon.
* For those looking for it, there was no GAM last week. We had an evening social at the Pasta House with Charlene Jarest, ADG (and DGED) and Linda, John's wife as our guests.
Rotary Minute. The President pointed out that the Wamsutta Club has our original charter from 1921 hanging on the closet door and sporting our original club number 999. (Does that make us one of the first 1000 Rotary Clubs ever?) Today our club number is 6669.
PRESIDENT'S VALENTINE'S ALUMNI MEMBERSHIP CHALLENGE: Less than a week to go!!! We have had one alumni already return. Let's find more.
VISITORS AND GUESTS: Guest Speaker – Linda Morad, New Bedford City Councilor and former Rotarian.
Next Week
February 14th – Lunch at the Wamsutta. Our Guest Speaker will be is Matthew H. Roy, Ph.D., Assistant Vice Chancellor for Civic Engagement at UMASS Dartmouth and Fall River Rotarian. He will talk about the UMass Dartmouth Leduc Center for Civic Engagement as well as have FREE TICKETS for the Rev. Dr. Robert Lawrence Civic Engagement Summit Lectures which will feature speakers from the Moth Speakers Series.
UPCOMING EVENTS:
February 21st – Program TBA (Possibly another former Rotarian)
February 28th – MILLION DOLLAR MEAL. Salvation Army Volunteer Luncheon. 619 Purchase St, NB
PLEASE NOTE THREE ITEMS
1. Please RSVP by 12/14
2. This lunch starts at NOON so please be on time.
3. We ask all club members to pay for Million Dollar Meals whether they attend or not.
March 6th – Monthly Board Meeting. 5-7. Fire System's Inc. All are welcome.
March 7th – Program TBA
April 26th – SAVE THE DATE – RotaFest 2018
Odds and Ends
ROTAFEST 2018 – 11 weeks to go
Check out the sponsor/restaurant page on our website. http://newbedfordma.clubwizard.com/RotaFestSponsors.cfm. Restaurants and sponsors will be listed here as well as getting a shout-out on the page. We also share their name on the radio as well as in press releases. We have put together a letter you can bring if a restaurant needs it. Email Peter to ask for it. You can tell them that proceeds "benefit the Rotary Club of New Bedford and the local charities it helps support".
Now for the updates:
Restaurants – Fay's has been secured by Michelle. As noted prior, Marc has Texas Roadhouse returning. Kristen has reached out to Fathoms. See the last GAM for other restaurants being approached. Please get these soon as we need names on the poster.
Sponsors – No updates. Still just Fire Systems Inc. (who we love!!)
Tickets – Marlene has reported selling 6 already. She handed out more to members in attendanc this week.. As a reminder, the club approved the ticket promotion that any Rotarian that sells 10 tickets, gets an additional one FREE!!
Future updates – We will be looking for auction items soon. (And scratch tickets. And probably wine bottles and baskets)
DUES DUE
Please let Lisa know if you still need an invoice.
NEW BEDFORD ROTARY ON SOCIAL MEDIA
Don't forget to Like, Follow and whatever else folks do with pages they enjoy on Facebook. Check us out at www.facebook.com/Rotary-Club-of-New-Bedford-157486620934253/
DISTRICT AND RI REMINDERS (if you are interested in attending any of these, please ask a board member for more information)
- ROTARY LEADERSHIP INSTITUTE, Amica Insurance, Lincoln, RI, March 31, 2018 www.rlinea.org
- MULTI-DISTRICT CONFERENCE, 1620 Hotel, Plymouth, MA, May 18-20, 2018
- ROTARY INTERNATIONAL CONVENTION, Toronto, Canada, June 23-27, 2018 www.riconvention.org/en
One More Thing – An Orren Classic
On the eve on an election, the candidate asked the reporter, "Did you cover my last speech?" "I sure hope so," the reporter replied. (It's a thinker…)
Peter A
Cub Reporter
Lisa F
GAM Editor