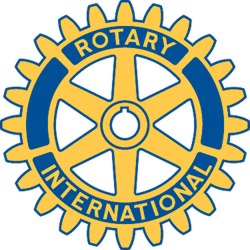 Rotary Club of New Bedford, MA - Weekly GAM
GAM...A nautical term describing the exchange of news between vessels departing from and returning to their ports...
January 24, 20187
This Week
What does a veteran do when he or she needs help? Hopefully they connect with this week's speaker, James "Jim" Gagnon, Commander of New Bedford Chapter #7 of Disabled American Veterans. Telling of his return from Vietnam and discrimination he faced, one could hear in his voice the reason for his passion for his work. The DAV can help all veterans, even ones that were not injured in war. "When others say "No", we say "We'll try"." is Jim's motto. If you know a veteran, have them contact Commander Gagnon at the DAV building located at 19 Willis Street in New Bedford, or call 508-992-3766.
Rotary Minute. You too could be a Rotary Peace Fellow. Each year, Rotary selects up to 100 professionals from around the world to receive fellowships to study at one of our peace centers. Through academic training, practice, and global networking opportunities, the Rotary Peace Centers program develops leaders who become catalysts for peace and conflict prevention and resolution. These fellowships cover tuition and fees, room and board, round-trip transportation, and all internship and field-study expenses. In just over a decade, the Rotary Peace Centers have trained more than 1,000 fellows for careers in peace building. Many of them are serving as leaders at international organizations or have started their own foundations.
PRESIDENT'S VALENTINE'S ALUMNI MEMBERSHIP CHALLENGE: Sharpen those arrows!! Be a Cupid for Rotary and ask someone to join. John and Carl have told me who they asked. Tell me who you are aiming for. (Get it? Cupid with the arrows reference?)
VISITORS AND GUESTS: Guest Speaker – James "Jim" Gagnon, Commander, New Bedford Chapter Disabled American Veterans.
Next Week
January 31st – Evening Social. The Pasta House, 100 Alden Rd, Fairhaven, 5 to 7 pm. Come anytime. PLEASE RSVP.
UPCOMING EVENTS:
February 6th – Monthly Board Meeting. 5:00 pm. Location: Fire Safety Inc., 955 Reed Rd, N. Dartmouth. MA. All are invited.
February 7th – Lunch at the Wamsutta. Our Guest Speaker will be former Rotarian and City Councillor at Large Linda Morad.
February 14th – Program TBA – and Valentine's Day
April 26th – SAVE THE DATE – RotaFest 2018
Odds and Ends
ROTAFEST 2018 – 13 weeks to go
Once again the weekly updates on the progress for RotaFest have begun. The first sponsor sheet is in!!! Thank you Cheryl and Fire Systems Inc. for a Silver Sponsorship. Texas Roadhouse has been secured by Marc who is also going after Applebee's and Olive Garden. Bunny is approaching Matt's Blackboard. Let us know who you are approaching.
And SELL THOSE TICKETS!!! As a reminder, the club approved the ticket promotion that any Rotarian that sells 10 tickets, gets an additional one FREE!!
ANNUAL BASKETBALL GAME FUNDRAISER
Rotarian Joe A. shared information about a fundraiser for his parent's scholarships (Joao & Elce Andrade Memorial Scholarship Fund). It will be Saturday, January 27th, 2-4 pm, in the NBHS gym. Donations are only $10 with kids under 12 free.
DUES DUE
Please let Lisa know if you still need an invoice.
NEW BEDFORD ROTARY ON SOCIAL MEDIA
Don't forget to Like, Follow and whatever else folks do with pages they enjoy on Facebook. Check us out at www.facebook.com/Rotary-Club-of-New-Bedford-157486620934253/
DISTRICT AND RI REMINDERS (if you are interested in attending any of these, please ask a board member for more information)
- MID-YEAR/PRE-PETS MEETING, White's of Westport, February, 10, 2018
- ROTARY LEADERSHIP INSTITUTE, Amica Insurance, Lincoln, RI, March 31, 2018 www.rlinea.org
- MULTI-DISTRICT CONFERENCE, 1620 Hotel, Plymouth, MA, May 18-20, 2018
- ROTARY INTERNATIONAL CONVENTION, Toronto, Canada, June 23-27, 2018 www.riconvention.org/en
One More Thing – An Orren Classic
They were rather late in starting for the station and his wife said, "You run ahead, dear, and hold the train." "Yeh!" he answered sarcastically, "And what particular hold would you like me to use - the head-lock, scissors or half-nelson?"
Peter A
Cub Reporter
Lisa F
GAM Editor