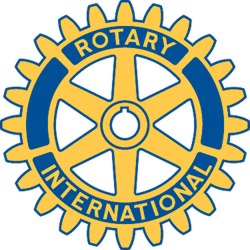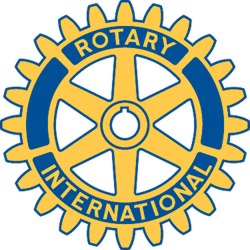 Rotary Club of New Bedford, MA - Weekly GAM
GAM...A nautical term describing the exchange of news between vessels departing and returning from its port...
2008
This Week
The "New Boss" enthusiastically opened today's meeting right on time, beaming with pleasure at seeing four large tables almost filled to capacity!
The program was a captivating tale by best selling author Casey Sherman - a tale of sorrow, deceit,depravity, cover-up, intrigue, and of course murder; as reported in his extensively researched book A Rose for Mary - a complex, and to this day really unresolved, story of Albert DeSalvo, the so-called Boston Strangler. Casey's aunt, Mary Sullivan, was ostensibly the last victim of the noted serial killer in 1964, but to Casey the nagging suspicion that Albert DeSalvo had confessed to the killing of a total of eleven women in the Boston area only to gain personal fame, sent him on a lengthy search uncovering a multitude of cover-ups and bungled investigations, and left him with a clear conviction that the authorities, in a desperate effort to calm the fears of Boston residents "never got the right man!" Albert DeSalvo was stabbed to death in Walpole Prison in 1973, just a day before he was to finally tell the truth about his role in the killings. Casey Sherman is also the author of four other books - his newest a tale of Coast Guard heroism off the coast of Cape Cod in the '50's, is due out shortly. Rotarians who would like a signed copy of A Rose for Mary or any of Mr. Sherman's books, can arrange for same through pres-elect Bob Smith.
Visiting today was Joy Freitas, wife of Alan and "the other woman" to past pres Carol, so we're told.
Coming Attractions
Board meeting, Tuesday the 9th at Tom Riley's office, 4:30 PM. Good place for a make-up if you need one.
Operation "Clean Sweep", Saturday, Sept. 20th - an opportunity for Rotarians to engage in a bit of public service. Check with Linda Morad for more on this.
Creative Solutions for the 21st Century, Friday the 12th, 4:30 PM at the Corson Maritime Learning Center, 33 William Street in Downtown New Bedford. An all-star line-up of speakers will be moderated by State Senator Mark Montigny. Interested? More info at 508-984-1588. RSVP by 9/8. "It's about the future!"
Next Week
Sept. 10th our program will be either the New Bedford Regional Airport manager, a representative of the up-coming Working Waterfront Festival, or perhaps both! Two important New Bedford items, to be sure.
Odds & Ends
Kathy Castro, chair of the Vocational Education Committee, announced that the Committee has decided to form an Interact Club within the New Bedford High School. Interact is a "junior" Rotary Club for high school age children. They are also firming up plans for a co-project with the New Bedford Public Library.
And speaking of Kathy - don't forget the great Boston Red Sox Tickets raffle to benefit the St. Anne's Hospital Hudner Oncology Center. Kathy says she'll have tickets next Wednesday.
Treasurer Rich (appropriately named) reminds members that Dues are Due! Reminders have been sent out. If you are unsure whether you've paid or not, contact Rich Medike at 508-997-0029
And Finally
"Doc", said he, "if there is anything the matter with me, don't frighten me half to death by giving it a scientific name. Just tell me what it is in plain English." "Well', said the doctor, "to be frank with you, you are just plain lazy". "Thank you doctor," sighed the patient with relief. "Now give me a scientific name for it, so I can go home and tell the missus".
Orren Robbins
GAM Editor
P.S. Those who missed Rotary this week, missed a verrrrrrrrrry interesting speaker!