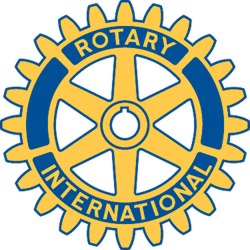 Rotary Club of New Bedford, MA - Weekly GAM
GAM...A nautical term describing the exchange of news between vessels departing from and returning to their ports...
December 20, 2017
This Week
HAPPY HOLIDAYS!!! Santa's elves filled the Wamsutta Club this past Wednesday in order to wrap the gifts for the Bridge. This hard working group managed to wrap 64 gifts in under a ½ hour. Then a small group, led by the "Big Man in the Red Suit" (not Spiderman), climbed in the sleigh caravan of cars and headed over to the Bridge House. Starting with some caroling, Santa helped these 16 young boys and girls kick off their holiday season. Thank you to all the Rotarians, the "Walmart" team of Linda and Paula for picking up the gifts and especially "Our Santa Riley" for spreading a little bit of holiday cheer for families that are not having the best of times right now.
Rotary Minute Monkey Money – For many years, our club had a monkey shaped bank that was put out at every meeting. Money donated by club members was used to buy milk for the poor.
PRESIDENT'S VALENTINE'S ALUMNI MEMBERSHIP CHALLENGE: Two months down and two months to go on this challenge (give or take…). What is the status of your ask? Anyone used it as an excuse to meet someone they did not already know?
VISITORS AND GUESTS: SANTA!!!!
Next Week
December 27th – No meeting. Enjoy the holidays
UPCOMING EVENTS:
January 2nd – Board Meeting moved to the following week
January 3rd – No meeting. Enjoy the holidays
January 9th – Monthly Board Meeting. 5:00 pm. Location: Fire Safety Inc., 955 Reed Rd, N. Dartmouth. MA. All are invited.
January 10th – Lunch at the Wamsutta. Annual Yankee Swap. Please bring a wrapped gift to exchange with a value of no more than $10.
January 17th – Program TBD.
April 26th – SAVE THE DATE – RotaFest 2018
Odds and Ends
ANNUAL YANKEE SWAP
Always a fun event, we ask everyone attending the meeting on January 10th at the Wamsutta to bring a wrapped gift of about $10 value (or don't, it is really up to you). It can be something new, something you are re-gifting or something you cleaned out of your workshop as Mark T. used to do.
YOU AND ROTARY WEBSITES
There are two Rotary websites that you have a profile on.
1. The first is our club website www.newbedfordrotary.com. Sign in using the "For members…" in the blue column on the left. You can add a photo of yourself, a website for you or your company and other information that visitors to the website can see. If you don't know how to log in, the pres/webmaster can resend your invite email.
2. Second, the Rotary International site of My Rotary https://my.rotary.org . This is the information the national organization has about you. No pictures needed for this profile, but it will connect you with everything Rotary International has to offer. Go to the site and create an account. It will ask for your membership number which will be on your monthly copy of "The Rotarian".
ROTAFEST 2018
SAVE THE DATE – APRIL 26, 2018 – Same time and place as last year. This is our biggest fundraiser and we need everyone's help. Start approaching restaurants to come and serve food. Think about businesses to be sponsors or give auction items. Who will you be inviting to (aka selling ticket to…) this amazing event? Any questions about the event, ask RotaFest Chair Carole.
DUES DUE
Unfortunately the treasurer was unable to attend the meeting this week to hand out invoices. Please let us know if you need one to generate payment. Dues are $65 and cover you for 6 months. Please contact Lisa for payment information. Thank you for those that have already paid.
NEW BEDFORD ROTARY ON SOCIAL MEDIA
Don't forget to Like, Follow and whatever else folks do with pages they enjoy on Facebook. Check us out at www.facebook.com/Rotary-Club-of-New-Bedford-157486620934253/
DISTRICT AND RI REMINDERS (if you are interested in attending any of these, please ask a board member for more information)
- MID-YEAR/PRE-PETS MEETING, White's of Westport, February, 10, 2018
- ROTARY LEADERSHIP INSTITUTE, Amica Insurance, Lincoln, RI, March 31, 2018 www.rlinea.org
- MULTI-DISTRICT CONFERENCE, 1620 Hotel, Plymouth, MA, May 18-20, 2018
- ROTARY INTERNATIONAL CONVENTION, Toronto, Canada, June 23-27, 2018 www.riconvention.org/en
One More Thing – A Lisa Classic
Anyone who believes that men are equal to women has never seen a man trying to wrap a Christmas present!!
Peter A
Cub Reporter
Lisa F
GAM Editor