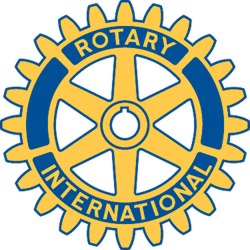 Rotary Club of New Bedford, MA - Weekly GAM
GAM...A nautical term describing the exchange of news between vessels departing from and returning to their ports...
December 13, 2017
This Week
"'Tis the season not to stress out, fa la la la la….." Well, maybe not the best song lyrics but this week's guest speaker, Kelly Morrell, gave us much to think about in "Discovering Coping Skills". She describes herself as an energy healer, writer and motivational speaker. Helping to show the difference between coping mechanisms and coping skills, she gave us ideas on how to lead a more healthy and happy lifestyle. Her topics can also be found in her book Blossom & Leap, soon to be available to the public. Her talk was both informative and fun. Thank you for sharing with us, Kelly.
Rotary Minute In 2007, in conjunction with the Martha's Vineyard Rotary Club, our club raised money for wheelchairs to be purchased and distributed in Peru. Ron Melbourne, Club President '05-'06, spent several days in Peru with other Rotary members distributing the wheelchairs. Check out the photos on our website. http://newbedfordma.clubwizard.com/PhotoAlbum.cfm?AlbumID=3284
New Member News We missed Craig at the meeting this week. Hopefully, we can induct him next week.
PRESIDENT'S VALENTINE'S ALUMNI MEMBERSHIP CHALLENGE: Check out the list of alumni and ask away!!!
VISITORS AND GUESTS: Guest Speaker Kelly Morrell, author of the soon to be released self-help book "Blossom and Leap". Also in attendance was Joseph A's aunt, a visiting doctor from Cape Verde.
Next Week
December 20th – Lunch at the Wamsutta. This will be the Annual Wrapping of Gifts and Santa Visit to the Bridge Home. If you can take the time, please join us at the Bridge Home after lunch to distribute the presents. Many club member say this event is their "Rotary Moment". Our final meeting for 2017.
UPCOMING EVENTS:
December 27th – No meeting. Enjoy the holidays
January 2nd – Board Meeting moved to the following week
January 3rd – No meeting. Enjoy the holidays
January 9th – Monthly Board Meeting. 5:00 pm. Location: Fire Safety Inc., 955 Reed Rd, N. Dartmouth. MA. All are invited.
January 10th – Lunch at the Wamsutta. Annual Yankee Swap. Please bring a wrapped gift to exchange with a value of no more than $10.
January 17th – Program TBD.
April 26th – SAVE THE DATE – RotaFest 2018
Odds and Ends
DUES DUE
Consider this your first notice that dues are due by the end of the year. They are $65 and cover you for 6 months. Please contact Lisa for payment information.
ANNUAL YANKEE SWAP
Always a fun event, we ask everyone attending the meeting on January 10th at the Wamsutta to bring a wrapped gift of about $10 value. It can be something new, something you are re-gifting or something you cleaned out of your workshop as Mark T. used to do.
MILLION DOLLAR MEAL
The Salvation Army Presents Lunch we did on 12/6/17 has traditionally been a Million Dollar Meal. Through an error in communication, it was not mentioned before the lunch. (For those that don't know Million Dollar meal is a way for the club to raise funds by having all member pay for lunch even if they did not attend.) So despite our error of omission, we ask all club members to honor this tradition and pay for the lunch the next time you can. THANK YOU to all those members that paid up this past week.
ROTAFEST 2019
SAVE THE DATE – APRIL 26, 2018 – Same time and place as last year. This is our biggest fundraiser and we need everyone's help. Start approaching restaurants to come and serve food. Think about businesses to be sponsors or give auction items. Who will you be inviting to (aka selling ticket to…) this amazing event? Any questions about the event, ask RotaFest Chair Carole.
RESIGNING MEMBERS
The club has recently received resignations from Beatriz Oliveira and Russell Whynacht, both citing business obligations. We thank them for their service and hope they return very soon. We will miss them. (This makes the Valentine's Membership Challenge all that more important!!)
NEW BEDFORD ROTARY ON SOCIAL MEDIA
Don't forget to Like, Follow and whatever else folks do with pages they enjoy on Facebook. Check us out at www.facebook.com/Rotary-Club-of-New-Bedford-157486620934253/
DISTRICT AND RI REMINDERS (if you are interested in attending any of these, please ask a board member for more information)
- MID-YEAR/PRE-PETS MEETING, White's of Westport, February, 10, 2018
- ROTARY LEADERSHIP INSTITUTE, Amica Insurance, Lincoln, RI, March 31, 2018 www.rlinea.org
- MULTI-DISTRICT CONFERENCE, 1620 Hotel, Plymouth, MA, May 18-20, 2018
- ROTARY INTERNATIONAL CONVENTION, Toronto, Canada, June 23-27, 2018 www.riconvention.org/en
One More Thing – "Notes from North Carolina" – By Alan F.
We just heard from Bill Bailey… He's not coming home. (Editorial note: Alan, how old is this joke?)
Alan F
GAM Contributor
Peter A
Cub Reporter
Lisa F
GAM Editor