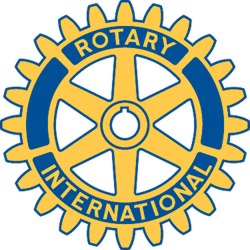 Rotary Club of New Bedford, MA - Weekly GAM
GAM...A nautical term describing the exchange of news between vessels departing from and returning to their ports...
December 6, 2017
This Week
Another New Bedford Rotary Club tradition, setting up the toys for the Salvation Army, was held this week. With help from many people from Alferes Realty and FSI, we played the role of Santa's helpers unloading hundreds of toys for distribution to needy New Bedford families. Thank you to Alferes and FSI for the help. Thank you to Major Parkhurst for supplying lunch. This meeting is one every Rotarian should attend at least once.
Rotary Minute Dateline 1921 (the year our club was founded) – Popular films include Charlie Chaplin's "The Kid" and "The Sheik" with Rudolf Valentino. Franklin D. Roosevelt's paralytic illness strikes while he is vacationing on Campobello Island; he is diagnosed with polio. Harry Houdini starts Houdini Pictures Corp. Amelia Earhart takes first flying lesson and buys her first plane.
New Member News We are happy to announce that Craig Dutra of Orsted/Bay State Wind and former New Bedford Rotarian has had his membership application approved and is schedule to be inducted at our next meeting at the Wamsutta Club. Welcome Back, Craig.
PRESIDENT'S VALENTINE'S ALUMNI MEMBERSHIP CHALLENGE: What alumni are you reaching out to invite back into the club? Share the V-day love, and contact someone soon.
VISITORS AND GUESTS: As mentioned above we had several people from Alferes Realty and FSI. Thank you to Frank and Cheryl for inviting them.
Next Week
December 13th – Lunch at the Wamsutta. Our speaker will be Kelly Morrell, budding local author. Her topic will be "Discovering Coping Skills", just in time for the holiday season.
UPCOMING EVENTS:
December 20th – Lunch at the Wamsutta. This will be the Annual Wrapping of Gifts and Santa Visit to the Bridge Home. If you can take the time, please join us at the Bridge Home after lunch to distribute the presents. Many club member say this event is their "Rotary Moment".
December 27th – No meeting. Enjoy the holidays
January 2nd – Board Meeting moved to the following week
January 3rd – No meeting. Enjoy the holidays
January 9th – Monthly Board Meeting. 5:00 pm. Location: Fire Safety Inc., 955 Reed Rd, N. Dartmouth. MA. All are invited.
January 10th – Lunch at the Wamsutta. Annual Yankee Swap. Please bring a wrapped gift to exchange with a value of no more than $10.
January 17th – Program TBD.
Odds and Ends
RINGING OF THE BELLS
Thank you Ellen for organizing this year's Ringing of the Bells. In addition to overseeing it, she covered the shift of a Rotarian that got sick at the last minute. Thank you to Cheryl for running support and a big thank you to all the Ringers: Stu, Tom, Carole, Lisa, Joe M. and his wife, Ellen, Marc, Craig and guest ringer Attorney David Prentiss, recruited by Linda.
FROM THE BOARD MEETING
The board meeting was held on 12/5. The board recognize all the hard work done by the Breakfast with Santa and Ringing of the Bells committees. The board tabled the discussion about raising dues until we have more information on our budgetary needs. Dues will be $65 due by the end of the year. As a reminder, dues are currently $130 annually.
100% FOR NOVEMBER
Rotarians with 100% attendance (including makeups) for November include Cheryl, Lisa, Carole, Marc, Jerry, Peter, Ellen, Paula, Michelle and Linda. Hopefully I have not missed anyone. Great job everyone!!!
DUES DUE
Consider this your first notice that dues are due by the end of the year. They are $65 and cover you for 6 months. Please contact Lisa for payment information.
NEW BEDFORD ROTARY ON SOCIAL MEDIA
Don't forget to Like, Follow and whatever else folks do with pages they like on Facebook. Check us out at www.facebook.com/Rotary-Club-of-New-Bedford-157486620934253/
DISTRICT AND RI REMINDERS (if you are interested in attending any of these, please ask a board member for more information)
- MID-YEAR/PRE-PETS MEETING, White's of Westport, February, 10, 2018
- ROTARY LEADERSHIP INSTITUTE, Amica Insurance, Lincoln, RI, March 31, 2018
- MULTI-DISTRICT CONFERENCE, 1620 Hotel, Plymouth, MA, May 18-20, 2018
- ROTARY INTERNATIONAL CONVENTION, Toronto, Canada, June 23-27, 2018 www.riconvention.org/en
One More Thing – An Orren Classic
A doctor who had taken up as his specialty the treatment of skin diseases, was asked by a friend how he happened to select that branch of medicine. "There were three perfectly good reasons", replied the physician. "My patients never get me out of bed in the middle of the night; they never die; and they never get well!"
Peter A
Cub Reporter
Lisa F
GAM Editor