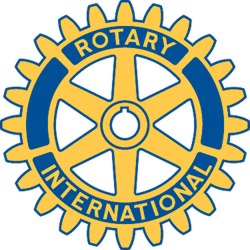 Rotary Club of New Bedford, MA - Weekly GAM
GAM...A nautical term describing the exchange of news between vessels departing from and returning to their ports...
November 29, 2017
This Week
One of the newest eateries in New Bedford, Pub 6T5 Bar and Grill was the location of this month's evening social. With close to a dozen Rotarians and quests, there was a good sampling of the appetizer menu and even a signature pizza. Owner Rick Trapilo stopped by the table often to chat as chef Henry Bousquet brought out the food. Check them out as it was quite tasty.
Rotary Minute
Last one for Rotary Foundation Month. Over 35 New Bedford Rotary Club Members have become Paul Harris Fellows (some have multiple Fellowships). The Paul Harris Fellow recognition acknowledges individuals who contribute, or who have contributions made in their name, of US$1,000 to The Rotary Foundation of Rotary International.
New Member News
We are happy to announce that Craig Dutra of Orsted/Bay State Wind and former New Bedford Rotarian has put in his application to rejoin the Rotary Club of New Bedford. His membership application will be brought before the board for final approval.
PRESIDENT'S VALENTINE'S ALUMNI MEMBERSHIP CHALLENGE: A few folks have reached out to let me know to whom they will be speaking, which tells me at least some of you were able to open the file. So, have a heart and invite a former Rotarian back by Valentine's DAY.
VISITORS AND GUESTS: Cheryl's Husband, Carl's Wife and Linda's Mom Sister. Also Potential New/Returning Member, Craig Dutra.
Next Week
December 2nd – Ringing of the Bells for the Salvation Army. 9am to 3 pm. Shaw's, State Road, Dartmouth.
December 5th – Monthly Board Meeting. 5:00 pm. Location: Fire Safety Inc., 955 Reed Rd, N. Dartmouth. MA. All are invited.
December 6th – Lunch at the Salvation Army. This week's meeting will be the Annual Stacking of Toys at the Salvation Army at 619 Purchase St, New Bedford. Please RSVP by Monday 12/4. Start time will be at noon..
UPCOMING EVENTS:
December 13th – Lunch at the Wamsutta. Our speaker will be Kelly Morrell, budding local author. Her topic will be "Discovering Coping Skills", just in time for the holiday season.
December 20th – Lunch at the Wamsutta. This will be the Annual Wrapping of Gifts and Santa Visit to the Bridge Home. If you can take the time, please join us at the Bridge Home after lunch to distribute the presents.
December 27th – No meeting
Odds and Ends
RINGING OF THE BELLS (formerly the Battle of the Bells) – December 2nd
NEED HELP!! A Rotarian due to an unexpected family commitment needs their 11 to 1 shift covered. If you are free, please let Ellen know ASAP. As a reminder, we will be at Shaw's on State Road in Dartmouth from 9 am to 3 pm ringing bells for the Salvation Army. Contact Ellen with questions.
BREAKFAST WITH SANTA
Thank you to chairs Marc S. and Michelle L. for bringing together this year's Breakfast with Santa. This event is made successful every year from Rotarians buying and selling sponsorship, placemat ads and tickets to Rotarians serving the food, assisting with Santa Photos, running the craft room and clearing the tables. Thank you Rotarians for all this work. A special thank you to Rick Kidder, our Santa "contact" and Sergio Dabdoub, the Chamber's photographer, for all their help. It was great to see many pictures from the event up on Facebook and in the newspaper. Great job everyone!!!
NEW BEDFORD ROTARY ON SOCIAL MEDIA
Don't forget to Like, Follow and whatever else folks do with pages they like on Facebook. Check us out at www.facebook.com/Rotary-Club-of-New-Bedford-157486620934253/
DISTRICT AND RI REMINDERS (if you are interested in attending any of these, please ask a board member for more information)
- MID-YEAR/PRE-PETS MEETING, White's of Westport?, February, 10, 2018 – INCLUDES Club Secretary and Treasurer Training.
- ROTARY LEADERSHIP INSTITUTE, Amica Insurance, Lincoln, RI, March 31, 2018
- ROTARY INTERNATIONAL CONVENTION, Toronto, Canada, June 24-27, 2018 www.riconvention.org/en
One More Thing – Notes from North Carolina – By Alan F.
"It's easy to grin, when your ship comes in,
And life is a happy lot.
But the guy worthwhile, is the guy who can smile,
When his skivvies creep up in a not."
Alan F
GAM Contributor
Peter A
Cub Reporter
Lisa F
GAM Editor