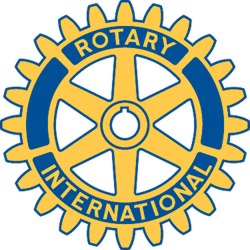 Rotary Club of New Bedford, MA - Weekly GAM
GAM...A nautical term describing the exchange of news between vessels departing from and returning to their ports...
November 22, 2017
(Let's try this again)
This Week
On the first Thanksgiving day, Pilgrims went to church to pray.
Thanked the Lord for sun and rain, thanked Him for the fields of grain.
Now Thanksgiving comes again, praise the Lord as they did then.
Thank him that despite some flaws, we still give thanks and great applause.
Because we are Americans, because we are Rotarians,
Because we live the four way test, we are blessed with a day of rest.
And so we didn't meet today, but I still like to have my say,
And although you may not give a damn, I will still send this week's GAM!
– by Orren Robbins, Reprinted without permission
Have a happy and healthy Thanksgiving!!
Rotary Minute
"The Four-Way Test was created by Rotarian Herbert J. Taylor in 1932 when he was asked to take charge of the Chicago based Club Aluminum Company, which was facing bankruptcy. Taylor looked for a way to save the struggling company mired in depression-caused financial difficulties. He drew up a 24-word code of ethics for all employees to follow in their business and professional lives. The Four-Way Test became the guide for sales, production, advertising and all relations with dealers and customers. The survival of the company was credited to this simple philosophy. Herb Taylor became President of Rotary International during 1954-55. The Four-Way Test was adopted by Rotary in 1943." – Found this at https://portal.clubrunner.ca/8104/Stories/the-four-way-test
New Member News
We are happy to announce that Craig Dutra of Orsted/Bay State Wind and former New Bedford Rotarian has put in his application to rejoin the Rotary Club of New Bedford. His membership application will be brought before the board for final approval.
PRESIDENT'S VALENTINE'S ALUMNI MEMBERSHIP CHALLENGE: Hopefully you received and were able to open the spreadsheet sent with the names of former members and speakers. Based on the success rate of the last one, if all members participate, membership could increase by over 10%. Get out there and ask someone. (No one has asked for an alternate challenge so far.)
Next Week
November 26th – Breakfast with Santa. SEE YOU THERE!!! New Bedford YMCA. 9 am to 11:30 am.
November 29th – Monthly Evening Social. 5-7pm. Join us at Pub 6T5 Bar and Grille, 736 Ashley Blvd, New Bedford. (Formerly the 6th Bristol Club). Please RSVP if you have not already.
UPCOMING EVENTS:
December 2nd – Ringing of the Bells for the Salvation Army. 9am to 3 pm. Shaw's, State Road, Dartmouth.
December 5th – Monthly Board Meeting. 5:00 pm. Location: Fire Safety Inc., 955 Reed Rd, N. Dartmouth. MA. All are invited.
December 6th – Lunch at the Salvation Army. This week's meeting will be the Annual Stacking of Toys at the Salvation Army at 619 Purchase St, New Bedford. We will need RSVP's the week before. Start time will be at noon..
December 13th – Lunch at the Wamsutta. Our speaker will be Kelly Morrell, budding local author. Her topic will be "Discovering Coping Skills", just in time for the holiday season.
December 20th – Lunch at the Wamsutta. This will be the Annual Wrapping of Gifts and Santa Visit to the Bridge Home. If you can take the time, please join us at the Bridge Home after lunch to distribute the presents.
December 27th – No meeting
Odds and Ends
CORRECTION
Last week, the cub reporter misremembered Marc's mini classification and reported he was related to one of the first females in the NYPD. The truth is "My aunt was not one of the first women in the NYPD; however, she was one of hundreds of women police officers who were denied the right to sit for the Sergeant's examination resulting in there being no women in any supervisory capacity in the NYPD. She filed a lawsuit in the 1960's against the City of New York claiming discrimination against women and she won the lawsuit. She took the exam along with about 100 other women police officers and she and one other woman passed the exam and became the first female Sergeants in the NYPD. She eventually became a lieutenant and supervised one of the police precincts in Manhattan."
Sorry Marc.
BREAKFAST WITH SANTA – November 26th
We will be setting up around 8:30 am– Come any time between 8:30 and 11:00 am to the NB YMCA. We could always use the help.
RINGING OF THE BELLS (formerly the Battle of the Bells) – December 2nd
As a reminder, we will be at Shaw's on State Road in Dartmouth from 9 am to 3 pm ringing bells for the Salvation Army. Contact Ellen with questions.
NEW BEDFORD ROTARY ON SOCIAL MEDIA
Don't forget to Like, Follow and whatever else folks do with pages they like on Facebook. Check us out at www.facebook.com/Rotary-Club-of-New-Bedford-157486620934253/
DISTRICT AND RI REMINDERS (if you are interested in attending any of these, please ask a board member for more information)
- MID-YEAR/PRE-PETS MEETING, White's of Westport?, February, 10, 2018 – INCLUDES Club Secretary and Treasurer Training.
- ROTARY LEADERSHIP INSTITUTE, Amica Insurance, Lincoln, RI, March 31, 2018
- ROTARY INTERNATIONAL CONVENTION, Toronto, Canada, June 24-27, 2018 www.riconvention.org/en
One More Thing – An Lisa Classic
Thanksgiving dinners take eighteen hours to prepare. They are consumed in twelve minutes. Half-time takes twelve minutes. This is not coincidence. – Erma Bombeck
Marc S
GAM Contributor
Peter A
Cub Reporter
Lisa F
GAM Editor