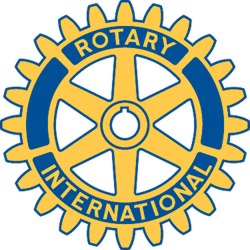 Rotary Club of New Bedford, MA - Weekly GAM
GAM...A nautical term describing the exchange of news between vessels departing from and returning to their ports...
November 15, 2017
This Week
Did you know a club member has a relative that was one of the first females on the NYPD? Did you know at least two club members were not born in the United States? Did you know there is one club member who, if born at a hospital, would not be a club member today? Did you know a member was surprised when she had twins? These and other interesting facts were learned about club members as we did some mini classification talks at this week's meeting. We are do have some interesting folks in our club.
Rotary Minute The Rotary Foundation's first gift was $500 to the International Society for Crippled Children in 1930. What was not shared at the meeting was that this organization eventually became known as Easter Seals. Another RI Foundation goal is polio eradication. This year, only 12 cases (maybe 15 at this point) have been reported so far worldwide in 2017. (Ten years ago, 1315 case were reported.)
New Member News We are happy to announce that Craig Dutra of Orsted/Bay State Wind and former New Bedford Rotarian has put in his application to rejoin the Rotary Club of New Bedford. His membership application will be brought before the board for final approval.
PRESIDENT'S VALENTINE'S ALUMNI MEMBERSHIP CHALLENGE: So if you missed the last two meetings, you will see I teased this in last week's GAM (or I just forgot to write something in the space). The prez has asked each club member to ask a former Rotarian (aka an alumnus) to rejoin the club. A list of former members will be going out soon. If after reviewing the list, you don't know anyone, see the prez for an alternate challenge. Or you could just do a little research and use Rotary as an icebreaker to meet them. This challenge will last until Valentine 's Day where more prizes will be given out. As always, feel free to invite anyone to a club meeting.
VISITORS AND GUESTS: Just us this week.
Next Week
November 22nd – NO MEETING.
UPCOMING EVENTS:
November 23rd – HAPPY THANKSGIVING
November 26th – Breakfast with Santa. SEE YOU THERE!!! New Bedford YMCA. 9 am to 11:30 am.
November 29th – Monthly Evening Social. 5-7pm. Join us at Pub 6T5 Bar and Grille, 736 Ashley Blvd, New Bedford. (Formerly the 6th Bristol Club). Will be looking for an RSVP.
December 2nd – Ringing of the Bells for the Salvation Army. 9am to 3 pm. Shaw's, State Road, Dartmouth.
December 5th – Monthly Board Meeting. 5:00 pm. Location: Fire Safety Inc., 955 Reed Rd, N. Dartmouth. MA. All are invited.
December 6th – Lunch at the Salvation Army. This week's meeting will be the Annual Stacking of Toys at the Salvation Army at 619 Purchase St, New Bedford. We will need RSVP's the week before. Start time will be at noon..
December 13th – Lunch at the Wamsutta. Our speaker will be Kelly Morrell, budding local author. Her topic will be "Discovering Coping Skills", just in time for the holiday season.
December 20th – Lunch at the Wamsutta. This will be the Annual Wrapping of Gifts and Santa Visit to the Bridge Home. If you can take the time, please join us at the Bridge Home after lunch to distribute the presents.
Odds and Ends
BREAKFAST WITH SANTA – November 26th
Marc said it appeared sponsorships would exceed last year's event. Let him know if you know if you know of groups that could use free tickets. Catch Marc and Peter on WBSM with Phil Paleologos at 9:30 am on Monday, November 20th as they promote the event. Also, feel free to come to the Y on November 26th during the event to help serve, clean up, do crafts or assist in many ways. It is a great way to kick of the Christmas season.
RINGING OF THE BELLS (formerly the Battle of the Bells) – December 2nd
As a reminder, we will be at Shaw's on State Road in Dartmouth from 9 am to 3 pm ringing bells for the Salvation Army. Contact Ellen with questions.
100% ATTENDANCE FOR OCTOBER
Per the report at the board meeting the following Rotarians has 100% attendance (when you include makeups) for the month of October – Cheryl, Lisa, Linda, Peter, Carole, Marc and Jerry
NEW BEDFORD ROTARY ON SOCIAL MEDIA
Don't forget to Like, Follow and whatever else folks do with pages they like on Facebook. Check us out at www.facebook.com/Rotary-Club-of-New-Bedford-157486620934253/
DISTRICT AND RI REMINDERS (if you are interested in attending any of these, please ask a board member for more information)
- MID-YEAR/PRE-PETS MEETING, White's of Westport?, February, 10, 2018 – INCLUDES Club Secretary and Treasurer Training.
- ROTARY LEADERSHIP INSTITUTE, Amica Insurance, Lincoln, RI, March 31, 2018
- ROTARY INTERNATIONAL CONVENTION, Toronto, Canada, June 24-27, 2018 www.riconvention.org/en
One More Thing – An Orren Classic
A fiery tempered Southern business from North Carolina man wrote the following letter;
"Sir - my stenographer, being a lady, cannot type what I think of you. I, being a gentleman, cannot think it. You being neither, will understand what I mean!"
Peter A
Cub Reporter
Lisa F
GAM Editor