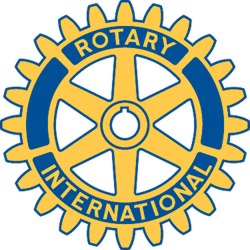 Rotary Club of New Bedford, MA - Weekly GAM
GAM...A nautical term describing the exchange of news between vessels departing from and returning to their ports...
November 8, 2017
This Week
Yes, this is your second GAM this week (if I get it out on Friday). This cub reporter was having email issues last week and did not realize it did not send so it went out just before the Wednesday meeting.
So, "What did I miss at Rotary this week?" you may ask. You missed the opportunity for free tickets to the TEDx New Bedford event this Saturday. Kevin Kertscher, founder of and director/producer at Big Ocean Media Group and co-organizer of the TEDx New Bedford event at the Z was our speaker. He talked about all the wonderful speakers that were coming to speak on this year's them, BEGIN. Then he gave out free tickets to anyone that wanted them.
Rotary Minute
At the 1917 convention, outgoing Rotary president Arch Klumph proposed setting up an endowment "for the purpose of doing good in the world." That one idea set in motion a powerful force that has transformed millions of lives around the globe. The Rotary Club of Kansas City, Missouri made the first contribution to the Rotary Foundation in 1917 ­ $26.50. During the past 100 years, the Foundation has spent $3 billion on life-changing, sustainable projects.
New Member News
We are happy to announce that Craig Dutra of and former New Bedford Rotarian has put in his application to rejoin the Rotary Club of New Bedford. His membership application will be brought before the board for final approval.
PRESIDENT'S VALENTINE'S ALUMNI MEMBERSHIP CHALLENGE:
VISITORS AND GUESTS: Guest Speaker: Kevin Kertscher. Possible Returning Rotarian: Craig Dutra, Longtime Friend of the Club (and lovely lady) Joy Freitas. And some guy named Alan.
Next Week
November 15th – Lunch at the Wamsutta. Program TBA
UPCOMING EVENTS:
November 22nd – NO MEETING.
November 23rd – HAPPY THANKSGIVING
November 26th – Breakfast with Santa. SAVE THE DATE. New Bedford YMCA. 9 am to 11:30 am. See note below for more information.
November 29th – Monthly Evening Social. 5-7pm. Join us at...
December 2nd – Ringing of the Bells for the Salvation Army. 9am to 3 pm. Shaw's, State Road, Dartmouth, SAVE THE DATE. More information below.
December 5th – Monthly Board Meeting. 5:00 pm. Location: Fire Safety Inc., 955 Reed Rd, N. Dartmouth. MA. All are invited.
December 6th – Lunch at the Salvation Army. This week's meeting will be the Annual Stacking of Toys at the Salvation Army at 619 Purchase St, New Bedford. We will need RSVP's the week before. Start time will be at noon..
December 13th – Lunch at the Wamsutta. Our speaker will be Kelly Morrell, budding local author. Her topic will be "Discovering Coping Skills", just in time for the holiday season.
December 20th – Lunch at the Wamsutta. This will be the Annual Wrapping of Gifts and Santa Visit to the Bridge Home. If you can take the time, please join us at the Bridge Home after lunch to distribute the presents.
Odds and Ends
BREAKFAST WITH SANTA – November 26th
Total Collected and Pledged = $2,165.
Total Donations for 2016 = $2,290.
We are in reach of exceeding last year!! Please go out and sell tickets, placemat ads and sponsorships. Marc needs everything in by 11/15 to pull it all together. THANK YOU to Bunny to agree to run the craft room this year. I'm sure she could use a couple of her fellow club members to help.
How can you support this event? Glad you asked.
1. Gold Sponsorships are available for $200. This includes an ad on all the placemats, the business name on a sponsors poster at the event and tickets for two families of four which can be donated to local charities in your name (or used by the sponsor). Ask fellow business folks if they want to support this.
2. Placemat ads (business card size) are $25 each on a placemat design or be on all 6 placemat designs for $130. Great for businesses and other people (the Grinch has an ad every year) to support our club. Also, the second option includes one adult and one child ticket for the event which can be donated to a local charity (or used by the purchaser).
3. Individual tickets are available for sale. $10 for adults, $6 for children, under 3 are free. Do you know any families with small kids that would like to attend?
4. We can use help on the day serving food, cleaning tables, working with Santa or in the crafts room.
RINGING OF THE BELLS (formerly the Battle of the Bells) – December 2nd
As a reminder, we will be at Shaw's on State Road in Dartmouth from 9 am to 3 pm ringing bells for the Salvation Army. Contact Ellen with questions.
BOARD NOTES
1. We will subsidize 2/3 of ticket price P-Bruins Rotary Night for Global Learning Charter School's Interact Club.
2. Allocations were awarded to the Veteran's Transition House and Community Nurse Home Health Care
MAILBAG
We received a thank you from the Kennedy Donovan Center for supporting them with a financial gift.
NEW BEDFORD ROTARY ON SOCIAL MEDIA
Don't forget to Like, Follow and whatever else folks do with pages they like on Facebook. Check us out at www.facebook.com/Rotary-Club-of-New-Bedford-157486620934253/ Did anyone see how many LIKES that Carole's talk recieved?
ANNUAL PROVIDENCE BRUINS NIGHT WITH ROTARY DISTRICT 7950. – Order due 11/15/17
Don't miss out on this great event. See previous GAM for details. Contact Peter to order tickets.
DISTRICT AND RI REMINDERS (if you are interested in attending any of these, please ask a board member for more information)
- P-BRUINS ROTARY DAY FOR POLIO, Providence, RI, December 2, 2017 CONTACT PETER IF YOU WANT TO ATTEND. A 1/3 of the ticket price will be donated to End Polio Now. We are "this close".
- MID-YEAR/PRE-PETS MEETING, White's of Westport?, February, 10, 2018 – INCLUDES Club Secretary and Treasurer Training.
- ROTARY LEADERSHIP INSTITUTE, Amica Insurance, Lincoln, RI, March 31, 2018
- ROTARY INTERNATIONAL CONVENTION, Toronto, Canada, June 24-27, 2018 www.riconvention.org/en
One More Thing – An Orren Classic
In his first visit to Boston and New England a South Carolina man tried to strike up a conversation with a young woman in a bar.
"Do you go to Harvard?", he asked.
"Yale", she said.
"Sorry, DO YOU GO TO HARVARD?", he yelled.
- Editorial Note from last week's "One More Thing" – Prez Peter can't speak Portuguese.
Marc S
GAM Contributor
Peter A
Cub Reporter
Lisa F
GAM Editor