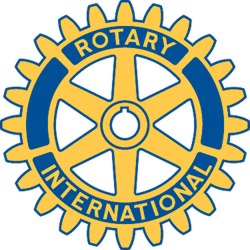 Rotary Club of New Bedford, MA - Weekly GAM
GAM...A nautical term describing the exchange of news between vessels departing from and returning to their ports...
October 25, 2017
This Week
A wonderful time at the Ice House was had by all at this month's evening social. I missed it so I'm guessing that was true. THANK YOU JERRY for putting this together.
Rotary Minute
Check out this video from RI. We are "this close". (if you didn't already see it when I sent it with the P-Bruins night email.)
PRESIDENT'S HALLOWEEN MEMBERSHIP CHALLENGE: Still a few more days until Halloween. I know there have been a few more Rotarians that have completed this and will be recognized at the next meeting.
VISITORS AND GUESTS: Charlie Barrett, Amy Barrett and prospective new member Jinny Kimball – all guests of Cheryl.
Next Week
November 1st – Lunch at the Wamsutta. Our own Carole J. will present a program entitled ""The Reasons I Give to the Foundation". She promises it will be fun. November is Rotary Foundation Month.
UPCOMING EVENTS:
November 7th – Monthly Board Meeting. 5:00 pm. Location: Fire Safety Inc., 955 Reed Rd, N. Dartmouth. MA. All are invited.
November 8th – Lunch at the Wamsutta. Our guest speaker will be Kevin Kertscher, founder of and director/producer at Big Ocean Media Group and co-organizer of the TEDx New Bedford event at the Z
November 15th – Program TBA
November 22nd – NO MEETING.
November 23rd – HAPPY THANKSGIVING
November 26th – Breakfast with Santa. SAVE THE DATE. New Bedford YMCA. 9 am to 11:30 am. See note below for more information.
November 29th – Monthly Evening Social. 5-7pm. Join us at...
December 2nd – Ringing of the Bells for the Salvation Army. 9am to 3 pm. Shaw's, State Road, Dartmouth, SAVE THE DATE. More information below.
Odds and Ends
ANNUAL PROVIDENCE BRUINS NIGHT WITH ROTARY DISTRICT 7950.
As many you know the event is an End Polio Now fundraiser that has become a great Rotary District 7950 tradition. The game night is Saturday, December 2 at the Dunkin' Donuts Center. The game starts at 7:05 and the P-Bruins will be recognizing End Polio Now and Rotary 7950 throughout the pregame festivities and during the game including booths on the concourse, the center-ice video scoreboard and a check presentation at ice level. The tickets for all Rotarians, family and friends are only $15.00 each (looks like tickets run between $24 to $36 normally) and a $5.00 donation will be made to the End Polio Now Campaign for every ticket sold as Rotary District 7950 and the Providence Bruins team up to End Polio Now! Contact Peter if you are interested.
*** Added bonus: The first 2,000 fans receive a free Dunkin' Donuts Mug.
RINGING OF THE BELLS (formerly the Battle of the Bells) – December 2nd
We will be at Shaw's on State Road in Dartmouth from 9 am to 3 pm ringing bells for the Salvation Army. Currently all shifts have coverage but feel free to join a team already in place. Or plan to stop by to cheer on your fellow club members. THANK YOU ELLEN for organizing this year's ringing.
BREAKFAST WITH SANTA – November 26th
THANK YOU RICK KIDDER OF THE SOUTHCOAST CHAMBER for helping us "get in contact" with Santa for the breakfast.
In case we haven't mentioned it, THANK YOU TARA PACHECO AND THE NEW BEDFORD Y for agreeing to be host again this year.
From Marc – "I expect to have posters, flyers and tickets for next week's meeting. I am still waiting for more placemat ads and Gold Sponsorships." (THANK YOU MARC AND MICHELLE for organizing this.)
How can you support this event? Glad you asked.
1. Gold Sponsorships are available for $200. This includes an ad on all the placemats, the business name on a sponsors poster at the event, a mention in any publicity and tickets for two families of four which can be donated to local charities in your name (or used by the sponsor). Ask fellow business folks if they want to support this.
2. Placemat ads (business card size) are $25 each on a placemat design or be on all 6 placemat designs for $130. Great for businesses and other people (the Grinch has an ad every year) to support our club. Also, the second option includes one adult and one child ticket for the event which can be donated to a local charity (or used by the purchaser).
3. Individual tickets are available for sale. $10 for adults, $6 for children, under 3 are free. Do you know any families with small kids that would like to attend?
4. We can use help on the day serving food, cleaning tables, working with Santa or in the crafts room.
NEW BEDFORD ROTARY ON SOCIAL MEDIA
Don't forget to Like, Follow and whatever else folks do with pages they like on Facebook. Check us out at www.facebook.com/Rotary-Club-of-New-Bedford-157486620934253/
DISTRICT AND RI REMINDERS (if you are interested in attending any of these, please ask a board member for more information)
- FOUNDATION DINNER, Venus De Milo, Swansea, MA, November 9, 2017 More information on the district's page www.rotary7950.com JOIN CAROLE AND PETER TO REPRESENT OUR CLUB. PLEASE LET THEM KNOW IF YOU PLAN TO ATTEND.
- ROTARY AT THE UNITED NATIONS DAY, United Nations, New York City, November 11, 2017 www.rotary.org/en/un-day
- P-BRUINS ROTARY DAY FOR POLIO, Providence, RI, December 2, 2017 TALK TO PETER IF YOU WANT TO ATTEND. A 1/3 of the ticket price will be donated to End Polio Now. We are "this close".
- MID-YEAR/PRE-PETS MEETING, White's of Westport?, February, 10, 2018 – INCLUDES Club Secretary and Treasurer Training.
- ROTARY LEADERSHIP INSTITUTE, Amica Insurnce, Lincoln, RI, March 31, 2018
- ROTARY INTERNATIONAL CONVENTION, Toronto, Canada, June 24-27, 2018 www.riconvention.org/en
One More Thing – An Orren Classic
A man in North Carolina (*Editorial note: Who do we know in North Carolina?), accused of horse-stealing was saved from conviction by the powerful plea of his lawyer. After his acquittal by the jury, the lawyer took him aside and asked smilingly.. "Honor bright, now, boy, you did steal that horse, didn't you?" "Now, look a-here Joe," was the reply. "I always did think I stole that horse. But since I heard your speech to the jury, I'll be doggoned if I ain't got my doubts about it myself!"
Marc S
GAM Contributor
Peter A
Cub Reporter
Lisa F
GAM Editor