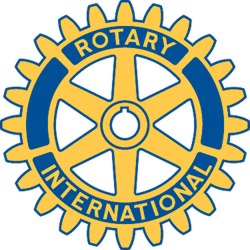 Rotary Club of New Bedford, MA - Weekly GAM
GAM...A nautical term describing the exchange of news between vessels departing from and returning to their ports...
October 18, 2017
This Week
"ALL students will have access to out of school time opportunities that allow them to become active and engaged learners through meaningful academic and social enrichment activities." - Vision Statement of Coaching4Change. Co-founder and President of Coaching4Change (C4C) Marquis Taylor shared with the club the story of how he, as a struggling student from South Central LA, discovered how make his life a success and now is giving back. By combining sports, cross-age mentorships and high academic standards, C4C is looking to start their customizable program in the Greater New Bedford or Fall River area. Check out their story on MSN Sports website www.msn.com/en-us/sports/mlb/hidden-heroes-coaching-for-change/vp-BBzh1Em. You can get more information at the C4C website at www.c4cinc.org
Rotary Minute
" During World War II, Rotary clubs in Austria, Germany, Italy, Japan, and Spain were forced to disband. Despite the risks, many continued to meet informally, and after the war, Rotary members came together to rebuild their clubs and their countries." – From the Rotary International's website. www.rotary.org/en/about-rotary/history
- Do you have Rotary question that could be covered in a Rotary minute? Let the GAM "staff" know and maybe we'll put it in a future issue.
PRESIDENT'S HALLOWEEN MEMBERSHIP CHALLENGE: TWO WEEKS TO GO!! You still have time to earn a great prize. Ask someone this week to join Rotary.
VISITORS AND GUESTS: Guest Speaker - Marquis Taylor, President and co-Founder of Coaching 4 Change. Fall River Rotarian and President Elect Kimberly Smith.
Next Week
October 25th – Monthly Evening Social. Join us at the Ice House Bar & Grill in their Harpoon Room located at 136 Huttleston Ave., Fairhaven. PLEASE RSVP TO JERRY BY MONDAY
UPCOMING EVENTS:
November 1st – Lunch at the Wamsutta. Our own Carole J. will present a program entitled ""The Reasons I Give to the Foundation". She promises it will be fun.
November 7th – Monthly Board Meeting. 5:00 pm. Location: Fire Safety Inc., 955 Reed Rd, N. Dartmouth. MA. All are invited.
November 8th – Lunch at the Wamsutta. Our guest speaker will be Dolores Hirschmann, Founder and CEO of Masters in Clarity and organizer of the TEDx New Bedford event at the Z.
November 15th – Program TBA
November 22nd – NO MEETING.
November 23rd – HAPPY THANKSGIVING
November 26th – Breakfast with Santa. SAVE THE DATE. See note below for information.
November 29th – Monthly Evening Social. Join us at...
December 2nd – Ringing of the Bells for the Salvation Army. SAVE THE DATE. More information below.
Odds and Ends
RINGING OF THE BELLS (formerly the Battle of the Bells)
At the meeting, Ellen got a few more folks signed up but still has space for you. We will be at Shaw's on State Road in Dartmouth from 9 am to 3 pm. Please let her know if you can cover a 2 hour shift at either 11 am (to 1 pm) or 1 pm (to 3 pm). I think the 9 am shift is covered.
BREAKFAST WITH SANTA - UPDATE
Marc has received donations and pledges aggregating $1,000 to date, including the recent Gold Sponsorship from Better Community Living. This is from 9 sources and is well behind last year's $2,300 from 18 sources. The above includes two outside sources solicited by Marc, and he is encouraging our Club Members to try to obtain donations from organizations they know will be pleased to contribute to help needy families attend the Breakfast With Santa. Also, Marc has not received confirmation for anyone to be Santa Claus at the Event. Tom Riley will supply the Santa outfit for anyone who volunteers but does not have their own outfit.
How can you support this event? Glad you asked.
Gold Sponsorships are available for $200. This includes an ad on all the placemats, a the business name on a sponsors poster at the event, a mention in any publicity and tickets for two families of four which can be donated to local charities in your name (or used by the sponsor). Ask fellow business folks if they want to support this.
Placemat ads (business card size) are $25 each on a placemat design or be on all 6 placemat designs for $130. Great for businesses and other people (the Grinch has an ad every year) to support our club. Also, the second option includes one adult and one child ticket for the event which can be donated to a local charity (or used by the purchaser).
Individual tickets are available for sale. $10 for adults, $6 for children, under 3 are free.
We can use help on the day serving food, cleaning tables, working with Santa or in the crafts room.
NEW BEDFORD ROTARY ON SOCIAL MEDIA
Don't forget to Like, Follow and whatever else folks do with pages they like on Facebook. Check us out at www.facebook.com/Rotary-Club-of-New-Bedford-157486620934253/
DISTRICT AND RI REMINDERS (if you are interested in attending any of these, please ask a board member for more information)
- FOUNDATION DINNER, Venus De Milo, Swansea, MA, November 9, 2017 More information on the district's page www.rotary7950.com JOIN CAROLE AND PETER TO REPRESENT OUR CLUB
- ROTARY AT THE UNITED NATIONS DAY, United Nations, New York City, November 11, 2017 www.rotary.org/en/un-day
- P-BRUINS ROTARY DAY FOR POLIO, Providence, RI, December 2, 2017
- MID-YEAR/PRE-PETS MEETING, White's of Westport?, February, 10, 2018 – INCLUDES Club Secretary and Treasurer Training.
- ROTARY LEADERSHIP INSTITUTE, Amica Insurnce, Lincoln, RI, March 31, 2018
- ROTARY INTERNATIONAL CONVENTION, Toronto, Canada, June 24-27, 2018 www.riconvention.org/en
One More Thing – "Notes from North Carolina" – Thanks to Alan F.
Conversation during Orren's last physical checkup …
Doctor: "Mr. Robbins, you're in fine shape, you'll live into your 80's."
Orren: "I AM in my 80's."
Doctor: "See, what did I tell you?"
Alan F
GAM Contributor
Peter A
Cub Reporter
Lisa F
GAM Editor