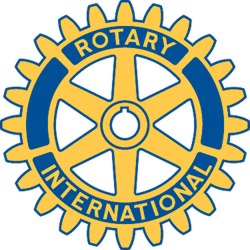 Rotary Club of New Bedford, MA - Weekly GAM
GAM...A nautical term describing the exchange of news between vessels departing from and returning to their ports...
September 27, 2017
This Week
Usually when writing about the monthly social, the "go to" topic is the food and drink that was missed by those not in attendance. But more importantly this month's social saw visits from more former Rotarians. You'll recall last month, Alan and Joy were present. Well this month included not only former Rotarian Nancy and her hubby, Gerry but another one we haven't seen in a while. Past President Ron Melbourne and his youngest (but not so young anymore) daughter also joined us. They were also bearers of good news as they reported the Global Learning Charter Public School will be having an Interact club once again this year, of which his daughter will be a member. We look forward to working with them.
Rotary Minute In case you didn't know, Interact is a Rotary club for young people ages 12-18 who want to join together to tackle the issues in their community that they care most about. Rotary International approved the first Interact club at the Melbourne High School, Florida, USA on November 5, 1962. The name "Interact" came from combining the words "international" and "action". Interact was Rotary's approach to a program that enabled the youth to serve both in their communities and internationally. Do you know a school that could benefit from a club like this?
PRESIDENT'S HALLOWEEN MEMBERSHIP CHALLENGE: Something special will be happening with this challenge starting next week. Let the prez know if you have invited someone to join Rotary even if you haven't got them to lunch.
VISITORS AND GUESTS: Past President Ron Melbourne and his daughter. Also former Rotarian Nancy Dupont and her husband Gerry.
Next Week
UPCOMING EVENTS:
October 3rd – Monthly Board Meeting. 5:00 pm. Location: Fire Safety Inc., 955 Reed Rd, N. Dartmouth. MA. All are invited.
October 4th – Lunch at the Wamsutta. Our speaker will be former Rotarian and Past Club President Craig Dutra, Community Liaison for Bay State Wind/DONG Energy
October 11th – Lunch at the Wamsutta. Our speaker will be Kristen Lancaster, the Neediest Family Fund's Prizeapalooza Chairperson.
October 18th – Lunch at the Wamsutta. Our speaker will be Marquis Taylor, President and co-Founder of Coaching 4 Change.
October 25th – Monthly Evening Social. Join us at the …
November 1st – Program TBA
November 6th – Monthly Board Meeting. 5:00 pm. Location: Fire Safety Inc., 955 Reed Rd, N. Dartmouth. MA. All are invited.
November 26th – Breakfast with Santa. SAVE THE DATE. See note below for information.
December 2nd – Ringing of the Bells for the Salvation Army. SAVE THE DATE. More information below.
Odds and Ends
RINGING OF THE BELLS (formerly the Battle of the Bells)
Ellen G. will be chairing the Ringing of the Bells this year. Thank you Ellen from a former chief "Ding-a-Ling". For those new members, we will ring bells at a Salvation Army kettle location. Many of you know, by the club serving as bell ringers, it means the Salvation Army does not have to pay ringers allowing more of the donations to go to people in need.
Ellen will be contacting everyone but generally we have two hour shifts. Friends and family are welcome to join. So save the date December 2nd and watch for more details.
BREAKFAST WITH SANTA
Yes, Virginia, it's that time again. Marc announced that it is time to start to find sponsors and sell placemat ads for our annual Breakfast with Santa. It is scheduled for Sunday, November 26 at 9am at the New Bedford YMCA. We will be emailing the forms out to those that did not get them at the meeting. We have pictures with Santa, a filling breakfast and crafts for the kids.
How can you support this event? Glad you asked.
Gold Sponsorships are available for $200. This includes an ad on all the placements, a poster at the event, a mention in any publicity and tickets for two families of four which can be donated to local charities in your name. Ask fellow business folks if they want to support this. THANK YOU TO

GOLD STAR REALTY

AND

FIRE SYSTEMS INC

FOR STARTING OFF THE SPONSORSHIPS!!
Placemat ads (business card size) are $25 each on a placemat design or be on all 6 placemat designs for $130. Great for businesses and other people (the Grinch has an ad every year) to support our club. Also includes one adult and one child ticket for the event which can be donated to a local charity.
Individual tickets are available for sale. $10 for adults, $6 for children, under 3 are free. Do you know any families with small kids that would like to attend?
We can use help on the day serving food, cleaning tables, working with Santa or in the crafts room.
NEW BEDFORD ROTARY ON SOCIAL MEDIA
Don't forget to Like, Follow and whatever else folks do with pages they like on Facebook. Check us out at www.facebook.com/Rotary-Club-of-New-Bedford-157486620934253/
STARTING NEXT WEEK - WEEKLY MEETING FEE TO INCREASE
As note before, meeting fees will go to $15 starting October 4th.
DISTRICT AND RI REMINDERS (if you are interested in attending any of these, please ask a board member for more information)
- ZONE 24 & 32 INSTITUTE, Hartford, CT, October 19-22, 2017 Come and hear Rotary International President Ian Riseley and the first female club president Sylvia Whitlock
https://portal.clubrunner.ca/50077/SitePage/2017-hartford-institute-zones-24-32/invitation-to-hartford-zone-institute
- FOUNDATION DINNER, Venus De Milo, Swansea, MA, November 9, 2017 More information on the district's page www.rotary7950.com
- ROTARY AT THE UNITED NATIONS DAY, United Nations, New York City, November 11, 2017 www.rotary.org/en/un-day
- P-BRUINS ROTARY DAY FOR POLIO, Providence, RI, December 2, 2017
- MID-YEAR/PRE-PETS MEETING, White's of Westport?, February, 10, 2018 – INCLUDES Club Secretary and Treasurer Training.
- ROTARY LEADERSHIP INSTITUTE, Amica Insurnce, Lincoln, RI, March 31, 2018
- ROTARY INTERNATIONAL CONVENTION, Toronto, Canada, June 24-27,2018 www.riconvention.org/en
One More Thing – "Notes from North Carolina" – Thanks to Alan F.
Scotch certainly improves with age. The older Orren gets, the more he likes it.
Alan F
GAM Contributor
Peter A
Cub Reporter
Lisa F
GAM Editor