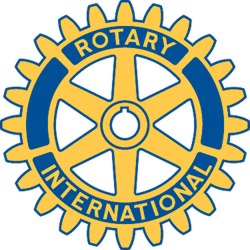 Rotary Club of New Bedford, MA - Weekly GAM
GAM...A nautical term describing the exchange of news between vessels departing from and returning to their ports...
September 20, 2017
This Week
Dr. Trine Erichsen gave her classification talk today. She shared that she has passion to help people though that has not always been easy. Through extensive schooling and a true sense of empathy, Trine has worked at helping many people through counseling. Both in school and institutional settings, her passion for this work was evident in how she spoke. In addition, she also finds time to teach sociology and psychology at the college level. Her family is her other passion. Her father was an immigrant that worked his way up from a deckhand to owning several fishing boats. Her mother, a local businesswoman, continues running her company even after a stroke put her in a wheelchair. And her faced beamed when talking about her kids. Thank your Trine for sharing today.
Rotary Minute As you know, (I hope) our club was chartered in 1921. For perspective, this and future Rotary Minutes will occasionally contain facts about the year 1921. President Woodrow Wilson left office for incoming President Warren G. Harding. Former President of the United States William Howard Taft is sworn in as Chief Justice of the United States, making him the only person ever to hold both positions. And a little contest starts in Atlantic City. Ever heard of the Miss America Pageant?
PRESIDENT'S HALLOWEEN MEMBERSHIP CHALLENGE: Who in your mind exemplifies "Service about Self"? Yes, them… that's the person to ask to an upcoming Rotary lunch.
VISITORS AND GUESTS: Just us this week.
Next Week
UPCOMING EVENTS:
September 27th – Monthly Evening Social. Join us at the Airport Grille from 5 to 7 pm. Please be sure to RSVP by 9/25.
October 3rd – Monthly Board Meeting. 5:00 pm. Location: Fire Safety Inc., 955 Reed Rd, N. Dartmouth. MA. All are invited.
October 4th – Lunch at the Wamsutta. Our speaker will be former Rotarian and Past Club President Craig Dutra, Community Liaison for Bay State Wind/DONG Energy
October 11th – Lunch at the Wamsutta. Our speaker will be Kristen Lancaster, the Neediest Family Fund's Prizeapalooza Chairperson.
October 18th – Lunch at the Wamsutta. Our speaker will be Marquis Taylor, President and co-Founder of Coaching 4 Change.
October 25th – Monthly Evening Social. Join us at the …
November 1st – Program TBA
November 6th – Monthly Board Meeting. 5:00 pm. Location: Fire Safety Inc., 955 Reed Rd, N. Dartmouth. MA. All are invited.
November 26th – Breakfast with Santa. See note below for information.
Odds and Ends
MAILBAG
We received a nice thank you letter from Child & Family Services for the donation of 200 backpacks. They also gave us a nice shout out on their website. www.child-familyservices.org/new-backpacks-for-a-new-school-year-2/
BREAKFAST WITH SANTA
Yes, Virginia, it's that time again. Marc announced that it is time to start to find sponsors and sell placemat ads for our annual Breakfast with Santa. It is scheduled for Sunday, November 26 at 9am at the New Bedford YMCA. We will be emailing the forms out to those that did not get them at the meeting. We have pictures with Santa, a filling breakfast and crafts for the kids.
How can you support this event? Glad you asked.
Gold Sponsorships are available for $200. This includes an ad on all the placements, a poster at the event, a mention in any publicity and tickets for two families of four which can be donated to local charities in your name. Ask fellow business folks if they want to support this.
Placemat ads (business card size) are $25 each on a placemat design or be on all 6 placemat designs for $130. Great for businesses and other people (the Grinch has an ad every year) to support our club. Also includes one adult and one child ticket for the event which can be donated to a local charity.
Individual tickets are available for sale. $10 for adults, $6 for children, under 3 are free. Do you know any families with small kids that would like to attend?
We can use help on the day serving food, cleaning tables, working with Santa or in the crafts room.
NEW BEDFORD ROTARY ON SOCIAL MEDIA
Don't forget to Like, Follow and whatever else folks do with pages they like on Facebook. Check us out at www.facebook.com/Rotary-Club-of-New-Bedford-157486620934253/
WEEKLY MEETING FEE TO INCREASE
In reviewing the budget, the board has decided to a moderate increase in the weekly fee from $14 to $15. This covers the food fee as well as the speaker's lunch and other club incidentals (like the speaker gifts). The last increase in the fee was in March of 2009. This increase will happen for the first meeting in October. Thank you for your understanding.
DISTRICT AND RI REMINDERS (if you are interested in attending any of these, please ask a board member for more information)
- ZONE 24 & 32 INSTITUTE, Hartford, CT, October 19-22, 2017 Come and hear Rotary International President Ian Riseley and the first female club president Sylvia Whitlock https://portal.clubrunner.ca/50077/SitePage/2017-hartford-institute-zones-24-32/invitation-to-hartford-zone-institute
- FOUNDATION DINNER, Venus De Milo, Swansea, MA, November 9, 2017
- ROTARY AT THE UNITED NATIONS DAY, United Nations, New York City, November 11, 2017 www.rotary.org/en/un-day
- P-BRUINS ROTARY DAY FOR POLIO, Providence, RI, December 2, 2017
- MID-YEAR/PRE-PETS MEETING, White's of Westport?, February, 10, 2018 – INCLUDES Club Secretary and Treasurer Training.
- ROTARY LEADERSHIP INSTITUTE, Amica Insurnce, Lincoln, RI, March 31, 2018
- ROTARY INTERNATIONAL CONVENTION, Toronto, Canada, June 24-27,2018 www.riconvention.org/en
One More Thing – "Notes from North Carolina" – Thanks to Alan F.
Former member Alan F. wanted to "raise the level" of the GAM by contributing some humor. It also was to save him from having to read "Orren Classics" again. Once again, these are from ALAN…..
Down here in North Carolina, they have old fashion full-service Barber Shops. On my last visit the cutest gal was giving me a manicure and I said, "How about a date later?"
She said, "I'm married."
I said, "So just call up your husband and tell him you're going to visit a girlfriend."
She said, "Tell him yourself – he's shaving you."
Alan F
GAM Contributor
Peter A
Cub Reporter
Lisa F
GAM Editor