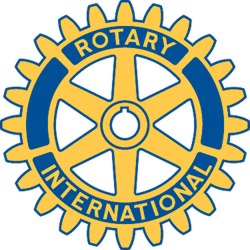 Rotary Club of New Bedford, MA - Weekly GAM
GAM...A nautical term describing the exchange of news between vessels departing from and returning to their ports...
September 6, 2017
A Special Message about Hurricane Relief
I'm sure you have seen several places to donate money and other items to hurricane relief in the U.S.. Rotary supports Disaster Aid USA - a Rotary Project put in place to aid in disasters in the USA and outside the USA (Globally) www.disasteraidusa.org. If you are still looking to contribute please go to their website.
This Week
Double the speakers, double the information. This week's meeting had two speakers who gave out good information and still had everyone on the road by 1:00 pm. As initially advertised, Ryan Methier, the new Athletic Director at Greater New Bedford Regional Vocational Technical High School spoke while we ate, as it was a school day and he had to be back to school quickly. He talked about changes including an interactive display of team pictures going back 100 years as well as improvements to the facilities and the winning record of the school's teams. Then after lunch, as a bonus, Sarah Patterson of S.M.I.L.E.S, a local mentoring program, shared the program's progress and told of the need for mentors in the New Bedford Area. If you or someone you know would be willing to mentor a child, check out their website. www.peopleinc-fr.org/programs/smiles
Rotary Minute When Rotary joined the Global Polio Eradication Initiative as a founding member in 1988, there were over 350,000 cases of polio worldwide. In 2016, there were only 42 reported.
PRESIDENT'S HALLOWEEN MEMBERSHIP CHALLENGE: Halloween is around the corner. Who have you scared up to ask?
VISITORS AND GUESTS: Guest Speakers, Ryan Methier, GNBRVT High School Athletic Director and Sarah Patterson, S.M.I.L.E.S
Next Week
UPCOMING EVENTS:
September 12th – RESCHEDULED Monthly Board Meeting. 5:00 pm. Location: Fire Safety Inc., 955 Reed Rd, N. Dartmouth. MA. All are invited.
September 13th – Lunch at the Wamsutta. Trine told me who the guest speaker was but I lost my notes. Sure to be interesting.
September 20th – Program TBD.
September 27th – Monthly Evening Social. Save the Date.
Odds and Ends
BETTER COMMUNITY LIVING'S ANNUAL SWEET TEMPTATIONS
It's that time again!! Rotarian Tom R. has shared that it is once again time for BCL's Sweet Temptations Wine and Food event. If you like Rotafest, you'll love Sweet Temptaions!! This year's event will be held on October 19, 2017 from 5:00 to 9:00 pm at the Seaport Inn in Fairhaven. Food, wine, auction, raffle and a great cause. Who could ask for more? Sponsorship opportunities available. Help support a fellow Rotarian if you can. www.bettercommunity.com/uncategorized/11th-annual-sweet-temptations-wine-food/
A NEW SCHOLARSHIP PROGRAM
Rotarian Joe A. announced a new initiative he his starting. To honor his parents, he is starting the Joao & Elce Andrade Memorial Scholarship Fund. He hopes to give out 7 scholarship for $500 each to New Bedford High School Seniors starting in 2019. Their inaugural event will be an "afternoon of boxing, featuring local New Bedford boxers." This event will be held on September 23, 2017 from 2:00 to 4:00 pm at the Paul Walsh Field on Maxfield Street, New Bedford. For more information or for tickets, contact Joe A. at 508-264-2016. Help support a fellow Rotarian if you can.
DUES
Did you pay yours? Dues are $130 annually so $65 is due now.
LUNCH PROGRAMS 2017-2018
ONLY 6 5 4 SPOTS LEFT. What are the next months that need to be filled? I'm so glad you asked. January and February need a person so plenty of time to find speakers. January usually has one week as our Yankee Swap meeting so there's one meeting taken care of all ready. Help the club and have some fun.
DISTRICT REMINDERS (if you are interested in attending any of these, please ask a board member for more information)
- RIDE FOR POLIO, Foxboro, MA, September 17, 2017 http://rotary7950.com/event/2017-ride-for-polio/
- ZONE 24 & 32 INSTITUTE, Hartford, CT, October 19-22, 2017 Come and hear Rotary International President Ian Riseley and the first female club president Sylvia Whitlock https://portal.clubrunner.ca/50077/SitePage/2017-hartford-institute-zones-24-32/invitation-to-hartford-zone-institute
- FOUNDATION DINNER, Venus De Milo, Swansea, MA, November 9, 2017
- P-BRUINS ROTARY DAY FOR POLIO, Providence, RI, December 2, 2017
- MID-YEAR/PRE-PETS MEETING, White's of Westport?, February, 10, 2018 – INCLUDES Club Secretary and Treasurer Training.
One More Thing – A Lisa Classic
A teenager with spiked hair, a nose ring and baggy trousers once confided to a friend, "I'm really more of a polo shirt guy myself but this stops my parents from dragging me everywhere with them."
Peter A
Cub Reporter
Lisa F
GAM Editor