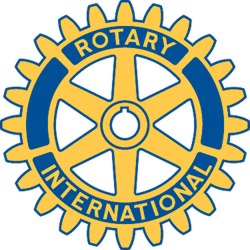 Rotary Club of New Bedford, MA - Weekly GAM
GAM...A nautical term describing the exchange of news between vessels departing from and returning to their ports...
August 23, 2017
This Week
"Most importantly, thank you for all you do" was the sentiment expressed by the District Governor of Rotary District 7950, Steve Certa. Steve and his wife joined us for lunch this week to deliver the annual district message as well as the Rotary International theme of 2017 "Rotary Make a Difference". Traditionally, the DG (that's Rotary shorthand for District Governor, obviously) meets with the board beforehand to review what the club does and the goals for the future. Instead, he asked the club members at lunch to share with him what we do. When we put it all together, the New Bedford Club does truly make a difference. It was nice to hear from him about what Rotary is doing worldwide, as well. Thank you Steve.
Rotary Minutes (First a quick note, at this week's meeting, when quizzed about the Rotary Minute in last week's GAM, only the DG was able to answer the question about Rotary's first service project. I'll try not to be too offended… :) )
In honor of the DG's visit, we found how the New Bedford Club related to that position. Four Past Rotary District Governors came from the New Bedford Club. They were Milton Burghardt, Herschel Heinz, Kim White and Alan Woodacre. There have also been several Assistant District Governors as well.
PRESIDENT'S HALLOWEEN MEMBERSHIP CHALLENGE: About halfway to the challenge date. If we make a difference, imagine the difference we could make if there were more of us. Ask someone today. (Does anyone read this section anymore?)
VISITORS AND GUESTS: District 7950 Governor and his wife, Steve and Paula Certa.
Next Week
August 30th – Monthly Evening Social. 5:00 pm to 7:00 pm. Fay's Restaurant, 613 Dartmouth St, Dartmouth, MA. We are looking for an RSVP for this event. So far, we have 6 attending with 2 maybe's and a handful of unavailables. THERE WILL BE 2 SPECIAL SURPRISE GUESTS THAT WILL SURELY BRING JOY INTO YOUR LIFE. (at least one will)
UPCOMING EVENTS:
September 5th – Monthly Board Meeting. 5:00 pm. Location: Fire Safety Inc., 955 Reed Rd, N. Dartmouth. MA. All are invited.
September 6th – Lunch at the Wamsutta. Our guest speaker will be Ryan Methier (invited by Trine), the new Athletic Director at Greater New Bedford Vocational Technical High School.
September 13th – Program TBD
Odds and Ends
DUES
Dues are due. Lisa has gotten payment from most folks. If you still owe, please send a check ASAP. Dues are $130 annually so $65 is due now.
LUNCH PROGRAMS 2017-2018
ONLY 6 5 4 SPOTS LEFT. October has been taken. Thank you Jerry. What are the next months that need to be filled? I'm so glad you asked. January and February need a person so plenty of time to find speakers. January usually has one week as our Yankee Swap meeting so there's one meeting taken care of all ready. Help the club and have some fun.
DISTRICT REMINDERS (if you are interested in attending any of these, please ask a board member for more information)
- RIDE FOR POLIO, Foxboro, MA, September 17, 2017 http://rotary7950.com/event/2017-ride-for-polio/
- ZONE 24 & 32 INSTITUTE, Hartford, CT, October 19-22, 2017
- FOUNDATION DINNER, Venus De Milo, Swansea, MA, November 9, 2017
- P-BRUINS ROTARY DAY FOR POLIO, Providence, RI, December 2, 2017
- MID-YEAR/PRE-PETS MEETING, White's of Westport?, February, 10, 2018
One More Thing – An Orren Classic
The more we study, the more we know. The more we know, the more we forget. The more we forget the less we know. The less we know, the less we forget. The less we forget, the more we know. So why study?
Peter A
Cub Reporter
Lisa F
GAM Editor