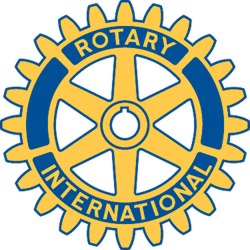 Rotary Club of New Bedford, MA - Weekly GAM
GAM...A nautical term describing the exchange of news between vessels departing from and returning to their ports...
August 16, 2017
This Week
With Pres. Peter missing in action, Carole, your PE, opened the meeting with the regular routine. It included a thank you to Cheryl, whose car had been unloaded by the group, for the work she did to make the backpack project a success. Thanks also to Carol and Russ for working on the grant as well. Pictures were taken and the boxes of school supplies were unpacked with enough to stuff 200 backpacks. An assembly line was set up and organized to make the best use of time and space. We were able to complete the assembly, clean-up and loading of Paula's car to capacity by 1:40. Let's hope she could see well enough to drive back to her office. It was a fun meeting.
A special thanks to contributors Carole and Cheryl since this cub reporter missed the meeting
Rotary Minute Since we did a service project this week, the question is what was the first Rotary service project? In 1907, the Chicago Rotary Club teamed up with the Chicago Association of Commerce to fund and arrange for construction of the first public toilets in the city's burgeoning business district. Talk about "flushing with pride".
PRESIDENT'S HALLOWEEN MEMBERSHIP CHALLENGE: Has anyone heard of this?
VISITORS AND GUESTS: Former Rotarian Paula Borges, C.O.O. of Child and Family Services
Next Week
August 23rd – DID YOU SAVE THE DATE? Lunch at the Wamsutta. We ask all Rotarians to do their best to attend the weekly meeting this week. This is the incoming District Governor's annual visit. We would like to give a strong New Bedford welcome to DG Steve Certa. He has agreed to forgo the additional board meeting before lunch. Please come out to support him and our club.
UPCOMING EVENTS:
August 30th – Monthly Evening Social. 5:00 pm to 7:00 pm. Fay's Restaurant, 613 Dartmouth St, Dartmouth, MA. We will be looking for an RSVP for this event. So far, we have 6.
September 5th – Monthly Board Meeting. 5:00 pm. Location: Fire Safety Inc., 955 Reed Rd, N. Dartmouth. MA. All are invited.
September 6th – Lunch at the Wamsutta. Our guest speaker will be Ryan Methier (invited by Trine), the new Athletic Director at Greater New Bedford Vocational Technical High School.
Odds and Ends
PAW SOX ROTARY DAY FOR POLIO
PE Carole tells us that Charlie Murphy from the Fairhaven club will have a bus going to the game. If you are interested in taking the bus, Carole and Peter can tell you who to contact.
Many clubs are sending members to participate in this annual event at the Pawtucket Red Sox as they take on the Buffalo Bisons to help support Rotary International's Polio Relief Efforts. Join the clubs in the district on August 22nd as they march onto the field for the National Anthem and the First Pitch. Then enjoy box seats (an upgrade from previous years) and a ballpark credit at the snack stands. Game starts at 7:05 pm, so be there early if you want to get on the field. Tickets only $12. Contact Jack Verducci of the Paw Sox at 401-721-5264 or at jverducci@pawsox.com for tickets and information.
DARTMOUTH ROTARY CLUB COMEDY NIGHT
Join the Dartmouth Rotary Club's Annual Comedy Night Fundraiser on August 18th at 6:45 PM at White's of Westport. Always a fun time, tickets are only $15. The event will have door prizes, a silent auction and a cash bar. Call Claude Gelinas at 774-929-7352 to reserve yours and support a fellow club as they have supported our fundraisers.
DUES
Dues are due. Lisa has gotten payment from most folks. If you still owe, please send a check ASAP. Dues are $130 annually so $65 is due now.
LUNCH PROGRAMS 2017-2018
ONLY 6 5 SPOTS LEFT. October is the next available month so plenty of time to find speakers. President Elect Carole has had a few people sign up to do programs this coming Rotary year. She still needs a few more. Please consider taking a lunch or two off her hands. If not, you'll have to hear her speak each week…. after…. week…. after…. week…. after…. week…. after…
DISTRICT REMINDERS (if you are interested in attending any of these, please ask a board member for more information)
- PAW SOX ROTARY DAY FOR POLIO, Pawtucket, RI, August 22, 2017, Game starts at 7:05 pm (info above)
- RIDE FOR POLIO, Foxboro?, MA, September 9?, 2017
- P-BRUINS ROTARY DAY FOR POLIO, Providence, RI, October TBD
- ZONE 24 & 32 INSTITUTE, Hartford, CT, October 19-22, 2017
One More Thing – Dad Jokes Edition*
To jump on a current trend….
- Why do you never see elephants hiding in trees? Because they're so good at it.
- I used to work in a shoe recycling shop. It was sole destroying.
- Did I tell you the time I fell in love during a backflip? I was heels over head.
- I don't play soccer because I enjoy the sport. I'm just doing it for kicks.
- People don't like having to bend over to get their drinks. We really need to raise the bar.
*Courtesy of (stolen from) the Pun.me website.
Carole J.
GAM Contributor
Cheryl B.
GAM Contributor
Peter A
Cub Reporter
Lisa F
GAM Editor