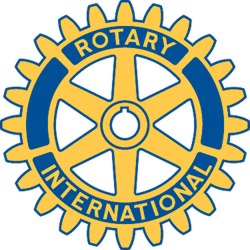 Rotary Club of New Bedford, MA - Weekly GAM
GAM...A nautical term describing the exchange of news between vessels departing from and returning to their ports...
August 9, 2017
This Week
What an incredible meeting. With over 30 people in the room including scholarship recipients, their families, school representatives, Rotarians and even a special guest, the room buzzed with a great energy. Our own vocational chair Rich once again emceed our annual scholarship luncheon much to his delight. Each student rose to read their scholarship essay ranging from heartbreaking to inspiring. These students from New Bedford High School, New Bedford Regional Vocational Technical High School, Global Learning Charter School and Bishop Stang High School are looking to go into several different types of medical fields, social work, accounting and public service. We wish these students well in all their future endeavors.
In order to facilitate the program, we skipped any club announcements so please read below closely as there is new information.
Rotary Minute According to our vocational chair, the Rotary Club of New Bedford has been giving out scholarship continuously since 2006. (We may have done similar things before this). The number of scholarship has increased over the years with increases in the club approving more and club members directly sponsoring them. We are currently awarding 6 scholarships annually with 3 of them from club funds and 3 of them directly from New Bedford Rotarians. We had one that was not claimed last year so we awarded 7 this year.
PRESIDENT'S HALLOWEEN MEMBERSHIP CHALLENGE: Less than a dozen weeks to go before Halloween. Surveys have shown less the 30% of Rotarians have asked someone to join. I know we are an exceptional club so our number should be 100%. :)
VISITORS AND GUESTS: Rae Blumberg aka Ellen's Mom. Six scholarship recipients and their guests. Lena Pires, Principal, and Ashley McPherson, Career Liaison, from Global Learning Charter School.
Next Week
August 16th – Lunch at the Wamsutta. Backpack stuffing project. Come ready to fill some backpacks. Cheryl will need help unloading the supplies at the start of the meeting so come early if you can, please.
UPCOMING EVENTS:
August 23rd – SAVE THE DATE Lunch at the Wamsutta. We ask all Rotarians to do their best to save this date to attend the weekly meeting this week. This is the incoming District Governor's annual visit. We would like to give a strong New Bedford welcome to DG Steve Certa. He has agreed to forgo the additional board meeting before lunch. Please come out to support him and our club.
August 30th – Monthly Evening Social. 5:00 pm to 7:00 pm. Fay's Restaurant, 613 Dartmouth St, Dartmouth, MA. We will be looking for an RSVP for this event.
September 5th – Monthly Board Meeting. 5:00 pm. Location: Fire Safety Inc., 955 Reed Rd, N. Dartmouth. MA. All are invited.
September 6th – Lunch at the Wamsutta. Our guest speaker will be Ryan Methier, the new Athletic Director at Greater New Bedford Vocational Technical High School.
Odds and Ends
THANK YOU
President Peter would like to thank all the club members for the beautiful and delicious bouquet he received from them. Support from friends and family is so important in times like these.
PAW SOX ROTARY DAY FOR POLIO
Many clubs are sending members to participate in this annual event at the Pawtucket Red Sox as they take on the Buffalo Bisons to help support Rotary International's Polio Relief Efforts. Join the clubs in the district on August 22nd as they march onto the field for the National Anthem and the First Pitch. Then enjoy box seats (an upgrade from previous years) and a ballpark credit at the snack bars. If anyone in the club would like to organize a group to go, let us know. Game starts at 7:05 pm, so be there early if you want to get on the field. Tickets only $12. Contact Jack Verducci of the Paw Sox at 401-721-5264 or at jverducci@pawsox.com for tickets and information.
DARTMOUTH ROTARY CLUB COMEDY NIGHT
Join the Dartmouth Rotary Club's Annual Comedy Night Fundraiser on August 18th at 6:45 PM at White's of Westport. Always a fun time, tickets are only $15. The event will have door prizes, a silent auction and a cash bar. Call Claude Gelinas at 774-929-7352 to reserve yours and support a fellow club as they have supported our fundraisers.
DUES
Dues are due. Lisa has got most of the bills out and about ½ of them returned paid. Please let her know if you have not received one.
LUNCH PROGRAMS 2017-2018
ONLY 6 5 SPOTS LEFT. October is the next available month so plenty of time to find speakers. President Elect Carole has had a few people sign up to do programs this coming Rotary year. She still needs a few more. Please consider taking a lunch or two off her hands. If not, you'll have to hear her speak each week…. after…. week…. after…. week…. after…. week…. after…
DISTRICT REMINDERS (if you are interested in attending any of these, please ask a board member for more information)
- PAW SOX ROTARY DAY FOR POLIO, Pawtucket, RI, August 22, 2017, Game starts at 7:05 pm
- RIDE FOR POLIO, Foxboro?, MA, September 9?, 2017
- P-BRUINS ROTARY DAY FOR POLIO, Providence, RI, October TBD
- ZONE 24 & 32 INSTITUTE, Hartford, CT, October 19-22, 2017
One More Thing – An Orren Classic
A school girl was required to write an essay of two hundred and fifty words about an automobile. She submitted the following. "My uncle bought a brand new motor car just the other day. He was riding in the country when it busted up a hill. I guess this is about fifty words. The other two hundred are what my uncle said as he was walking back to town, but they are not fit for publication."
Peter A
Cub Reporter
Lisa F
GAM Editor