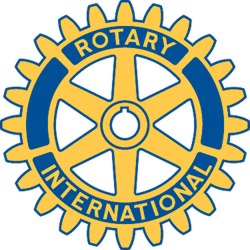 Rotary Club of New Bedford, MA - Weekly GAM
GAM...A nautical term describing the exchange of news between vessels departing from and returning to their ports...
July 26, 2017
This Week
A baker's dozen including spouses and guests at this month's evening social (8 Rotarians and 5 guests). Beautiful weather and a nice view of boats and out onto the harbor were enjoyed by the group. Waterfront Grille hosted us out on their patio and we enjoyed some nice hors d'oeuvres and appetizers as well as stimulating conversation. Those red peppers were spicy!!!
Rotary Minute – Have you heard about "Singing Clubs"? "Harry Ruggles was the fifth man to join Paul Harris in the conversations that led to the formation of the first Rotary club in Chicago in 1905. Harry was a fellow who enjoyed singing, and this was a popular activity at the turn of the century. At an early meeting of the fledgling group, Harry jumped on a chair and urged everyone to join him in a song. Group singing soon became a traditional part of their Rotary meeting. The custom spread to many of the clubs in the United States…"1 though I don't know if we ever did it in New Bedford. As of 2011, the Montpelier Vermont Club was still singing at every meeting. (1) Got this off the website of the Rotary Club of Eureka. I know this is not how I was taught to footnote but wanted to give them credit.
PRESIDENT'S HALLOWEEN MEMBERSHIP CHALLENGE: One month down. Who have you thought of to ask to help us in our mission to help our community?
VISITORS AND GUESTS: The two Bobs - Bob Mogilnicki, Bunny's husband and Bob Heppel, Bunny's brother. Charlie Barrett, Cheryl's husband. Melissa Cowles, Peter's guest. Last but not least, former Rotarian Nancy Dupont.
Next Week
August 2nd – Lunch at the Wamsutta. Our speaker will be Ian Abreu of the Southcoast Chamber of Commerce and a New Bedford City Councilor. Ian will be giving us city updates.
UPCOMING EVENTS:
August 1st – Monthly Board Meeting. 5:00 pm. Location: Fire Safety Inc., 955 Reed Rd, N. Dartmouth. MA. All are invited.
August 5th – Bridge Home Outing. Cheryl's Home in Dartmouth. We will send out a separate email invite with the address it comes closer. Time – 11:30-ish to 3:00-ish - More information below.
August 9th – Lunch at the Wamsutta. Annual Scholarship Luncheon. We ask all Rotarians to do their best to save this date to attend. Scholarship recipients and their families will be in attendance to accept their (you guessed it) scholarships. WE WILL BE NEEDING AN RSVP FOR THIS LUNCH AS THIS WILL BE A SIT DOWN MEAL.(not buffet as it is normally)
August 16th – Lunch at the Wamsutta. Backpack stuffing project. Come ready to fill some backpacks.
August 23rd – SAVE THE DATE Lunch at the Wamsutta. We ask all Rotarians to do their best to save this date to attend the weekly meeting this week. This is the incoming District Governor's annual visit. We would like to give a strong New Bedford welcome to DG Steve Certa. He has agreed to forgo the additional board meeting before lunch. Please come out to support him and our club.
August 30th – Monthly Evening Social. 5:00 pm to 7:00 pm.
Odds and Ends
MAIL BAG
This week's mail bag was empty. Thank for checking Carl..
DARTMOUTH ROTARY CLUB COMEDY NIGHT
Join the Dartmouth Rotary Club's Annual Comedy Night Fundraiser on August 18th at 6:45 PM at White's of Westport. Always a fun time, tickets are only $15. The event will have door prizes, a silent auction and a cash bar. Call Claude Gelinas at 774-929-7352 to reserve yours and support a fellow club as they have supported our fundraisers.
DUES
Dues are due. Lisa has got most of the bills out and about ½ of them returned paid. Please let her know if you have not received one.
LUNCH PROGRAMS 2017-2018
ONLY 6 5 SPOTS LEFT. October is the next available month so plenty of time to find speakers. President Elect Carole has had a few people sign up to do programs this coming Rotary year. She still needs a few more. Please consider taking a lunch or two off her hands. If not, you'll have to hear her speak each week…. after…. week…. after…. week…. after…. week…. after…
DISTRICT REMINDERS (if you are interested in attending any of these, please ask a board member for more information)
- PAW SOX ROTARY DAY FOR POLIO, Pawtucket, RI, August 22, 2017
- RIDE FOR POLIO, Foxboro?, MA, September 9?, 2017
- P-BRUINS ROTARY DAY FOR POLIO, Providence, RI, October TBD
- ZONE 24 & 32 INSTITUTE, Hartford, CT, October 19-22, 2017
One More Thing – An Orren Classic
A dilemma - Tell us this - "Does a doctor doctor a doctor according to the doctored doctor's doctrine or doctoring, or does the doctor doing the doctoring doctor the other doctor according to his/her own doctoring doctrine?" Hmmmmm?
Peter A
Cub Reporter
Lisa F
GAM Editor