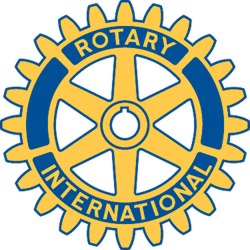 Rotary Club of New Bedford, MA - Weekly GAM
GAM...A nautical term describing the exchange of news between vessels departing from and returning to their ports...
July 19, 2017
This Week
"I have no idea where this fish came from." A spirited talk was given today by Co-Artistic Director of Your Theatre, Lawrence "Larry" Houbre, Jr.. You may not know this but in addition trying to bring professional level theater production values with amateur casts and crews, they have embarked on an historical restoration project. In addition to sharing stories about various challenges encountered by actors in Your Theatre productions, he told about their partnership with W.H.A.L.E. in restoring the First Baptist Church on Williams Street in order to create a permanent home for the theater company. He may have also mentioned that a certain Rotarian is cast in their September production of "Don't Dress for Dinner". Go to www.yourtheatre.org for more information. And thank you Larry for your energetic talk.
Rotary Minute – This week's had a more RI flair. The founder of Rotary, Paul Harris, was not the president of the first Rotary club. That honor went to Silvester Scheile. The two of them along with Gustavus Loehr and Hiram E. Shorey had the first Rotary Club meeting in Chicago in 1905. Paul Harris did serve as the first president of what would become Rotary International just 5 years later in 1910 overseeing 16 clubs.
- PLEASE let Peter know if you have a Rotary Minute to share. It could be about the New Bedford Club, Rotary International, Rotary Foundation or just some old Rotary or club traditions or events. If there is something you would like to know about Rotary that might make an interesting Rotary minute, let us know and we will try to research it.
PRESIDENT'S HALLOWEEN MEMBERSHIP CHALLENGE: An easy ask might be a former Rotarian. Perhaps they are able to return and help us with our good work. Three Rotarians have told the prez they have asked someone. If you have done this, let him know. Who could you ask?
VISITORS AND GUESTS: Guest Speaker - Lawrence "Larry" Houbre, Jr., Co-Artistic Director, Your Theatre
Next Week
July 26th – Monthly Evening Social. 5:00 pm to 7:00 pm. Waterfront Grille, 36 Homers Wharf, NB. Please RSVP by Monday, July 24th. Update from the meeting, there will be 7 of us attending now plus a couple of spouses and significant others.
UPCOMING EVENTS:
August 1st – Monthly Board Meeting. 5:00 pm. Location: Fire Safety Inc., 955 Reed Rd, N. Dartmouth. MA. All are invited.
August 2nd – Program TBA.
August 5th – Bridge Home Outing. Cheryl's Home in Dartmouth. We will send out a separate email invite with the address it comes closer. Time – 11:30-ish to 3:00-ish - More information below.
August 9th – Lunch at the Wamsutta. Annual Scholarship Luncheon. We ask all Rotarians to do their best to save this date to attend. Scholarship recipients and their families will be in attendance to accept their (you guessed it) scholarships. WE WILL BE NEEDING AN RSVP FOR THIS LUNCH AS THIS WILL BE A SIT DOWN MEAL.(not buffet as it is normally)
August 16th – Lunch at the Wamsutta. Backpack stuffing project. Come ready to fill some backpacks.
August 23rd – SAVE THE DATE Lunch at the Wamsutta. We ask all Rotarians to do their best to save this date to attend the weekly meeting this week. This is the incoming District Governor's annual visit. We would like to give a strong New Bedford welcome to DG Steve Certa. He has agreed to forgo the additional board meeting before lunch. Please come out to support him and our club.
August 30th – Monthly Evening Social. 5:00 pm to 7:00 pm.
Odds and Ends
MAIL BAG
This week's mail bag brought a thank you from the United Way and its president and former Rotarian Michelle Hantman. In case you forgot, we were a "First Mate" sponsor of their biggest fundraiser, The Annual Clambake with Lobster.
DARTMOUTH ROTARY COMEDY NIGHT
Join the Dartmouth Rotary Club's Annual Comedy Night Fundraiser on August 18th at 6:45 PM at White's of Westport. Always a fun time, tickets are only $15. Call 774-929-7352 to reserve yours and support a fellow club as they have supported our fundraisers.
DUES
Dues are due. Lisa has got most of the bills out and about ½ of them returned paid. Please let her know if you have not received one.
BRIDGE HOME SUMMER EVENT (and a little fellowship, maybe?) – Saturday, August 5th
We are looking at having the Bridge Home folks arrive at Cheryl's around 11:30 am or 12:00 pm and stay for a few hours. Rotarians are needed to run some stations with games as well as taking turns on the grill. If you have some games you can bring (bean bag toss, badminton, sacks for sack races, Jarts, etc. – well maybe not Jarts), please let Cheryl know. If you have pop up tarps or collapsible tables, we could use a couple of those as well. Rotarians could also help with the shopping before the event. We will be sending out the address via direct email so it won't be posted on our website. We would like to make this our summer fellowship event as well, and once the Bridge Home folks leave we will have some time for relaxing and enjoying some libations together.
LUNCH PROGRAMS 2017-2018
ONLY 6 5 SPOTS LEFT. October is the next available month so plenty of time to find speakers. President Elect Carole has had a few people sign up to do programs this coming Rotary year. She still needs a few more. Please consider taking a lunch or two off her hands. If not, you'll have to hear her speak each week…. after…. week…. after…. week…. after…. week…. after…
DISTRICT REMINDERS (if you are interested in attending any of these, please ask a board member for more information)
- PAW SOX ROTARY DAY FOR POLIO, Pawtucket, RI, August 22, 2017
- RIDE FOR POLIO, Foxboro?, MA, September 9?, 2017
- P-BRUINS ROTARY DAY FOR POLIO, Providence, RI, October TBD
- ZONE 24 & 32 INSTITUTE, Hartford, CT, October 19-22, 2017
One More Thing – An Orren Classic
"I aven't had a bite for days," said a tramp to the landlady of the George and the Dragon Inn. "D'yer think you could spare me one?" "Certainly not," bellowed the landlady. "Thank yer", said the tramp as he slouched off: but a few moments later he was back. "What d'yer want now", asked the landlady. "Could I have a few words with George?", queried the tramp.
Peter A
Cub Reporter
Lisa F
GAM Editor