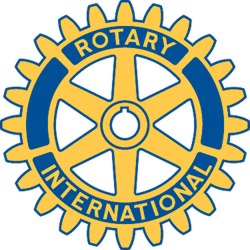 Rotary Club of New Bedford, MA - Weekly GAM
GAM...A nautical term describing the exchange of news between vessels departing from and returning to their ports...
July 12, 2017
This Week
What interesting members we have. This week had another member give a classification talk. Past President Gerald "Jerry" Wheeler shared a little about himself. A New Bedford native, from a family with a business that lasted over 100 years, Jerry, thinking his number would come up, volunteered to join the Air Force during the Vietnam War. A true family man, Jerry received his degree by going to school nights for 15 years while working to support his young family. It was during this time he served as President of this club in 1978-1979 and served as an Assistant District Governor as well. He has a long history in the boating industry, particularly with startups. Often mentoring entrepreneurs, he has "worked himself out of" several jobs. Currently, he is expanding the scope of Marine Hydraulics from building winches and other hydraulic items to working on cutting edge vessels for Cape Wind, Woods Hole Oceanographic Institute and the New Bedford Harbor Clean Up. An interesting talk you missed if you weren't there. You should ask him about his "colorful" relative that was a New Bedford City Mayor and State Senator. Thank you Jerry.
Rotary Minute – The New Bedford Club was formed in 1921 when 23 local men met at the New Bedford hotel, though its roots go back further than that. In 1915 (not 1918 as was said at the meeting), the mayors of New Bedford and Fall River attended a Providence club meeting to find out about bringing Rotary to their respective cities as discovered in November 1915 issue of Rotarian Magazine. Paul Harris had only founded Rotary in 1905. Jerry also mentioned the New Bedford Club was the sponsor for the Nantucket, Dartmouth and Fairhaven clubs.
- PLEASE let Peter know if you have a Rotary Minute to share. It could be about the New Bedford Club, Rotary International, Rotary Foundation or just some old Rotary or club traditions or events.
HALLOWEEN PRESIDENT'S MEMBERSHIP CHALLENGE: Don't forget, the challenge is to ask one potential before Halloween 2017 to join our club. Club brochures are available at the Wamsutta Club (either during our lunches there or in the closet the rest of the time) if you think they will help. When you ask someone, let Peter know so he can track them.
VISITORS AND GUESTS: It was just us this week.
Next Week
July 19th – Lunch at the Wamsutta. Our guest speaker will be Lawrence "Larry" Houbre, Jr., Co - Artistic Director of Your Theatre. It is also National Hot Dog Day. Not part of the program. Just thought you should know.
UPCOMING EVENTS:
July 26th – Monthly Evening Social. 5:00 pm to 7:00 pm. Waterfront Grille, 36 Homers Wharf, NB. Please RSVP by Monday, July 24th.
August 1st – Monthly Board Meeting. 5:00 pm. Location: Fire Safety Inc., 955 Reed Rd, N. Dartmouth. MA. All are invited.
August 2nd – Program TBA.
August 5th – Bridge Home Outing. Cheryl's Home in Dartmouth. We will send out a separate email invite with the address it comes closer. Time – 11:30-ish to 3:00-ish - More information below.
August 9th – Lunch at the Wamsutta. Annual Scholarship Luncheon. We ask all Rotarians to do their best to save this date to attend. Scholarship recipients and their families will be in attendance to accept their (you guessed it) scholarships. WE WILL BE NEEDING AN RSVP FOR THIS LUNCH AS THIS WILL BE A SIT DOWN MEAL.(not buffet as it is normally)
August 16th – Lunch at the Wamsutta. Backpack stuffing project. Come ready to fill some backpacks.
August 23rd – SAVE THE DATE Lunch at the Wamsutta. We ask all Rotarians to do their best to save this date to attend the weekly meeting this week. This is the incoming District Governor's annual visit. We would like to give a strong New Bedford welcome to DG Steve Certa. He has agreed to forgo the additional board meeting before lunch. Please come out to support him and our club.
August 30th – Monthly Evening Social. 5:00 pm to 7:00 pm.
Odds and Ends
MAIL BAG
This week's mail bag brought some dues payments but also a thank you from the YMCA. The Rotary board, with a recommendation from the allocation committee, donated to their annual fund, including their hunger relief efforts.
BOARD MEETING UPDATE
We had a board meeting a week later this month. No allocations and no new members. We took care of some procedural issues. If you want the full set of meeting minutes, let Michelle know.
DUES
Dues are due. Lisa will be sending out via email the rest of the bills. Please let her know if you have not received one.
BRIDGE HOME SUMMER EVENT (and a little fellowship, maybe?) – Saturday, August 5th
We are looking at having the Bridge Home folks arrive at Cheryl's around 11:30 am or 12:00 pm and stay for a few hours. Rotarians are needed to run some stations with games as well as taking turns on the grill. If you have some games you can bring (bean bag toss, badminton, sacks for sack races, Jarts, etc. – well maybe not Jarts), please let Cheryl know. If you have pop up tarps or collapsible tables, we could use a couple of those as well. Rotarians could also help with the shopping before the event. We will be sending out the address via direct email so it won't be posted on our website. We would like to make this our summer fellowship event as well, and once the Bridge Home folks leave we will have some time for relaxing and enjoying some libations together.
LUNCH PROGRAMS 2017-2018
ONLY 6 5 SPOTS LEFT. President Elect Carole has had a few people sign up to do programs this coming Rotary year. She still needs a few more. Please consider taking a lunch or two off her hands. If not, you'll have to hear her speak each week….after….week….after….week….after….week….after…
DISTRICT REMINDERS (if you are interested in attending any of these, please ask a board member for more information)
- PAW SOX ROTARY DAY FOR POLIO, Pawtucket, RI, August 22, 2017
- RIDE FOR POLIO, Foxboro?, MA, September 9?, 2017
- P-BRUINS ROTARY DAY FOR POLIO, Providence, RI, October TBD
- ZONE 24 & 32 INSTITUTE, Hartford, CT, October 19-22, 2017
One More Thing – An Orren Classic
"Charlie", said the teacher sternly, "do you know that you have broken the eighth Commandment by stealing James' apple?" "Well", explained Charlie, "I might just as well break the eighth and have the apple as to break the tenth and only covet it."
Peter A
Cub Reporter
Cheryl B
GAM Contributor
Lisa F
GAM Editor