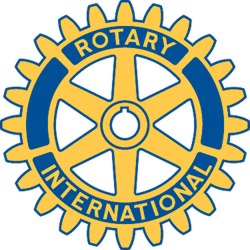 Rotary Club of New Bedford, MA - Weekly GAM
GAM...A nautical term describing the exchange of news between vessels departing from and returning to their ports...
June 28, 2017
This Week
"Ask not what your country can do for you…" "All we have to fear is fear itself." "With malice toward none, with charity for all…." "We have called by different names brethren of the same principle." Well, nothing quite so stirring was said, but a good night was had by all at this year's Officers Induction Ceremony. Rotarians and guests gathered together to thank President Russ for his year of service, and swear in the "new" slate of officers and board members for the coming year. The program has contributions from all Past Presidents in attendance. For those that could not make it, be sure to pick up President Russ' thank you gift to all the members at our next meeting. Thank you everyone for making this night special.
VISITORS AND GUESTS: I should have taken "guest attendance". We had 13 Rotarians present who brought 9 guests.
Next Week
July 5th – Lunch at the Wamsutta. Incoming President's Club Assembly. Certain to be a "Thrillah in Wamsuttah"….. or not.
UPCOMING EVENTS:
July 4th – Board meeting date changed to July 11th - HAPPY INDEPENDENCE DAY!!
July 11th – Monthly Board Meeting. 5:00 pm. Location: Fire Systems Inc., 955 Reed Rd, N. Dartmouth. All are invited.
July 12th – Program TBA
August 1st – Monthly Board Meeting. 5:00 pm. Location: Fire Safety Inc., 955 Reed Rd, N. Dartmouth. MA. All are invited.
August 5th – Bridge Home Outing. Cheryl's Home in Dartmouth. Time - TBD
August 9th – Lunch at the Wamsutta. Annual Scholarship Luncheon. We ask all Rotarians to do their best to save this date to attend the annual Scholarship Luncheon. Scholarship recipients and their family will be in attendance to accept their (you guessed it) scholarships. WE WILL BE NEEDING AN RSVP FOR THIS LUNCH
August 23rd – SAVE THE DATE Lunch at the Wamsutta. We ask all Rotarians to do their best to save this date to attend the weekly meeting this week. This is the incoming District Governor's annual visit. We would like to give a strong New Bedford welcome to DG Steve Certa. He has agreed to forgo the additional board meeting before lunch. Please come out to support him and our club.
Odds and Ends
ATTENDANCE
It is the end of the month again and we will be reviewing attendance at the next board meeting. If you have any make ups you would like counted, please let Lisa or Rich know. If you would like to know what counts for a make up, please ask. Traditionally a member can make up for a missed meeting within 2 weeks before or after the meeting.
DUES
Dues are due. Lisa handed out invoices for the second half of the year at this week's meeting to all (most) in attendance. If she does not see you at a meeting soon, she will email them to you. The club must pay Rotary International and the district in July. Please do your best to submit payment in a timely fashion.
BRIDGE HOME SUMMER EVENT – Saturday, August 5th
A few Rotarians have stepped up to plan and implement this event. Cheryl has agreed to be the point person on this. Please let her know how you will be able to help.
HELP WANTED
Needed: Editor and/or writers for the GAM.
LUNCH PROGRAMS 2017-2018
Vice President Carole (soon to be President Elect Carole) has had a few people sign up to do programs this coming Rotary year. She still needs a few more. Please consider taking a lunch or two off her hands. If not, you'll have to hear her speak each week….after….week….after….week….after….week….after…
SPECIAL PROJECT
We are looking for some members to help spruce up our banners, the ones with the club flags in particular. If a couple of folks want to get together and spread the banners out, clean them up (Magic Sponge maybe?), add new ones in the blank spots, re-attach loose ones, etc. Just make them look better really. Might be more fun with a bottle of wine (my treat J )
NAME TAGS
We have Rotary name tags available (for free). Let us know if you need one. So far there are two requests.
DISTRICT REMINDERS (if you are interested in attending any of these, please ask a board member for more information)
- PAW SOX ROTARY DAY FOR POLIO, Pawtucket, RI, August 22, 2017
- RIDE FOR POLIO, Foxboro?, MA, September 9?, 2017
- P-BRUINS ROTARY DAY FOR POLIO, Providence, RI, October TBD
- ZONE 24 & 32 INSTITUTE, Hartford, CT, October 19-22, 2017
One More Thing – An Orren Classic
A man went into a butcher's shop, and finding the owner's wife in attendance, in the absence of her husband, thought he would have a joke at her expense, and said, "Madam, can you supply me with a yard of pork?" "Yes, Sir", she said. And then, turning to a boy, she added, "James, give that gentleman three pigs' feet!"
Peter Ashworth
Cub Reporter
Lisa Faria
GAM Editor