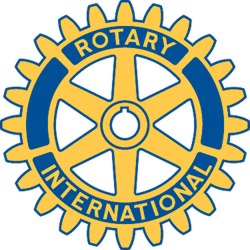 Rotary Club of New Bedford, MA - Weekly GAM
GAM...A nautical term describing the exchange of news between vessels departing from and returning to their ports...
June 21, 2017
This Week
"We call it Shark Tank the without teeth". That's how Executive Director and New Bedford business owner Shelley Cardoos (guest of Bea) described what they do at Entrepreneurship for All Southcoast. Founded in 2012 as the as Merrimack Valley Sandbox, EforAll made its first expansion from its original location into New Bedford and Fall River in 2015. EforAll offers classes and sometimes funding for new business. They even do "pitch sessions" like on the show "Shark Tank". If you know someone starting a new small business, these are the people they should talk to. And of course, they can always use volunteers to mentor or just help read and evaluate proposals from businesses that want to get into their Business Accelerator program. For more information contact Shelley Cardoos at shelley@eforall.org or 508-858-8522 or check out their website http://eforall.org/
We are one more Rotarian stronger. SaA Tom made it official as we inducted Marlene Lira of Bristol County Savings Bank as our newest member. Welcome Marlene.
VISITORS AND GUESTS: Guest Speaker – Shelley Cardoos, Excutive Director, Entrepreneurship for All Southcoast. Former Rotarian - Nancy Wood Dupont Smith Silvia Freitas Jones.
Next Week
June 28th – Officer Induction Night. No lunch meeting. Sit down dinner at the Wamsutta Club. Please RSVP by 6/26 to Peter (still waiting to hear from about a dozen members). Cost will be $25. Cash bar will start at 5:30 pm . Dinner will be at 6:00 pm. The Induction and Paul Harris Presentation will be at 7:00 pm (as well as a few other things). Please come for all or part of the evening. Spouses and significant others are welcome.
UPCOMING EVENTS:
July 4th – Board meeting date changed to July 11th - HAPPY INDEPENDENCE DAY!!
July 5th – Lunch at the Wamsutta. Incoming President's Club Assembly.
July 11th – Monthly Board Meeting. 5:00 pm. Location: Fire Systems Inc., 955 Reed Rd, N. Dartmouth. All are invited.
July 12th – Program TBA
August 1st – Monthly Board Meeting. 5:00 pm. Location: Fire Safety Inc., 955 Reed Rd, N. Dartmouth. MA. All are invited.
August 9th – TENATIVE DATE Lunch at the Wamsutta. Annual Scholarship Luncheon. We ask all Rotarians to do their best to save this date to attend the annual Scholarship Luncheon. Scholarship recipients and their family will be in attendance to accept their (you guessed it) scholarships.
August 23rd – SAVE THE DATE Lunch at the Wamsutta. We ask all Rotarians to do their best to save this date to attend the weekly meeting this week. This is the incoming District Governor's annual visit. We would like to give a strong New Bedford welcome to DG Steve Certa. He has agreed to forgo the additional board meeting before lunch. Please come out to support him and our club.
Odds and Ends
CORRECTION (again)
Last week's GAM failed to list Marc as a 100% for attendance. Sorry for the omission, Marc
DUES
Dues are due. Lisa handed out invoices for the second half of the year at this week's meeting to all (most) in attendance. If she does not see you at a meeting soon, she will email them to you (or you could just send in your check). The club must pay Rotary International and the district in July. Please do your best to submit payment in a timely fashion.
BRIDGE HOME SUMMER EVENT
A few Rotarians have stepped up to plan and implement this event. Cheryl has agreed to be the point person on this. Please let her know how you will be able to help.
HELP WANTED
Needed: Editor and/or writers for the GAM.
LUNCH PROGRAMS 2017-2018
Vice President Carole (soon to be President Elect Carole) has had a few people sign up to do programs this coming Rotary year. She still needs a few more. Please consider taking a lunch or two off her hands. If not, you'll have to hear her week….after….week….after….week….after…
SPECIAL PROJECT
We are looking for some members to help spruce up our banners, the ones with the club flags in particular. If a couple of folks want to get together and spread the banners out, clean them up (Magic Sponge maybe?), add new ones in the blank spots, re-attach loose ones, etc. Just make them look better really. Might be more fun with a bottle of wine (my treat J )
NAME TAGS
We have Rotary name tags available (for free). Let us know if you need one. So far there are two requests.
DISTRICT REMINDERS (if you are interested in attending any of these, please ask a board member for more information)
- PAW SOX ROTARY DAY FOR POLIO, Pawtucket, RI, August 22, 2017
- RIDE FOR POLIO, Foxboro?, MA, September 9?, 2017
- P-BRUINS ROTARY DAY FOR POLIO, Providence, RI, October TBD
- ZONE 24 & 32 INSTITUTE, Hartford, CT, October 19-22, 2017
One More Thing – An Orren Classic
An inspector, examining a class in religious knowledge, asked the following question of a little girl, intending it for a catch: "What was the difference between Noah's Ark and Joan of Arc?" He was not a little surprised when the child, answering, said: "Noah's Ark was made of wood and Joan of Arc was maid of Orleans."
Peter Ashworth
Cub Reporter
Lisa Faria
GAM Editor