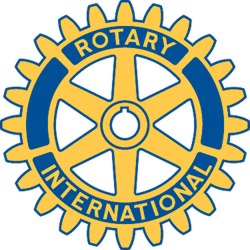 Rotary Club of New Bedford, MA - Weekly GAM
GAM...A nautical term describing the exchange of news between vessels departing from and returning to their ports...
June 14, 2017
This Week
A special prayer goes out to member Joe Andrade. He has just gotten out of the hospital after being hit by a car two weeks ago. Amazingly, he was at this week's meeting. He told us he was withdrawing from the city council race to focus on regaining his health. We all wish him the best for a speedy recovery.
This week's meeting highlighted a long time Rotary tradition "The Classification Talk". While each club does it differently, at our club the talks have generally focused on the personal aspects of a person's life which have help lead them to what they do today. President Russ did a great job up holding this custom. A Southcoast native, he attended Dartmouth High and played trumpet in the very successful marching band. The commitment he learned there help give him the drive he needed to get his law degree in night school. He clerked for several judges at the Massachusetts Superior Court, assisting with legal research for written opinions. During the Q & A, he shared some interesting insight on a current high profile case. He is happily married and enjoys being a chauffeur for his daughter's artistic endeavors. Thank you, Russ, for a great talk. These are always a fun way to learn new things about members. We look forward to more classification talks in the future.
Also it was announced that the board unanimously approved Marlene Lira for membership in the New Bedford Rotary Club.
Please read below about the August 23rd meeting.
VISITORS AND GUESTS: Prospective (and now newest) Rotarian - Marlene Lira, Branch Manager, Bristol County Savings Bank.
Next Week
June 21st – Lunch at the Wamsutta. Our guest speaker will be Shelley Cardoos (invited by Beatriz), Executive Director of Entrepreneurship for All Southcoast. She will be talking about the EforAll program. We will also be inducting new member Marlene Lira.
UPCOMING EVENTS:
June 28th – Officer Induction Night. No lunch meeting. Sit down dinner at the Wamsutta Club. Please RSVP by 6/26 to Peter. Cost will be $25. Cash bar will start at 5:30pm . Dinner will be at 6:00 pm. The Induction and Paul Harris Presentation will be at 7:00 pm (as well as a few other things). Please come for all or part of the evening. Spouses and significant others are welcome.
July 4th – Board meeting date changed to July 11th - HAPPY INDEPENDENCE DAY!!
July 5th – Lunch at the Wamsutta. Incoming President's Club Assembly.
July 11th – Monthly Board Meeting. 5:00 pm. Location: Fire Systems Inc., 955 Reed Rd, N. Dartmouth. All are invited.
July 12th – Program TBA
August 4th – Monthly Board Meeting. 5:00 pm. Location: Fire Safety Inc., 955 Reed Rd, N. Dartmouth. MA. All are invited.
August 9th – TENATIVE DATE Lunch at the Wamsutta. Annual Scholarship Luncheon. We ask all Rotarians to do their best to save this date to attend the annual Scholarship Luncheon. Scholarship recipients and their family will be in attendance to accept their (you guessed it) scholarships.
August 23rd – SAVE THE DATE Lunch at the Wamsutta. We ask all Rotarians to do their best to save this date to attend the weekly meeting this week. This is the incoming District Governor's annual visit. We would like to give a strong New Bedford welcome to DG Steve Certa. He has agreed to forgo the additional board meeting before lunch. Please come out to support him and our club.
Odds and Ends
CORRECTION
Last week's GAM listed July 12th as a second IPCA. It should have read "Program TBA."
BRIDGE HOME SUMMER EVENT
Rotarian extraordinaire Cheryl has agreed to host the Bridge Home for a summer gathering. We will need help planning and implementing this barbeque/picnic/summer fun day. We can't do this without help from the membership. We will need to work out food and games for the day. We are looking to do it in August. A member of the board is reaching out to the Bridge Home to tie down some details. This is a fun/social event for our club as well as community service.
BOARD MEETING REPORT
Critical items for the board meeting include the following. The board approved a new member (see above). It was discovered that RotaFest made an additional $500 from the number reported at the June 7th meeting. The Vocational committee will be meeting soon to review scholarship applications.
100%ers FOR MAY
The following Rotarians had 100% attendance for the month of May (including makeups) – Carl, Linda, Carole, Lisa and Peter.
If you have any makeups you need to report please send that information to Lisa or Rich.
HELP WANTED
Needed: Editor and/or writers for the GAM.
LUNCH PROGRAMS 2017-2018
Vice President Carole (soon to be President Elect Carole) is looking for Rotarians to be the program coordinator for one month next year. If you did not do it this past year, please consider doing it now. For most months, it would require finding 2 to 3 speakers and picking a place to have the evening social. Speakers could talk about local events, teach a business technique, share a book they wrote, give a classification talk (this would be a Rotary member, such as we did this week) or any other number of ideas. Please let Carole know if you can take a month. July has already been taken……
SPECIAL PROJECT
We are looking for some members to help spruce up our banners, the ones with the club flags in particular. If a couple of folks want to get together and spread the banners out, clean them up (Magic Sponge maybe?), add new ones in the blank spots, re-attach loose ones, etc. Just make them look better really. Might be more fun with a bottle of wine (my treat J )
NAME TAGS
We have Rotary name tags available (for free). Let us know if you need one. So far there is one request.
DISTRICT REMINDERS (if you are interested in attending any of these, please ask a board member for more information)
- DISTRICT GOVERNOR INSTALLATION DINNER: Union Point, Weymouth, June 23, 2017 http://rotary7950.com/event/dg-steve-certa-installation/
- PAW SOX ROTARY DAY FOR POLIO, Pawtucket, RI, August 22, 2017
- RIDE FOR POLIO, Foxboro?, MA, September 9?, 2017
- P-BRUINS ROTARY DAY FOR POLIO, Providence, RI, October TBD
- ZONE 24 & 32 INSTITUTE, Hartford, CT, October 19-22, 2017
One More Thing – An Orren Classic
"Who is he?" said a passer-by to a policeman who was endeavoring to raise an intoxicated individual who had fallen into the gutter.
"Can't say, sir," replied the policeman, "he can't give an account of himself."
"Of course not," said the other, "how can you expect an account from a man who has lost his balance?"
Peter Ashworth
Cub Reporter
Lisa Faria
GAM Editor