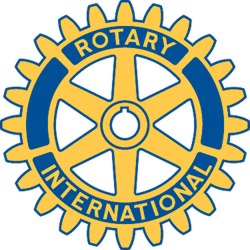 Rotary Club of New Bedford, MA - Weekly GAM
GAM...A nautical term describing the exchange of news between vessels departing from and returning to their ports...
May 10, 2017
This Week
Leadership Southcoast and the Rotary Club share common ideals. Both are looking for improving the community with local leaders. Executive Director Jennifer Downing was our guest speaker this week telling us about the origins and benefits of Leadership Southcoast. They are looking to improve the civic infrastructure, of which Rotary is a strong force for good, of the Southcoast region by "the development of a diverse leadership pipeline." (Quote taken from their website) With a growing group of alumni that have attended this 10 month program for more than a decade, Leadership Southcoast continues to train leaders and make a difference in the community. If you are interested in attending a Leadership Southcoast course or would like to nominate a participant, go to www.leadershipsouthcoast.org/annual-program/apply/ . Financial assistance may be available.
Some other notes, Bea mentioned the Meeting Street/Shwartz Center fundraiser which hopes some Rotarians might want to attend. For more information go to www.meetingstreet.org/FFAC17
Joe A. will be running for Ward 5 Councilor in New Bedford. Good luck Joe. Our other Joe (who has some experience in a similar area) suggested maybe he should have his head checked out…
Catalogs with "Rotary stuff" will be available at meetings (just ask). Now you don't have to go to PETS to get that Rotary scarf or tie.
VISITORS AND GUESTS: Guest Speaker, Jennifer Downing, Executive Director – Leadership Southcoast.
Next Week
May 17th – Lunch at the Wamsutta. Our guest speaker will be John Silvia (invited by Beatriz), Operations Manager of Seastreak. He will tell us about Fast Ferry Service to Martha's Vineyard, Nantucket and now Provincetown. Bea says there might be a prize given out…..
The re-induction of Tammy DeBarros is on the schedule for this meeting by Tom. We are also expecting a new potential member to visit as well. Do you know of anyone that would fit well and benefit from joining Rotary? Go ahead and just invite them.
UPCOMING EVENTS: (Looking for programs for June)
May 24th – Lunch at the Wamsutta. Our guest speaker will be Sharon Terreault (invited by Beatriz), director of Early Head Start at Meeting Street. Her talk will be about supporting pregnant women with a history of substance abuse.
May 31st – Monthly Evening Social. Moby Dick Brewery, 16 South Water ST, New Bedford. 5-7pm. Stop in anytime. We will be looking for RSVPs as we get closer
June 6th – Board Meeting. 5:00 pm. Location: Fire Systems Inc., 955 Reed Rd, N. Dartmouth. All are invited.
June 7th – Program TBD – Either a RotaFest Postmortem discussion or National Alliance on Mental Illness
June 28th – Officer Induction Night. No lunch meeting. More information to follow.
Odds and Ends
ROTAFEST UPDATE:
Peter handed out several thank you certificates for delivery. He has a few more to print but would like to meet up with anyone who wasn't at lunch to give them the certificates. He will reach out to you in a separate email.
Just because I want as many people as possible to see this. www.southcoasttoday.com/photogallery/NB/20170428/PHOTOGALLERY/428009998/PH/1
100%ERS FOR APRIL
According to report given at the last board meeting, the following Rotarians had 100% attendance for April (including make ups): Joe A., Adam, Cheryl, Lisa, Paula, Carole, Michelle, Peter, Stuart, John, Tom, Marc, Linda, Carl, Jerry and Russ.
THE BRIDGE HOME PICNIC/BBQ
As many of you know, we have done a lot of work with the Bridge Home. Annually, we help by bringing gifts (and Santa) at holiday time to the families staying in the shelter. We also have supplied and built a swingset/play and picnic area at their location as well as supported them in other ways. We have also hosted a summer bbq/picnic for them. Generally, it was in the yard of a Rotarian. We did not have one last year as we didn't have location. Is anyone interested in hosting one this summer, if the Bridge House would like to come? Please let us know.
HELP WANTED
Thank you to Ellen and Bunny for volunteering to work on the vocational committee.
Needed: Looking for lunch programs for June. We have one speaker we are finalizing the date on and we may have one classification talk but need at least one more programs to fill out the schedule. If you know of anyone interesting, please let us know.
Needed: Ringing of the Bells chair. Need a person (or pair of persons) to work with the Salvation Army to schedule the annual Ringing of the Bells as well as organize the schedule of ringers. This usually occurs the first weekend in December which seems a long way off, but will be here sooner than we know it.
Needed: Editor and/or writers for the GAM. Joke book sold separately unless you order now…..
MEMBER CONTACT INFORMATION
We are putting together a contact sheet to share with all club members. It will have everyone's email and cell phone. If you were not at this week's meeting, please confirm your email and cell phone number with Peter.
DISTRICT REMINDERS (if you are interested in attending any of these, please ask a board member for more information)
- DISTRICT INTERNATIONAL NIGHT (honoring members of Rotary Youth Exchange), White's of Westport, May 15, 2017. For more information go to www.rotary7950.com/event/international-night-1/
- ROTARY INTERNATIONAL CONVENTION, Atlanta, GA, June 9-14, 2017 www.rotaryconvention2017.org/
- DISTRICT GOVERNOR INSTALLATION DINNER: Union Point, Weymouth, June 23, 2017
- PAW SOX ROTARY DAY FOR POLIO, Pawtucket, RI, August 22, 2017
- RIDE FOR POLIO, Foxboro?, MA, September 9, 2017
- P-BRUINS ROTARY DAY FOR POLIO, Providence, RI, October TBD
- ZONE 24 & 32 INSTITUTE, Hartford, CT, October 19-22, 2017
One More Thing – An Orren Classic
The District Attorney, questioning a witness, asked: "You are a barber, aren't you?" The witness replied, pompously, "I am a tonsorial artist." "Well, now," put in the Judge - "Isn't that splitting hairs?"
Peter Ashworth
Cub Reporter
Lisa Faria
GAM Editor