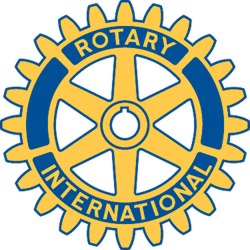 Rotary Club of New Bedford, MA - Weekly GAM
GAM...A nautical term describing the exchange of news between vessels departing from and returning to their ports...
May 3, 2017
This Week
Imagine needing an advance on your pay and having to jump to a balcony 12 feet across an alley and 8 stories up in order to get it. That was just one of the tales told to us at lunch this week about Johnny Blood McNally, a charter member of the NFL Hall of Fame. Mr. Hickok gave a charming talk about this larger than life character. Growing up around Green Bay, Mr. Hickok had always wanted to write about Johnny Blood. He finally reached out and met Mr. McNally who agreed to have the book written about him, in part, because the author lived in New Bedford and he was a fan of Moby Dick. Mr. Hickok was even temporarily "adopted" by Mr. McNally, a funny story you missed if you were not at lunch this week. Go online and check out "Vagabond Halfback: The Saga of Johnny Blood McNally". Thank you Mr. Hickok for this amusing and informative talk.
VISITORS AND GUESTS: Many guests this week. Guest Speaker Ralph Hickok and his wife Diane. Helena Tiffany, guest of Bunny. Former and possible future Rotarian Tammy DeBarros, guest of Linda.
Next Week
May 10th – Lunch at the Wamsutta. Our guest speaker will be Jennifer Downing (invited by Beatriz), executive director of Leadership Southcoast. She will speak about Leadership Southcoast and alumni retention. Also, we are expecting another potential new member……
UPCOMING EVENTS: (Looking for programs for June)
May 17th – Lunch at the Wamsutta. Our guest speaker will be John Silvia (invited by Beatriz), Operations Manager of Seastreak. He will tell us about Fast Ferry Service to Martha's Vineyard, Nantucket and now Provincetown. Bea says there might be a prize given out…..
May 24th – Lunch at the Wamsutta. Our guest speaker will be Sharon Terreault (invited by Beatriz), director of Early Head Start at Meeting Street. Her talk will be about supporting pregnant women with a history of substance abuse.
May 31st – Monthly Evening Social. Moby Dick Brewery, 16 South Water ST, New Bedford. 5-7pm. Stop in anytime. We will be looking for RSVPs as we get closer
June 6th – Board Meeting. 5:00 pm. Location: Fire Systems Inc., 955 Reed Rd, N. Dartmouth. All are invited.
June 7th – Program TBD
June 28th – Officer Induction Night. No lunch meeting. More information to follow.
Odds and Ends
ROTAFEST UPDATE:
We need your help with one more thing. We have printed up thank yous for sponsors and others and ask the club members that had originally contacted them go back and thank them with these certificates. We appreciate your help with this. Peter can get you these certificates at any time by special arrangement or will have them at next week's meeting. If you have anyone you would like to thank with one of these certificates, please let us know.
Early numbers have the event making just under $10,000 to support our work and charitable giving for the coming year. Thank you to everyone for making it such a success.
Don't forget to stop in to our participating restaurants and let them know you enjoyed them at our RotaFest. This will keep them supporting us. Also, please thank the sponsors by patronizing their establishments. Both are listed on our website.
Please give us feedback on things that we could do better next year as well as things you loved about this year's event.
In case you missed it, check out the pictures on the Standard Times website. www.southcoasttoday.com/photogallery/NB/20170428/PHOTOGALLERY/428009998/PH/1
BOARD REPORT
The board met on May 2nd. RotaFest was reported on. They awarded an allocation to the support New Bedford Festival Theater as recommended by the allocations committee. Tammy DeBarros was approved for membership. Scholarship applications have been coming in.
HELP WANTED
Needed: Rich is looking for a couple more members to join the Vocational/Scholarship Committee. This committee reads the essays submitted by the scholarship applicants in order to determine who will receive the scholarships. Please let Rich know if you are interested.
Needed: Looking for lunch programs for June. We have one speaker we are finalizing the date on and we may have one classification talk but need at least one more programs to fill out the schedule. If you know of anyone interesting, please let us know.
Needed: Ringing of the Bells chair. Need a person (or pair of persons) to work with the Salvation Army to schedule the annual Ringing of the Bells as well as organize the schedule of ringers. This usually occurs the first weekend in December which seems a long way off, but will be here sooner than we know it.
Needed: Editor and/or writers for the GAM. Joke book sold separately unless you order now…..
DISTRICT REMINDERS (if you are interested in attending any of these, please ask a board member for more information)
- DISTRICT INTERNATIONAL NIGHT (honoring members of Rotary Youth Exchange), White's of Westport, May 15, 2017. For more information go to www.rotary7950.com/event/international-night-1/
- ROTARY INTERNATIONAL CONVENTION, Atlanta, GA, June 9-14, 2017 www.rotaryconvention2017.org/
- DISTRICT GOVERNOR INSTALLATION DINNER: Union Point, Weymouth, June 23, 2017
- PAW SOX ROTARY DAY FOR POLIO, Pawtucket, RI, August 22, 2017
- RIDE FOR POLIO, Foxboro?, MA, September 9, 2017
- P-BRUINS ROTARY DAY FOR POLIO, Providence, RI, October TBD
- ZONE 24 & 32 INSTITUTE, Hartford, CT, October 19-22, 2017
One More Thing – An Orren Classic
Discovering yet another mistake in his letters, the enraged employer summoned his new typist. "You came here with good testimonials, Miss Brown," he barked, "and do you mean to tell me you don't know the King's English?" "Of course I know it", she replied indignantly. "Otherwise he wouldn't be King, would he?"
Peter Ashworth
Cub Reporter
Lisa Faria
GAM Editor