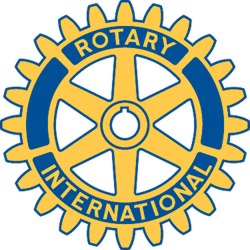 Rotary Club of New Bedford, MA - Weekly GAM
GAM...A nautical term describing the exchange of news between vessels departing from and returning to their ports...
April 27, 2017
SPECIAL ROTAFEST EDITION
This Week (Well this past week)
Well another successful RotaFest has come and gone. What started several months ago finally came together in a night of food, wine, music and fun. Starting at lunch, which was crashed by a bearded former Rotarian and his joyful wife, through the evening festivities, Rotarians worked tirelessly together toward a common goal. With auction items and centerpieces being brought in, setting up restaurants and wine vendors, taking tickets at the door, selling raffle tickets, the live auction, the madness of closing the silent auction there was plenty to do. Special thanks to our auctioneer Phil Paleologos, whose joy and charm added more fun to our event. The D.D. Bastos Group kept the place rocking all night long. A thank you to Douglas Wine & Spirits who helped keep things flowing. We can't forget to thank Cheryl's son who took pictures (I'm sorry I forgot his name). Thank you to the sponsors and restaurants as well. And thank you to anyone I forgot.
Don't forget to stop in to our participating restaurants and let them know you enjoyed them at our RotaFest. This will keep them supporting us. Also, please thank the sponsors by patronizing their establishments. Both are listed on our website.
Please give us feedback on things that we could do better next year as well as things you loved about this year's event.
VISITORS AND GUESTS: Many, many people enjoyed RotaFest. This included several former Rotarians (and honorary ones as well). Great to see (in no particular order) Orren Robbins, Mark Nussman, Alan Frietas and his lovely wife Joy, Julie Lariviere Cabucio, Linda Morad, Tammy DeBarros and Tara Pacheco. Not sure if this cub reporter missed any.
Next Week (week of May 1st)
May 3rd – Lunch at the Wamsutta. Our guest speaker will be local author Ralph Hickok of Vagabond Halfback: The Saga of Johnny Blood McNally. Come learn about Johnny Blood, one of the most colorful characters in NFL history.
UPCOMING EVENTS: (Looking for programs for June)
May 2nd – Board Meeting. 5:00 pm. Location: Fire Systems Inc., 955 Reed Rd, N. Dartmouth. All are invited.
May 10th – Lunch at the Wamsutta. Our guest speaker will be Jennifer Downing (invited by Beatriz) , executive director of Leadership Southcoast. She will speak about Leadership Southcoast and alumni retention.
May 17th – Lunch at the Wamsutta. Our guest speaker will be John Silvia (invited by Beatriz), Operations Manager of Seastreak. He will tell us about Fast Ferry Service to Martha's Vineyard, Nantucket and now Provincetown. Bea says there might be a prize given out…..
May 24th – Lunch at the Wamsutta. Our guest speaker will be Sharon Terreault (invited by Beatriz), director of Early Head Start at Meeting Street. Her talk will be about supporting pregnant women with a history of substance abuse.
May 31st – Monthly Evening Social. TBD. We know it will be at 5:00 pm so just plan to be there, where ever "there" is. Bea has something special cooking!!!
June 6th – Board Meeting. 5:00 pm. Location: Fire Systems Inc., 955 Reed Rd, N. Dartmouth. All are invited.
June 7th – Program TBD
June 28th – Officer Induction Night. No lunch meeting. More information to follow.
Odds and Ends
ROTAFEST UPDATE:
We are working at putting together the final numbers for this great event. Thank you
HELP WANTED:
Needed: Looking for lunch programs for June. We may have one classification talk but need a couple more programs to fill out the schedule. If you know of anyone interesting, please let us know.
Needed: Ringing of the Bells chair. Need a person (or pair of persons) to work with the Salvation Army to schedule the annual Ringing of the Bells as well as organize the schedule of ringers. This usually occurs the first weekend in December which seems a long way off, but will be here sooner than we know it.
As former GAM editor would say, this humble GAM cub reporter is looking for someone to take over the GAM. Please contact me if you are interested. The job comes with a great joke book. Well, it comes with a joke book.
DISTRICT REMINDERS (if you are interested in attending any of these, please ask a board member for more information)
- ROTARY LEADERSHIP INSTITUTE (RLI), Rotary Leadership Training, Peabody, May 6, 2017. For more information go to www.rlinea.org/event/peabody--ma-(7930-7910-7950)/
- DISTRICT INTERNATIONAL NIGHT (honoring members of Rotary Youth Exchange), White's of Westport, May 15, 2017. For more information go to www.rotary7950.com/event/international-night-1/
- ROTARY INTERNATIONAL CONVENTION, Atlanta, GA, June 9-14, 2017 www.rotaryconvention2017.org/
- DISTRICT GOVERNOR INSTALLATION DINNER: Union Point, Weymouth, June 23, 2017
- PAW SOX ROTARY DAY FOR POLIO, Pawtucket, RI, August 22, 2017
- RIDE FOR POLIO, Foxboro?, MA, September 9, 2017
- P-BRUINS ROTARY DAY FOR POLIO, Providence, RI, October TBD
- ZONE 24 & 32 INSTITUTE, Hartford, CT, October 19-22, 2017
One More Thing – An Orren Classic
"Shoot for the moon - if you fail you land in the stars. That is not bad company. Many people shoot for the barn door, and if they fail - it is not a rose-colored landing."
Peter Ashworth
Cub Reporter
Lisa Faria
GAM Editor