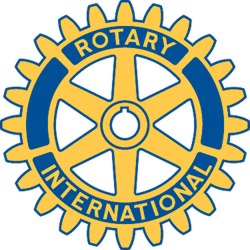 Rotary Club of New Bedford, MA - Weekly GAM
GAM...A nautical term describing the exchange of news between vessels departing from and returning to their ports...
March 15, 2017
This Week
RotaFest creeps closer and closer. Please keep looking for those raffle items. Thank you to Joe M. for the donation of New England Patriots Tickets. We are still looking for items big and small. Contact Michelle if you have anything to donate. We will also be looking for lottery tickets and bottles of wine. There should be poster by the end of next week. Please keep asking friends and colleagues to support this wonderful cause with sponsorships or ticket purchases. All sponsors will be mentioned in press releases to the media as well as a poster the night of the event. (We will still take more restaurants if you can get them even if they missed the poster deadline).
And now about lunch which brought a return to the Wamsutta this week. You can tell the size of the crowd by the amount of gusto in the singing. Cathy Tremblay of Better Community Living came to talk about the youth and family support programs at BCL. These programs support families with youth from three to twenty three. A closed referral program from the Department of Developmental Services, due to the rotating schedule, it is always full. The primary purpose is to maintain the family unit and avoid the out-of-home placement of a child. There are several programs to provide positive behavioral supports for youth with unique needs, including children's autism programs. Thank you Tom for inviting her.
VISITORS AND GUESTS: Guest Speaker - Cathy Tremblay, (Invited by Tom) Coordinator for BCL Intensive Flexible Family Supports Program. Prospective Member – Bunny Mogilnicki, of Bunny's Bouquets, back for a second week.
Next Week
March 22nd – DINING FOR A CAUSE. We will have our lunch meeting at the 99 Restaurant, 34 Sconticut Neck Rd, Fairahven, in support of Better Community Living at the normal time.
UPCOMING EVENTS:
March 28th – Monthly Evening Social. THIS IS A TUESDAY. Inner Bay Café & Grille, 1339 Cove Rd, New Bedford. 5 to 7 pm. Stop in anytime. This is another RotaFest participating restaurant. Will be looking for RSVPs next week.
March 29th – No Lunch Meeting.
April 4th – Board Meeting. 5:00 pm. Location: Fire Systems Inc., 955 Reed Rd, N. Dartmouth. All are invited.
April 5th – Lunch TBD
April 12th – Lunch TBD
April 19th – Lunch at the Wamsutta. Our guest speaker will be David Buck, (invited by Cheryl), sommologist for Traveling Vineyards. He will be discussing sommology, the art of pairing food and wine.
April 26th – No meeting. We will meet at the Seaport on the 27th for lunch so we can set up for RotaFest.
April 27th – Lunch at the Seaport Inn to set up for RotaFest. 12:15 pm.
April 27th – ROTAFEST. 5:30 pm. Location: The Seaport Inn, Fairhaven, MA
Odds and Ends
ROTAFEST UPDATE: April 27th 5:30pm Seaport Inn, Fairhaven (this information is as of 3/16/17)
Auction items – Michelle has asked you keep looking and bringing these in. Big and small items needed. Thank you Joe M. for the Patriots' tickets. We will also be looking for lottery tickets and bottles of wine.
Tickets – Sell them. $50 each
Still a few people that have not received tickets. Let Peter know how many you need. Also, please let him know how many you have sold.
Sponsorships – Sell them. $1,000 - $500 - $300
Locked in so far –
Gold – BayCoast Bank
Silver - Better Community Living, Clean Uniform Rentals, Fire Systems Inc, First Citizen's, Rich M., Gold Star Realty
Bronze - Marine Hydraulics, Carole J.
Unknown level - Dias, LaPalme & Martin
Last year's sponsors that we haven't heard from - Ponichtera & Desnardis PC, NB Area Chamber of Commerce, YMCA, Places to Go (please let us know soon if you have contacted them) (I've left a couple of Rotarian specific sponsors off this list)
Restaurant partners – Recruit them. The following have made the poster deadline. We can still have other participate.
Locked in so far – Airport Grille, Dorothy Cox, Dunkin Donuts, The Edge, Fay's & Knotty Pine Catering, Frontera, Mike's, Not Your Average, Joe's, Pasta House, Texas Roadhouse, Wicked Kickin, Inner Bay
Not returning/ said no – Applebee's, Black Bass, Greasy Luck, Olive Garden, Ninety Nine, Buffalo Wild Wings.
Clarification? – Just ask (I'm guessing you know how RotaFest works)
District Reminders – For details, check out previous GAMs
- ROTARY LEADERSHIP INSTITUTE: Amica Insurance, Lincoln RI, March 25, 2017
- DISTRICT 7950 TRAINING ASSEMBLY: Whites of Westport, April 1, 2017
- MULTI-DISTRICT ROTARY CONFERENCE (People had asked for more information on this so I'm reprinted from a prior GAM), Providence Convention Center, April 28-30, 2017 – Keynote speaker – Rotary International President John Germ. All Rotarians are welcome. It is a great chance to network with members from other clubs. There are ala carte options if you cannot attend the entire conference. For more information go to www.rotaryconference2017.org .
- DISTRICT GOVERNOR INSTALLATION DINNER: June 23, 2017
One More Thing – An Orren Classic
A lank, disconsolate-looking farmer stood on the steps of a town hall during the progress of a political meeting. "Do you know who's talking in there now?" demanded a stranger briskly, pausing for a moment beside the farmer. "Or are you just going in?" "No,sir; I've just come out", said the farmer decidedly. "Congressman Smiffkins is talking in there". "What about?" asked the stranger. "Well," continued the country-man, passing a knotted hand across his forehead, "he didn't say."
Peter Ashworth
Cub Reporter
Lisa Faria
GAM Editor