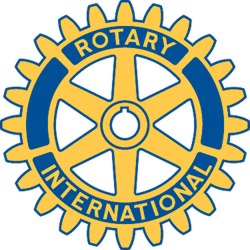 Rotary Club of New Bedford, MA - Weekly GAM
GAM...A nautical term describing the exchange of news between vessels departing from and returning to their ports...
March 8, 2017
This Week
As of the day I publish this, there are 45 days to go until RotaFest. We have 12 restaurants that made the poster deadline and will be listed. Others may still participate. The poster process is in process, so still send the names and maybe they can be snuck on. Please continue to get items for the auction. Michelle reminded me to keep reminding you. We have 11 sponsors, so continue to offer those opportunities to local businesses and philanthropists. More information below.
This week's lunch was the Annual Salvation Army Volunteer Lunch. The only information I have about it since I did not attend was that one of our club members had his GPS take him to "an interesting part of the city". This past year we supported the Salvation Army by ringing the bells during the holidays, stacking presents for their toy distribution day, and giving to their annual campaign. In case you missed the GAM where it was reported, we raised $1,420.42 during the bell ringing. A shout out to the Dartmouth club that raised $510.08 at their location on the same day, and the Fairhaven club that got $281.25 on their outing.
Don't forget, this was a MILLION DOLLAR MEAL so please pay your weekly lunch fee even if you did not attend. (note to self…..)
VISITORS AND GUESTS: I guess we were all guest of the Salvation Army. Team Alferes Realty was also there.
Next Week (well this week at this point)
March 15th – HOPEFULLY IF THE WEATHER COOPERATES - Lunch at the Wamsutta. Our guest speaker will be Cathy Tremblay, (invited by Tom) the coordinator for BCL's Intensive Flexible Family Supports Program. A QUICK ROTAFEST MEETING TO FOLLOW.
UPCOMING EVENTS:
March 22nd – DINING FOR A CAUSE. We will have our lunch meeting at the 99 Restaurant, 34 Sconticut Neck Rd, Fairahven, in support of Better Community Living. Tom to share details.
March 28th – Monthly Evening Social. THIS IS A TUESDAY. Inner Bay Café & Grille, 1339 Cover Rd, New Bedford. 5 to 7 pm. Stop in anytime. This is another RotaFest participating restaurant. Will be looking for RSVP as we get closer.
March 29th – No Lunch Meeting.
April 4th – Board Meeting. 5:00 pm. Location: Fire Systems Inc., 955 Reed Rd, N. Dartmouth. All are invited.
April 5th – Lunch TBD
April 12th – Lunch TBD
April 19th – Lunch at the Wamsutta. Our guest speaker will be David Buck, (invited by Cheryl), sommologist for Traveling Vineyards. He will be discussing sommology, the art of pairing food and wine.
April 26th – No meeting. We will meet at the Seaport on the 27th for lunch so we can set up for RotaFest.
April 27th – Lunch at the Seaport Inn to set up for RotaFest. 12:15 pm.
April 27th – ROTAFEST. 5:30 pm. Location: The Seaport Inn, Fairhaven, MA
Odds and Ends
ROTAFEST UPDATE: April 27th (this information is as of 3/13/17)
Tickets – Sell them. $50 each
Still a few people that have not received tickets. Let Peter know how many you need. Also, please let him know how many you have sold.
Sponsorships – Sell them. $1,000 - $500 - $300
Locked in so far –
Gold – BayCoast Bank
Silver - Better Community Living, Clean Uniform Rentals, Fire Systems Inc, First Citizen's, Rich M.
Bronze - Marine Hydraulics, Carole J.
Unknown level - Gold Star Realty, Dias, LaPalme & Martin
Restaurant partners – Recruit them. The following have made the poster deadline. (If you have just received this, there still may be time to get your restaurant on the poster) We can still have other participate.
Locked in so far – Airport Grille, Dorothy Cox, Dunkin Donuts, The Edge, Fay's & Knotty Pine Catering, Frontera, Mike's, Not Your Average, Joe's, Pasta House, Texas Roadhouse, Wicked Kickin
Not returning/ said no – Applebee's, Black Bass, Greasy Luck, Olive Garden.
Auction items – Michelle has asked you keep looking and bringing these in. Big and small items needed. So please help Michelle be less stressed and get them in.
Clarification? – Just ask (I'm guessing you know how RotaFest works)
Speaking of Fundraisers – PANCAKE BREAKFAST – Fairhaven Rotary Club to benefit their scholarship program. March 12th, 8 – noon, Fairhaven Senior Center. $10 for adults, $6 for children 10 and under. For more information go to the Fairhaven Council on Aging (ask for Anne Silvia) or call David at 860-455-8415
District Reminders – For details, check out previous GAMs
- ROTARY LEADERSHIP INSTITUTE: Amica Insurance, Lincoln RI, March 25, 2017
- DISTRICT 7950 TRAINING ASSEMBLY: Whites of Westport, April 1, 2017
- MULTI-DISTRICT ROTARY CONFERENCE: Providence Convention Center, April 28-30, 2017
- DISTRICT GOVERNOR INSTALLATION DINNER: June 23, 2017
One More Thing – An Orren Classic
A LITTLE TOO THRIFTY - A country youth was driving to the County Fair with his sweetheart when they passed a booth where fresh popcorn was for sale. "My, Abner, ain't that nice?" said the girl. "Ain't what nice?" asked Abner."Why, the popcorn: it smells so awfully good", replied the girl. "It does smell kind of fine", drawled the youth. "I'll jest drive a little closer so you can get a better smell."
Peter Ashworth
Cub Reporter
Lisa Faria
GAM Editor