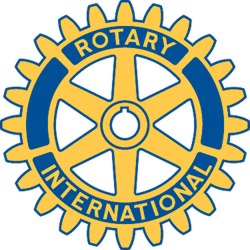 Rotary Club of New Bedford, MA - Weekly GAM
GAM...A nautical term describing the exchange of news between vessels departing from and returning to their ports...
March 1, 2017
This Week
A new month is upon us and we are that much closer to our biggest fundraiser, RotaFest. We need your restaurants ASAP as we only have Texas Roadhouse, The Edge, Not Your Average Joe's, Dorothy Cox and Dunkin Donuts confirmed and have 3 others that will not be returning. We need to send the information the printer next week. More information below.
As far as lunch goes, another "felt like a full house" day, with only a seat or two at each table empty. Check out the list of visitors and guests below who attended in addition to club members. Our speaker was Dr. Michael Rocha (invited by Tom), of Hawthorne Medical. In his work as a cardiologist, he came to realize that most of what he treated were preventable diseases. He shared that while 80% of diseases are preventable, less than 5% of medical spending goes to preventative care. Starting with sponsoring a weekly walk for wellness, he created the New Bedford Wellness Initiative. His love of the city challenged him to find ways to help people get well. His challenge to all is for everyone to "step up" to do what you can to help. He had the Rotarians and guests riveted to his every word, leading to a question and answer session that took us until almost 1:30. You missed a good one.
VISITORS AND GUESTS: Guest Speaker – Dr. Michael Rocha, Director – New Bedford Wellness Initiative. Also in attendance prospective members Peter Covill of Humphrey, Covill & Coleman Insurance Agency and Bunny Mogilnicki of retirement. Visiting Rotarian – Joe Livingston, Taunton Rotary
A LITTLE LESS THAN 2 MONTHS TO ROTAFEST - Just a reminder. Please forward any updates to Peter. We want to have the poster printed by mid-March at the latest so we will need to know what restaurants are participating so they can be listed. More information below.
Next Week
March 8th – MILLION DOLLAR MEAL - Salvation Army Volunteer Lunch. Please begin to arrive at 11:45 am as it will start at noon. It will be held at the Salvation Army Headquarters, 619 Purchase St, New Bedford. This is a MILLION DOLLAR MEAL. That means we ask you to pay your $14 even if you don't attend.
UPCOMING EVENTS:
March 7th – Board Meeting. 5:00 pm. Location: Fire Systems Inc., 955 Reed Rd, N. Dartmouth. All are invited.
March 15th – Lunch at the Wamsutta. Our guest speaker will be Cathy Tremblay, (invited by Tom) the coordinator for BCL's Intensive Flexible Family Supports Program.
March 22nd – DINING FOR A CAUSE. We will have our lunch meeting at the 99 Restaurant, 34 Sconticut Neck Rd, Fairahven, in support of Better Community Living. Tom to share details.
March 28th – Monthly Evening Social. THIS IS A TUESDAY. Inner Bay Café & Grille, 1339 Cover Rd, New Bedford. 5 to 7 pm. Stop in anytime. This is another RotaFest participating restaurant. Will be looking for RSVP as we get closer.
March 29th – No Lunch Meeting.
April 4th – Board Meeting. 5:00 pm. Location: Fire Systems Inc., 955 Reed Rd, N. Dartmouth. All are invited.
April 26th – No meeting. We will meet at the Seaport on the 27th for lunch so we can set up for RotaFest.
April 27th – Lunch at the Seaport Inn to set up for RotaFest. 12:15 pm.
April 27th – ROTAFEST. 5:30 pm. Location: The Seaport Inn, Fairhaven, MA
Odds and Ends
ROTAFEST UPDATE: April 27th (this information is as of 3/3/17)
Tickets – Sell them. $50 each
We have had a couple of requests for tickets. Please send a reminder to Peter if you are looking for some even if you think he knows.
Sponsorships – Sell them. $1,000 - $500 - $300
Locked in so far – Better Community Living, Marine Hydraulics, Gold Star Realty (I think I'm missing one?)
Restaurant partners – Recruit them.
Locked in so far – Texas Roadhouse, Dorothy Cox, The Edge, Not Your Average Joe's, Dunkin Donuts
Not returning – Olive Garden, Applebee's, Airport Grille
Auction items – Acquire them – big and small – we have some coming in already
Music – Pres. Russ has secured The D.D. Bastos Group as entertainment.
Clarification? – Just ask (I'm guessing you know how RotaFest works)
Speaking of Fundraisers – PANCAKE BREAKFAST – Fairhaven Rotary Club to benefit their scholarship program. March 12th, 8 – noon, Fairhaven Senior Center. $10 for adults, $6 for children 10 and under. For more information go to the Fairhaven Council on Aging (ask for Anne Silvia) or call David at 860-455-8415
District Reminders – For details, check out previous GAMs
- ROTARY LEADERSHIP INSTITUTE: Amica Insurance, Lincoln RI, March 25, 2017
- DISTRICT 7950 TRAINING ASSEMBLY: Whites of Westport, April 1, 2017
- MULTI-DISTRICT ROTARY CONFERENCE: Providence Convention Center, April 28-30, 2017
- DISTRICT GOVERNOR INSTALLATION DINNER: June 23, 2017
One More Thing – An Orren Classic
(This seemed appropriate considering this week's speaker.)
"Doc", said he, "if there is anything the matter with me, don't frighten me half to death by giving it a scientific name. Just tell me what it is in plain English."
"Well', said the doctor, "to be frank with you, you are just plain lazy".
"Thank you doctor," sighed the patient with relief. "Now give me a scientific name for it, so I can go home and tell the missus"
Peter Ashworth
Cub Reporter
Lisa Faria
GAM Editor