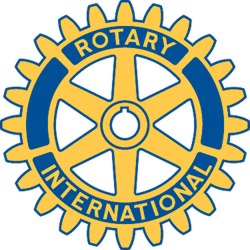 Rotary Club of New Bedford, MA - Weekly GAM
GAM...A nautical term describing the exchange of news between vessels departing from and returning to their ports...
Feb 22, 2017
This Week
A spicy social was had at Not Your Average Joe's this month. It was an intimate gathering for several Rotarians and a guest. Discussions ranged from the past (did you know that Sears had a downtown NB location?), the present (how do you deal with a chatty co-worker?) and the future (possibly looking at a newly opened restaurant participating in Rotafest). Of course, if you missed it, we will be doing it again next month at the Inner Bay. See information about that below.
VISITORS AND GUESTS: Melissa, a guest of Peter.
A LITTLE MORE THAN 2 MONTHS TO ROTAFEST - Just a reminder. Please forward any updates to Peter. We want to have the poster printed by mid-March at the latest so we will need to know what restaurants are participating so they can be listed.
If you haven't RSVP'd for lunch at the Salvation Army on March 8th, please do so as soon as possible. So far we have Stu, Paula, Carole, Marc, Jerry and Linda attending and Carl not attending, if I haven't missed anyone.
Next Week
March 1st – Lunch at the Wamsutta. Our guest speaker is Dr. Michael Rocha, (invited by Tom), Director of the New Bedford Wellness Initiative. We will have two potential members attending this meeting as well, hopefully.
UPCOMING EVENTS:
March 7th – Board Meeting. 5:00 pm. Location: Fire Systems Inc., 955 Reed Rd, N. Dartmouth. All are invited.
March 8th – Salvation Army Volunteer Lunch. It will be held at the Salvation Army Headquarters, 619 Purchase St, New Bedford. Please be sure to RSVP by 2/26 to Peter. This is a MILLION DOLLAR MEAL. That means we ask you to pay your $14 even if you don't attend.
March 15th – Lunch at the Wamsutta. Our guest speaker will be Cathy Tremblay, (invited by Tom) the coordinator for BCL's Intensive Flexible Family Supports Program.
March 22nd – DINING FOR A CAUSE. We will have our lunch meeting at the 99 Restaurant, 34 Sconticut Neck Rd, Fairahven, in support of Better Community Living. Tom to share details.
March 28th – Monthly Evening Social. THIS IS A TUESDAY. Inner Bay Café & Grille, 1339 Cover Rd, New Bedford. 5 to 7 pm. Stop in anytime. This is another RotaFest participating restaurant. Will be looking for RSVP as we get closer.
March 29th – No Lunch Meeting.
April 4th – Board Meeting. 5:00 pm. Location: Fire Systems Inc., 955 Reed Rd, N. Dartmouth. All are invited.
April 5th – Lunch at the Wamsutta. Program TBA
April 26th – No meeting. We will meet at the Seaport on the 27th for lunch so we can set up for RotaFest
April 27th – Lunch at the Seaport Inn to set up for RotaFest. 12:15 pm.
April 27th – ROTAFEST. 5:30 pm. Location: The Seaport Inn, Fairhaven, MA
Odds and Ends
Check out this article about "gamming". www.newbedfordguide.com/whaling-terms-for-landlubbers-gamming/2013/09/10
ROTAFEST UPDATE: April 27th.
Tickets – Sell them. $50 each
Sponsorships – Sell them. $1,000 - $500 - $300
Restaurant partners – Recruit them.
Auction items – Acquire them – big and small – we have some coming in already
Music – President Russ is taking suggestions.
Clarification? – Just ask (I'm guessing you know how RotaFest works and so I'm just trying to be brief)
District Reminders – For details, check out previous GAMs
- ROTARY LEADERSHIP INSTITUTE: Amica Insurance, Lincoln RI, March 25, 2017
- MULTI-DISTRICT ROTARY CONFERENCE: Providence Convention Center, April 28-30, 2017
- DISTRICT GOVERNOR INSTALLATION DINNER: June 23, 2017
- DISTRICT 7950 TRAINING ASSEMBLY: Whites of Westport, April 1, 2017
One More Thing – An Orren Classic
Procrastination -.... Mr. Meant-To has a comrade, and his name is Didn't-Do. Have you ever chanced to meet them? Have they ever called on you? These two fellows live together in the House of Never Win, and I'm told that it is haunted by the ghost of Might-Have-Been!
Peter Ashworth
Cub Reporter
Lisa Faria
GAM Editor