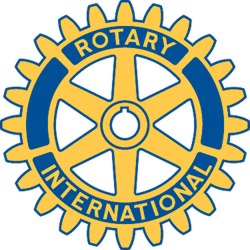 Rotary Club of New Bedford, MA - Weekly GAM
GAM...A nautical term describing the exchange of news between vessels departing from and returning to their ports...
Feb 8, 2017
This Week
A somewhat light (compared to recent weeks) but enthusiastic crowd was present this week. We did miss our resident "tune carrier" and no one seemed to have a bucket for "God Bless America" but we got through it. After lunch we performed one of the best things that can happen to a Rotary Club by inducting Adam Ballantine from the Boy Scouts. Isn't it great we've had two of these days in just under a month? THANK YOU to Tom for performing the ceremony in true "step up to the plate" Rotary fashion. And of course, welcome Adam. We look forward to working with you.
Then it was time for our speaker, Kevin Thompson, founder of the Brotherhood of the Kilt. In real life Kevin is the director of business development and technology at BBM Pros. The Brotherhood of the Kilt is a "global co-ed organization dedicated to the kilt and the people who wear it." You can find them at www.kiltsrock.com . Kevin shared with us the story of how wearing a kilt every day for the last twelve years has helped him to be empowered which has led him to help empower others. And yes, he was wearing a kilt and I think brightened a few members' day. His advice if you wear a kilt? Avoid the leaf blower section of Home Depot.
VISITORS AND GUESTS: Guest Speakers: Kevin Thompson, Founder – Brotherhood of the Kilt. Adam Ballantine from the Boy Scouts (Do I still count him here because he was inducted this week?)
Next Week
February 15th – Lunch at the Wamsutta. Our guest speaker will be Daniel Mumbauer (invited by Carl), CEO of the High Point Treatment Center.
UPCOMING EVENTS:
February 22nd – Monthly Evening Social. 5:00 pm to 7:00 pm. Stop in anytime. Trying to confirm The Inner Bay Restaurant in New Bedford's south end, another Rotafest participating restaurant.
March 1st – Lunch at the Wamsutta. Dr. Michael Rocha, (invited by Tom), Director of the New Bedford Wellness Initiative.
March 7th – Board Meeting. 5:00 pm. Location: Fire Systems Inc., 955 Reed Rd, N. Dartmouth. All are invited.
March 8th – Salvation Army Volunteer Lunch. It will be held at the Salvation Army Headquarters, 619 Purchase St, New Bedford. Please be sure to RSVP when the time comes.
March 15th – Lunch at the Wamsutta.
April 27th – ROTAFEST. 5:30 pm. Location: The Seaport Inn, Fairhaven, MA
Odds and Ends
Updates from the Board Meeting:
Membership reported that Nancy Wood Dupont will be stepping down from the club. This humble reporter thinks that the board should not have accepted the resignation. Seriously, Nancy will be retiring from her position at the bank and we hope she can re-join us after that. A big THANK YOU to her, and she will be greatly missed.
More bad news, Joe Andrade will be unable continue in the roll of Vice President. We congratulate him on his promotion at work but unfortunately it will not allow him to reliably attend Wednesday meetings for the foreseeable future. We are glad he will continue as a member. We are currently looking for nominations to fill the role of VP.
The Allocations Committee approved some allocations but I missed that part of the meeting. I'm sure it went to several good local organizations to help them in their missions.
The board will be delivering more information in the future about the Rotary Foundation. But in the meantime, if you use Amazon to shop, check out AmazonSmile. The same site and services as Amazon (well the site is www.smile.amazon.com ) but a portion of the proceeds of your purchase will go to a charity of your choosing. And don't you know that the Rotary Foundation is one of those charities. Consider choosing them when you shop Amazon.
ROTAFEST UPDATE:
Tickets – Sell them. $50 each
Sponsorships – Sell them. $1,000 - $500 - $300
Restaurant partners – Recruit them. Marc S. locked in Texas Roadhouse. THANK YOU
Auction items – Acquire them – big and small – we have some coming in already
Clarification? – Just ask (I'm guessing you know how RotaFest works and so I'm just trying to be brief)
100%ers for January – Let me know if I missed you - Jerry, Linda, Ellen, Paula, Lisa, Trine, Cheryl and Peter. (I may have done this incorrectly in the past) We also had 7 that were 75%ers.
Based on a 3 month running total (which I think my previous 100%ers were based on) - Russ, Jerry, Linda, Marc S., Carole, Lisa, Trine, Cheryl and Peter.
District Reminders – For details, check out previous GAMs
- PRESIDENTS MID YEAR MEETING / PRESIDENTS ELECT PRE PETS MEETING : Whites of Westport, February 11, 2017.
- MULTI-DISTRICT ROTARY CONFERENCE: Providence Convention Center, April 28-30, 2017
- DISTRICT GOVERNOR INSTALLATION DINNER: June 23, 2017
- DISTRICT 7950 TRAINING ASSEMBLY: Whites of Westport, April 1, 2017
One More Thing – An Orren Classic
A little girl from southern California was having her first glimpse of snow. "Oh, Grandma, what is it - what is it?" she shouted excitedly. "Why, that is snow, Peggy. Whatever did you think it was?" "Snow?", she replied, "why it looks just like popped rain!"
Peter Ashworth
Cub Reporter
Lisa Faria
GAM Editor