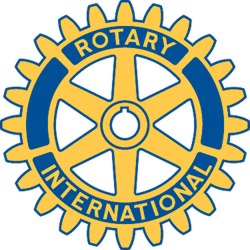 Rotary Club of New Bedford, MA - Weekly GAM
GAM...A nautical term describing the exchange of news between vessels departing from and returning to their ports...
Feb 1, 2017
This Week
Once again we saw a nice crowd at the Wamsutta this week. Hopefully we will need to start setting up that fourth table again. Carl introduced our speakers who worked at his former company. Shelly Correia, Program Director and Angela Ramos, Housing Placement & Stabilization Specialist from the Harbour House Family Shelter spoke of their mission of helping families that are homeless. Reminding us not to think the stories for all families are the same, they told of their strategy to connect people to their own community. They look to give them the tools they need to succeed. Their location at the former Kristen Beth Nursing home, where they currently had 14 families consisting of 32 children and 18 adults, helps them truly be part of the community. Their boss, Steve Montembault who was also in attendance, acknowledged that Angela was their "Employee of the Year" having placed 99 families into better situations. Thank you Carl for inviting them.
VISITORS AND GUESTS: Guest Speakers: Shelly Correia and Angela Ramos from the Harbour House. Steve Montembault from High Point Treatment Centers. Adam Ballantine from the Boy Scouts. And sneaking in after the bell Charlene Jarest, District Assistant Governor and Fall River Rotarian.
Next Week
February 8th – Lunch at the Wamsutta. Our guest speaker will be Kevin Thompson, founder of the Brotherhood of the Kilt. He will speak about "Empowerment and the Kilt: How to Find the Courage Within" (this was rescheduled from last fall)
Also, if all goes according to plan, we will be inducting new member Adam Ballantine at this meeting.
UPCOMING EVENTS:
February 7th – Board Meeting. 5:00 pm. Location: Fire Systems Inc., 955 Reed Rd, N. Dartmouth. All are invited.
February 15th – Lunch at the Wamsutta. Our guest speaker will be Daniel Mumbauer (invited by Carl), CEO of the High Point Treatment Center.
February 22nd – Monthly Evening Social. SAVE THE DATE. TBA
March 1st – Lunch at the Wamsutta. Tom is working on the program.
March 7th – Board Meeting. 5:00 pm. Location: Fire Systems Inc., 955 Reed Rd, N. Dartmouth. All are invited.
March 8th – Salvation Army Volunteer Lunch. It will be held at the Salvation Army Headquarters, 619 Purchase St, New Bedford. Please be sure to RSVP when the time comes.
April 27th – ROTAFEST. 5:30 pm. Location: The Seaport Inn, Fairhaven, MA
Odds and Ends
ROTAFEST UPDATE: Tickets were handed out at the meeting this week. Please be sure to get yours from President Russ. He wanted to remind you we will be looking for auction items. We will need small item (gift certificates, wine bottles, etc) to large items (Sport and show tickets, prints, etc.). Don't forget, we have both a live and silent auction. Thank you to Michelle and Cheryl for helping to organize this again. They have great suggestions on items that help drive our auction. Please check with them if you have questions.
Also, an email was sent out after the meeting from Peter with the forms for RotaFest. Let him know if you did not receive them. It included sponsor and restaurant forms. A list of restaurants was in last week's GAM. Let Peter know who you will be approaching. He's going after the Airport Grille. Marc is after his three – Applebee's, Texas Roadhouse and Olive Garden.
We received 2 invitations in the mail that President Russ shared.
This weekend – SHARING THE HARVEST APPRECIATION BREAKFAST, Saturday, February 4th, 9:00 am at Fay's Restaurant. They are asking for an RSVP so let Peter know if you are interested in representing the club at this event. There does not appear to be a cost
A "Save the Date" at this point – Kennedy Donovan Center's SPRING CELEBRATION, Saturday, April 1st, 6:00 pm at Lombardo's Randolph. We will share more as we get more information.
District Reminders – For details, check out previous GAMs
- PRESIDENTS MID YEAR MEETING / PRESIDENTS ELECT PRE PETS MEETING : Whites of Westport, February 11, 2017.
- MULTI-DISTRICT ROTARY CONFERENCE: Providence Convention Center, April 28-30, 2017
- DISTRICT GOVERNOR INSTALLATION DINNER: June 23, 2017
- DISTRICT 7950 TRAINING ASSEMBLY: Whites of Westport, April 1, 2017
One More Thing – An Orren Classic
Friend: "So, you're down to the seaside now?" Neighbor: "Yes, and it's great. By the way, speaking of seaside, if a man gets a biff in the eye and it swells up like a mountain, doesn't it follow that the other side of his face is the see-side?"
Peter Ashworth
Cub Reporter
Lisa Faria
GAM Editor