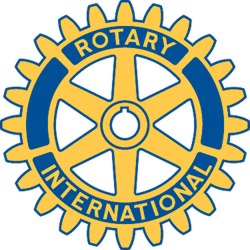 Rotary Club of New Bedford, MA - Weekly GAM
GAM...A nautical term describing the exchange of news between vessels departing from and returning to their ports...
Jan 18, 2017
This Week
On January 18th, the first polar bear to be exhibited in the U.S. was unveiled in Boston in 1733. Closer to home and closer to now, our Rotary Club had quite a showing at our weekly meeting on the same day in the year 2017. Three mostly full tables greeted Guest Speaker, Dean Snell. An Acushnet native and hockey fan, Mr. Snell told of his start at Titleist working on designing golf balls. He started his company, Snell Golf, to bring higher end golf balls to more golfers and in turn get more people enjoying the game. He stressed the importance of making his company local to New Bedford. His jovial talk covered everything from international trade and patent policy to the future of the game of golf.
Adam Ballantine of the Narragansett Council Boy Scouts of America joined us for lunch for a second week. We look forward to having his application for membership reviewed at the next board meeting and an induction to follow soon.
VISITORS AND GUESTS: Guest Speaker: Dean Snell, founder and CEO of Snell Golf (Invited by Ellen). Returning - Adam Ballantine, Service Area Executive, Narragansett Council Boy Scouts of America. He is a candidate for membership.
Next Week
January 25th - Monthly Evening Social – Come join us to check out one of New Bedford's newest restaurants. 5:00pm. Location: Carmines Italian Ristorante, 72 N Water Street, New Bedford . Please be sure to RSVP.
UPCOMING EVENTS:
February 1st – Lunch at the Wamsutta. Program TBA
February 7th – Board Meeting. 5:00 pm. Location: Fire Systems Inc., 955 Reed Rd, N. Dartmouth
March 8th – Salvation Army Volunteer Lunch. It will be held at the Salvation Army Headquarters, 619 Purchase St, New Bedford. Please be sure to RSVP when the time comes.
April 27th – ROTAFEST. 5:30 pm. Location: The Seaport Inn, Fairhaven, MA
Odds and Ends
ROTAFEST: From President Russ -
I want to remind everyone that Rotafest will be upon us before we know it.
April 27, 2017
5:30 pm.
Seaport Inn, Fairhaven
If you have a connection to a restaurant or establishment who joined us last year, please contact them again. We are, of course, open to contacting new restaurateurs as well.
Tickets have been ordered (editor's note: Actually Pres, Linda got them today.), but we cannot print posters or ads until we know who our vendors will be.
We are also seeking suggestions for musical entertainers. Acoustic music has been suggested, to keep the volume at comfortable levels. Also, our own John Remedis has offered to DJ the event if the club is interested. (Thanks John).
Ticket prices and packages will remain the same price as last year. More information to follow.
PRESIDENTS MID YEAR MEETING PRESIDENTS ELECT PRE PETS MEETING : Saturday, FEBRUARY 11, 2017. District 7950. Convened by Russell Bertrand DG 16-17 and Steve Certa DG 17-18. Whites of Westport. Registration 7am to 8am. The Midyear/PrePETS meeting will be informational and enjoyable for all Rotarians not just club officers. Please make every effort to attend. This meeting will be fast paced and adjourned at 12:30! Promise! KEYNOTE SPEAKER Rotary International Director Dean Rohrs - See more at: http://rotary7950.com/event/mid-year-meeting---pre-pets/
(I just cut and pasted this from the district website. See how easy being a GAM writer is.)
MULTI-DISTRICT ROTARY CONFERENCE: Providence Convention Center, April 28-30, 2017 – Keynote speaker – Rotary International President John Germ. All Rotarians are welcome. It is a great chance to network with members from other clubs. For more information go to www.rotaryconference2017.org.
Correction from last week. Not that anyone mentioned it, but the information on the NEXT WEEK section, I never quite finished the paragraph (or sentence really) about the Salvation Army Volunteer Lunch. It has been corrected online and is correct in this week's GAM.
Also, thank you to one person that noticed my hidden note last week.
One More Thing – An Orren Classic
(in drug store) Man - "I want some consecrated lye".
Druggist - "You mean concentrated lye".
Man - "It does nutmeg any difference. That's what I camphor. What does it sulphur?"
Druggist - "Fifteen scents. I never cinnamon with so much wit".
Man - "Well, I should myrrh, myrrh, but I ammonia novice at it".

Peter Ashworth
Cub Reporter
Lisa Faria
GAM Editor