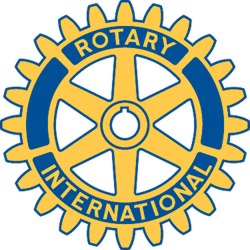 Rotary Club of New Bedford, MA - Weekly GAM
GAM...A nautical term describing the exchange of news between vessels departing from and returning to their ports...
Jan 11, 2017
This Week
The January 11th meeting was started with an induction of members Bea and Trine. A lovely ceremony run by President Russ, it reminded Tom of his Rotary "wedding" vows. Welcome to our new members.
An energetic talk was given by Bernadette Souza, Executive Director of Youth Opportunities Unlimited. A proud New Bedford native, she told of the genesis of this local nonprofit from originally being called Trips for Kids to its extensive programs of today. "Investing in children" is what they do is the short answer. To get a longer answer, go see them in the South End at the Hazelwood Park Warming house. Check out their website at http://www.younb.org/ If you know a child that can benefit from their programs, Bernadette encourages you to contact them. We didn't even hold it against her that she is related to our Carole.
VISITORS AND GUESTS: Guest Speaker: Bernadette Souza, Executive Director of Youth Opportunities Unlimited (Invited by Ellen). Adam Ballantine, Service Area Executive, Narragansett Council Boy Scouts of America.
Next Week
January 18th – A talk from Dean Snell, founder and CEO of Snell Golf (Invited by Ellen). Mr. Snell has worked for TaylorMade, Titleist, Foot Joy, and BF Goodrich Aerospace before founding his own company. It is sure to be an interesting talk. Location: Wamsutta Club
UPCOMING EVENTS:
January 25th - Monthly Evening Social – Come join us to check out one of New Bedford's newest restaurants. 5:00pm. Location: Carmines Italian Ristorante, 72 N Water Street, New Bedford
February 1st – Lunch at the Wamsutta. Program TBA
February 7th – Board Meeting. 5:00 pm. Location: Fire Systems Inc., 955 Reed Rd, N. Dartmouth
March 8th – Salvation Army Volunteer Lunch. It will be held at the Salvation Army Headquarters, 619 Purchase St, New Bedford. Please be sure to RSVP when the time comes.
April 27th – ROTAFEST. 5:30 pm. Location: The Seaport Inn, Fairhaven, MA
Odds and Ends
The first Rotafest committee meeting was held this week after the meeting. President Russ will send an email with information from that meeting.
Adam Ballantine of the Narragansett Council Boy Scouts of America joined in for lunch. Adam will be taking over the duties of former member Eric O. and that includes membership in our club. He has already submitted an application for membership which will be reviewed at our next board meeting.
Major Parkhurst reported we raised $1,420.42 during the Ringing of the Bells for the Salvation Army. Along with the Dartmouth and Fairhaven club, almost $2,000 was added to their kettles because of Rotary.
Don't forget President Russ asks each member to check out their profile on our webpage. (www.newbedfordrotary.com in case you forgot) . Go to the link "For members…" in the blue band on the left side and update your profile picture and any other information. We have had a couple of folks do this already. Thanks.
MULTI-DISTRICT ROTARY CONFERENCE , Providence Convention Center, April 28-30, 2017 – Keynote speaker – Rotary International President John Germ. All Rotarians are welcome. It is a great chance to network with members from other clubs. For more information go to www.rotaryconference2017.org.
Help Wanted
Needed: A committee with chair to organize the membership night for this spring. Please let me know if you are interested. We could also use a membership chair in general. (Is anyone still reading at this point?)
Needed: Lunch program organizers for May and June. Several Rotarians have secured program speakers for most of the year. We need a couple more to get to the end of the year. (You can team up with other Rotarians if you want) IF YOU CAN EVEN FIND A PROGRAM FOR ONE WEEK THAT WOULD HELP.
As former GAM editor would say, this humble GAM cub reporter is looking for someone to take over the GAM. Please contact me if you are interested. The job comes with a great joke book. Well, it comes with a joke book.
One More Thing – An Orren Classic
"Now children", said the Sunday school teacher, "I have told you the story of Jonah and the whale. Willie, you may tell me what this story teaches." Willie, the bright eyed son of the pastor, responds -"It teaches you that you can't keep a good man down."

Peter Ashworth
Cub Reporter
Lisa Faria
GAM Editor