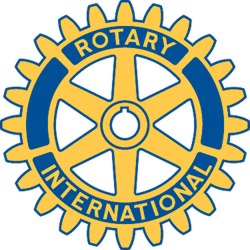 Rotary Club of New Bedford, MA - Weekly GAM
GAM...A nautical term describing the exchange of news between vessels departing from and returning to their ports...
December 21, 2016
This Week
Felt like old home week at the Wamsutta this week. Though the crowd started small, it grew to a respectable size (in current context) by the time we were done eating. We saw a few current Rotarians that haven't made it to lunch in a while as well as two former Rotarians. PP Alan popped in on us while he was in town, and suffered "cheerfully" the barbs flung at him. I think Carole was glad to have the spotlight off her. Of course, our guest speaker was former (and hopefully future) member, Paula Borges, Chief Operating Officer of Child & Family Services invited by Carole. Paula spoke of the history of C&FS from its time as an orphanage in 1843 to its 10 sites across the state, 3 of which are in New Bedford with several programs from intervention to adoption. As you know, C&FS was the recipient of our back pack project as well as guests (of Carole) at our Breakfast with Santa. Paula told of one boy who was unable to attend the BwS and extremely upset about it that she had to contact Santa for a special breakfast with him. She also mentioned the constant need for employees. So if you know anyone interested in a career helping children and families, please contact Paula. Thank you Paula and hope to see you again real soon, preferably as a member. :)
Other happenings at the meeting included several "thank you" wishes. The club received thanks from the YMCA for helping with donations for the Share the Harvest Farm as well as their annual campaign. The club handed out a thank you to our wonderful weekly server, Jerry, at the Wamsutta Club for tirelessly taking care of us each week.
The club also rallied behind a community need. Brought to our attention by Cheryl, the Steppingstone Women's Program in New Bedford needed help with funding presents for the children of women in their program. The board authorized a donation and some members donated as well (and also this week's Happy Bucks were donated.)
Though we won't be having a meeting next week, Ellen reminded us to be ready on the 4th for our Annual Yankee Swap and Holiday Party. Don't be a Scrooge and remember to bring a wrapped gift of no more than $10. A great opportunity to re-gift that "not quite right" gift you received. Wine bottles, candles and scratch tickets are popular but I always enjoy the more unusual gifts. One year I left with an unopened vintage 1970's era lawn chair repair kit with really nylon straps. Thanks Mark T.
VISITORS AND GUESTS: Paula Borges-COO of Child & Family Services, Alan Freitas – past club president (with the shortest tenure)
Next Week
December 28th – NO MEETING. Enjoy the holidays!!!
Upcoming events:
January 3rd – Monthly Board Meeting at 5:00pm. Location: TBA.
January 4th – 453rd Annual Yankee Swap and Holiday Party. At the Wamsutta Club during our regular lunch. Bring a wrapped gift of no more than a $10 value. Re-gifting highly recommended!!
January 11th - A talk from Dean Snell, founder and CEO of Snell Golf (Invited by Ellen). Mr. Snell has worked for TaylorMade, Titleist, Foot Joy, and BF Goodrich Aerospace before founding his own company. It is sure to be an interesting talk. Location: Wamsutta Club
January 18th – Our Speaker with be Bernadette Souza, Executive Director of Youth Opportunities Unlimited (Invited by Ellen). Ms. Souza is a well-known local advocate for our city's youth. Come to find out what Youth Opportunities is doing in New Bedford. Location: Wamsutta Club
January 25th - Monthly Evening Social – PLAN TO BE THERE NO MATTER WHERE IT IS. As always it starts at 5:00pm. Location: Somewhere wonderful
Odds and Ends
President Russ told us of a note we received. Evidently, a good samaritan found a "100 year old" Rotary medallion in the King's Highway Stop and Shop parking lot. If this is yours, let Russ know. He is contacting them for more information
We have officially received an application for membership for Beatrice Oliveira of the Shwartz Center for membership. Per club guidelines, it will be reviewed at the January 3rd board meeting then we should be seeing a lot more of her. Hopefully she can join us for the January 4th Yankee Swap.
Help Wanted
Needed: A committee with chair to organize the membership night for this spring. Please let me know if you are interested. We could also use a membership chair in general. (Is anyone still reading at this point?)
Needed: Lunch program organizers for May and June. Several Rotarians have secured program speakers for most of the year. We need a couple more to get to the end of the year. (You can team up with other Rotarians if you want) IF YOU CAN EVEN FIND A PROGRAM FOR ONE WEEK THAT WOULD HELP.
As former GAM editor would say, this humble GAM cub reporter is looking for someone to take over the GAM. Please contact me if you are interested. The job comes with a great joke book.
One More Thing – An Orren Classic
A POLITICALLY CORRECT HOLIDAY GREETING THAT CAN BE USED BY ALL - SHAMELESSLY TAKEN FROM THE DECEMBER ISSUE OF "THE AMERICAN LEGION MAGAZINE" (which I then took and adapted from the 11/30/08 GAM)
Best wishes for an environmentally conscious, socially responsible, low-stress, non-addictive, gender-neutral, winter solstice holiday, practiced within the most joyous traditions of the religious persuasion of your particular choice, but with respect for the religious persuasion of others who choose to practice their own religion, as well as those who choose not to practice any religion at all. Additionally, a fiscally successful, personally fulfilling and medically uncomplicated recognition of the generally accepted calendar year of 2017, but not without due respect for the calendars of choice of other cultures, whose contributions have helped make our society great, without regard to race, creed, color, religion or sexual orientation.
(Disclaimer: This greeting is subject to clarification or withdrawal. It implies no promise by the wisher to actually implement any of the wishes for her/himself or others, and no responsibility for any unintended emotional stress these greetings may bring to those not caught up in the holiday spirit.)

Peter Ashworth
Cub Reporter
Lisa Faria
GAM Editor