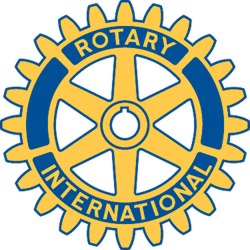 Rotary Club of New Bedford, MA - Weekly GAM
GAM...A nautical term describing the exchange of news between vessels departing from and returning to their ports...
December 7, 2016
This Week
Another full Rotary week was had, which started with our annual Ringing of the Bells for the Salvation Army on Saturday, on December 3rd. It was one of the nicer days weather-wise (depending who you speak to) we have had for this wonderful service event. At least the sun was out and it wasn't raining. A special thank you goes out to the New Bedford Area Chamber of Commerce for covering some of the ringing. We would not have been able to do it without them. Thank you to our "elf" Cheryl that brought warm beverages to the ringers, and well as our own ringers (Stu, Tom, Carol, Lisa, Russ, (former Rotarian) Trine, Joe, John, Marc, Paula, Ellen and Lola)
12/6 - The Board Meeting was held at a new location, the new BayCoast location in the Standard Times Building on Elm Street. Thank you to Paula for hosting us. The Board discussed that it is time to start thinking about scholarships. They are open to any New Bedford resident that is a high school senior. Information will be out in January. Attendance reports indicate we have about 22 active members currently. To that end, the board is looking to host a membership event in March (though we will welcome new members any time). We will count on the entire club for support but if anyone wants to take a direct role in helping to make the membership night happen, please let us know.
12/7 – Our weekly meeting was another Salvation Army event, stacking toys for their giveaway. Always an active, fun time, I think it is the only lunch where we expend more calories than we ingest. Also joining us was Lori Biggs and a contingent from Alferes Realty including Darlene Alferes, Roy Aviles, Frank Faria, Sherry Lopes and Karen Pinto, a special thank you to all of them. Together we made a team of toy movers that would have given Santa's elves a run for their money. And we were almost as cute.
VISITORS AND GUESTS: At Ringing of the Bells – Rick Kidder, Ian Abreau and Kelly Munroe of the New Bedford Area Chamber of Commerce. Former Rotarian Trine Erichsen.
At Lunch – Lori Biggs,Team Alferes Realty Darlene Alferes, Roy Aviles, Frank Faria, Sherry Lopes and Karen Pinto.
Next Week
December 14th – Wrapping Gifts for the Bridge Home (Wamsutta Club) – Another working lunch where we will need as much help as possible. It will be followed by distributing the gifts at the Bridge Home. Please try to join us for a very touching time there. I'm sure you'll have a "Rotary moment".
- Also Cyndi Marland will be at lunch to tell us about the Dartmouth Club's upcoming trip to Cuba.
Upcoming events:
December 10th – Ringing of the Bells Fairhaven – The Fairhaven Club will be at the Fairhaven Walmart. Go by and support them.
December 21st – Lunch the Wamsutta Club. Program to be announced.
December 28th – NO MEETING
January 3rd – Monthly Board Meeting at 5:00pm. Location TBA.
January 4th – Yankee Swap. At the Wamsutta Club during our regular lunch. Rules to follow. Re-gifting a must!!
Odds and Ends
Reminder, President Russ is looking for a new webmaster for our club's website. Please let him know if you can help.
As former GAM editor would say, this humble GAM editor is looking for someone to take over the GAM. Please contact me if you are interested.
The Dartmouth Club is putting together a trip to Cuba and looking for other Rotarians to join them. Contact Cyndi Marland from the Dartmouth Club at cmarland@town.dartmouth.ma.us for details.
The Greater New Bedford Marine Corp League is looking for locations to place their Toys for Tots collection boxes. If you are able to support one at your work location, please contact Brian Fernandes at 774-930-4436
One More Thing – An Orren Classic
A small child asked his mother, "Mummy, how do lions make babies?"
"Good gracious child," replied the mother, "how should I know? Your father's a Rotarian."
Peter Ashworth
GAM Editor