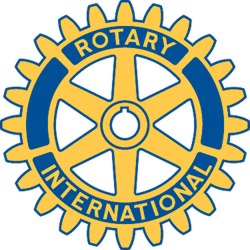 Rotary Club of New Bedford, MA - Weekly GAM
GAM...A nautical term describing the exchange of news between vessels departing from and returning to their ports...
November 30, 2016
This Week
This week started with our 12th Annual Breakfast with Santa on Sunday, November 27th. A big thanks to Marc Shpritzer and Michelle Lapalme for organizing this great event, as well as Tara Pacheco for hosting it at her YMCA. Over 70 people attended, ate, made crafts and got a first crack at getting on the good list with Santa. A special thank you to Lori Biggs for once again heading up the crafts. Also, the big guy in red was a big hit and a special thanks to William Ashworth for putting us "in touch" with him. And we can't forget the Rotarians that worked the event as well (Lisa Faria, Carole Johnson, Cheryl Barrett, Joe Andrade, Peter Ashworth and of course Lola). Marc received a call from Tony Monaghan, Operations Manager of Mercy Meals and More. He thanked the Rotary Club for the food we donated after our Breakfast Event and he said all the people showing up for breakfast loved the food and were very appreciative. Thank you all.
Then we had our monthly social at Fay's Restaurant, a Rotafest participating restaurant on November 30th. It was an intimate gathering by their fireplace. The down side was everyone's cholesterol jumped a few points, but still a fun evening.
VISITORS AND GUESTS: At Breakfast with Santa - Lori Biggs – Exceptional Craft Lady, Santa, Frank Faria – Super server and spouse of Lisa Faria, Lola
At the evening social – Frank Faria – spouse of Lisa Faria
Next Week
December 7th – MILLION DOLLAR MEAL – You will have to pay even if you don't attend - This week's meeting will be held at Salvation Army for gift distribution. We need as many people as possible to get the job done. Please RSVP with President Russell if you have not already.
Upcoming events:
December 3rd – Ringing of the Bells – try to stop by and support the kettles if you are not ringing. We will be at Stop and Shop on Dartmouth Street and Shaw's on State Road from 9 to 1. The Dartmouth Club will be at Stop and Shop on Faunce Corner Road from 9 to 3.
December 6th – Monthly Board Meeting at 5:00pm
December 10th – Ringing of the Bells Fairhaven – The Fairhaven Club will be at the Fairhaven Walmart. Go by and support them.
December 14th – Wrapping Gifts for the Bridge Home (Wamsutta Club) – Another working lunch where we will need as much help as possible. It will be followed by distributing the gifts at the Bridge Home. Please try to join us for a very touching time there. I'm sure you'll have a "Rotary moment".
December 21st – Lunch at the Wamsutta Club. Program to be announced
December 28th – NO MEETING
January 4th – Yankee Swap. At the Wamsutta Club during our regular lunch. Rules to follow. Re-gifting a must!!
January 10th – Monthly Board Meeting at 5:00pm MOVED BECAUSE OF THE HOLIDAY
Odds and Ends
Reminder, President Russ is looking for a new webmaster for our club's website. Please let him know if you can help.
The Dartmouth Club is putting together a trip to Cuba and looking for other Rotarians to join them. Contact Cyndi Marland from the Dartmouth Club at cmarland@town.dartmouth.ma.us for details.
The Greater New Bedford Marine Corp League is looking for locations to place their Toys for Tots collection boxes. If you are able to support one at your work location, please contact Brian Fernandes at 774-930-4436
One More Thing – An Orren Classic
The punch line from last week:
Prospect: "Good heavens! Imagine showing us such a place! What a neighborhood!!"
Rental agent: "Quite so. But there are advantages. The rent is cheap, and you can always tell which way the wind is blowing."

Peter Ashworth
GAM Editor