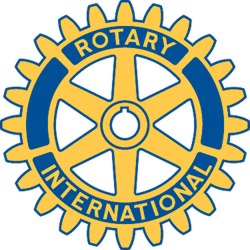 Rotary Club of New Bedford, MA - Weekly GAM
GAM...A nautical term describing the exchange of news between vessels departing from and returning to their ports...
November 13, 2016
This Week
This week's speaker was the Rev. Christopher R. Morck, the rector of Grace Episcopal Church, invited by Carol and Jerry. He reminded us that there is a right way to volunteer to help people. First it start by knowing we all have needs, whether this is as simple as needing a meal or getting your clothing cleaned or other challenges of financial, social or mental issues. He illustrated his point by saying how the youth in his church through their outreach projects on Native American reservations has an effect not at the reservation but with the kids doing the work as well. This has tied in nicely with this being Rotary Foundation month and the good the Rotary Foundation has been doing in the world for 100 years.
Odds and Ends- Ron Melbourne has stepped down as Club Webmaster as well as leaving the club due to an upcoming move out of the area. Please wish Ron well in his future endeavors.

On a related note, President Russ is looking for a new webmaster. Please let him know if you can help.
Also, the Dartmouth Club is putting together a trip to Cuba and looking for other Rotarians to join them. Contact President Russ for details.
Visitors - The Rev. Christopher R. Morck – Rector of Grace Episcopal Church
Upcoming Events - ROTARY FOUNDATION CENTENNIAL DINNER ON THURSDAY, NOVEMBER 17. (aka Paul Harris Dinner)
"This is shaping up to be a great evening for District 7950. David Forward will
be our Keynote Speaker that evening. He has authored the new book
"Doing Good in the World". The history of the Rotary Foundation. He is
a wonderful story teller with a great English accent. Very easy to listen to.
Let us make this a great event to remember for the next 100 years!!"
Contact President Russ soon if you would like to attend
Breakfast with Santa - November 27 – NB YMCA- 9:00 am - Marc is still looking for people to sell sponsorships and ads. Also, he will need people to help set up and run it the day of the event.
Evening Social – Save the Date –November 3Oth at 5:00pm
Ringing of the Bells – December 3 – Peter is still looking for a few ringers. Thank you to the New Bedford Area Chamber of Commerce for having their staff join us to fill some spot
Next Week - DAN KING, Farmer - YMCA Dartmouth, Sustainable Farming
One More Thing (an Orren classic)
First student - "Great Scott! I've forgotten who wrote 'Ivanhoe'."
Second student - "I'll tell you if you can tell me who the dickens wrote 'The Tale of Two Cities'."
Peter Ashworth
GAM Editor