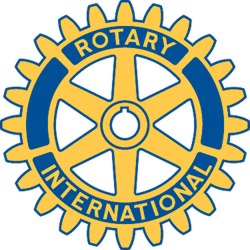 Rotary Club of New Bedford, MA - Weekly GAM
GAM...A nautical term describing the exchange of news between vessels departing from and returning to their ports...
September 22, 2015
This Week
Well this was Alan's last meeting as a Rotarian and it was a bitter sweet meeting. As usual Alan had a great presentation with lots of pictures from his childhood right through adulthood. So far he has lived a pretty fascinating life and does have quite a few crazy stories. There were a lot of laughs and big smiles on everyone's face. Alan has been a Rotarian since 1990 and has always been very involved with Rotary. He was a guest speaker at his first meeting with Rotary and I guess they could never get rid of him after that. He said he has enjoyed every minute of it which somehow I do not doubt. Alan's proudest thing with Rotary was when he had invited all of the Bridge Home children and staff out to his home for a cookout. He enjoyed watching all of the kids that were placed in the home at that time laughing and having lots of fun for the day. Also, another accomplishment he is proud of is the building of Bridge Home Playground Set. Alan spearheaded this project and made it a huge success. There are too many great things to say about Alan but one thing we can say it is a great loss to lose such a dedicated and great person from our club. We not only lost Alan but we lost his better half Joy who was also actively involved with the club. She attended meetings on a regular basis and whenever we had an event Joy was always there to give us a helping hand. We would like to wish them well and they will be missed greatly. We were warned though he will be back visiting us some day. Best of Luck!!!
VISITORS AND GUESTS: Elise Korejwa – Senior Research Associate at UMASS Dartmouth, Cheri Moorehouse – Doctors Express, Karen Oliveira and Charlie Barrett – Rotary Photographer and Cheryl's better half
Upcoming events:
September 30th – This week's meeting will be held at The Wamsutta Club. Speaker - TBD
Next Week
September 23rd – This week's meeting will be held at The Wamsutta Club. Our guest speaker is Tom Butero a newly retired, former executive of a social service agency. His topic will be "the top ten things supervisors should never say and the top ten things they should try to say."
One More Thing
"All the problems of the world could be settled easily if men were only willing to think."
– Thomas J. Watson Former President of IBM
Lisa Faria
GAM Editor