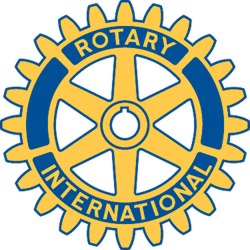 Rotary Club of New Bedford, MA - Weekly GAM
GAM...A nautical term describing the exchange of news between vessels departing from and returning to their ports...
September 12, 2015
This Week
What a great turnout of Rotarians and guests. We did have one problem. One Rotarian who I guess because he is leaving the club feels that he can show up late and disrupt our meeting. I will not mention any names but his last meeting is Wednesday September 16th. This week's meeting was at The Wamsutta Club and our guest speaker was Mayoral Candidate Maria Giesta. Maria has a very impressive background. She was born in the Azores and immigrated to the United States in 1966 and settled in New Bedford. She graduated from New Bedford High School and received a degree in Political Science from Southeastern Massachusetts University (SMU). After graduation she worked as a staff assistant for John Kerry and ultimately became his Assistant Scheduler and Special Assistant. She was Barney Frank's Scheduler and Office Manager. She became his Executive Assistant, Deputy Chief of Staff and then she became his top aide, Chief of Staff. She has since retired from federal service once Congressman Frank retired. She is currently CEO of a government affairs company in New Bedford, Ma and Washington DC, Giesta Racalto, LLC and resides in New Bedford, Ma. She is very passionate when she speaks about New Bedford and the potential that New Bedford has. She loves New Bedford and wants to give back to the community. She is sad with what is going on in the school system and feels that the teachers are being attacked. Something needs to be done about crime in the city. She would like to beautify the city and work on cleaning up the abandoned buildings. She wants to hire a grant writer so she can work on getting the funds that are available to help with the projects.
VISITORS AND GUESTS: Mayoral Candidate, Maria Giesta, Campaign Manager, Stephanie Giesta, Robert Richard, visiting Fall River Rotarian, Carmen Aguilar, Bristol Community College, Dr. James Daniel, Director of Campus Operations at BCC, Karen Varieur, Maria Martins, Mason Almeida, Andy Barrel, Tammy Luce (Cheryl's sister), reporter from Standard Times, Mike Lawrence
Upcoming events:
September 12th – Last bash at The Swizzle Stix Lounge 6:00 - ?
September 13th – The Schwartz Center Walk. If anyone would like to support our own Rotarian Carole and Lola here is the link below:
http://www.schwartzcenterwalk.org/faf/donorReg/donorPledge.asp?ievent=1124722&supid=389562962
September 23rd – This week's meeting will be held at The Wamsutta Club. Our guest speaker is Tom Butero a newly retired, former executive of a social service agency. His topic will be "the top ten things supervisors should never say and the top ten things they should try to say."
September 30th – This week's meeting will be held at The Wamsutta Club. Speaker - TBD
Next Week
September 16th – This week's meeting will be held at The Wamsutta Club and this will be Alan's last meeting. YIPPEE!!! I am not sure what is in store for all of us but Alan told Linda to be very afraid. Just thought I would pass this along so everyone can be prepared.
One More Thing
The human brain starts working the moment you are born and never stops until you stand up to speak in public. – George Jessel (that's what I'm talking about Alan and you think it's just me)
Lisa Faria
GAM Editor