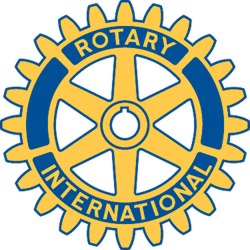 Rotary Club of New Bedford, MA - Weekly GAM
GAM...A nautical term describing the exchange of news between vessels departing from and returning to their ports...
JULY 4, 2015
This Week
What a great turnout for our first meeting with our newly elected President Linda Silveira. Linda thanked Alan for all his help with the planning and hosting of this event. She is honored to lead us as new incoming President and looks forward to a new year. There were lots of laughs when Alan presented Linda with a plaque which stated, "Being a crabby b_ tch is part of my charm."
Our own Rotarian Thomas Riley was our speaker. Tom is Executive Director and founder of The Better Community Living. The Better Community Living is a not-for-profit agency and was founded in 1986. They provide services to adults and children with disabilities. They make improvements in the community and in people's lives. They improve the overall human connection and replace some of the disconnect. They seem to have an environment not just there for the job but because of friends and family there. Tom had some emotional stories over the years. There is a short video on their website www.bettercommunity.com with our own Tom Riley cameo explaining some of things that The Better Community Living does. Also, Seaside Sweet Temptations is a wonderful annual fundraising event for The Better Community Living. The event is Thursday, August 13th 2015 5:00pm-9:00pm at The Seaport Inn and Marina – 110 Middle St, Fairhaven, Ma. There will be local fare, wine tastings and auction items to benefit The Better Community Living. Tickets are $50.00/guest or sponsorships are available. If you would like additional information Tom Riley will be able to assist you.
HAPPY 4th OF JULY TO ALL!!!
VISITORS AND GUESTS – Joy Freitas and Dr. S.A. Kumar
Next Week
July 8th – This week's meeting will be held at The Wamsutta Club and our speaker will be our own Rotarian Joseph Michaud
Odds & Ends
July 15th – meeting will be an evening combined with Dartmouth, Fairhaven and New Bedford Rotary Club's. The meeting will be 6:00pm at The Fairhaven Senior Center – 229 Huttleston Ave, Fairhaven, Ma and will be catered by Tropical Smoothie Café.
July 22nd - meeting will be held at The Wamsutta Club. This meeting will be an evening sit down Scholarship dinner at 5:30pm.
July 29th – meeting will be held at The Wamsutta Club which will be back at our regular meeting time 12:15. District Governor Kristine David will be visiting our club this week.
One More Thing
On New Year's Eve, a woman stood up at a local pub and said it was time to get ready for the midnight countdown. At the stroke of midnight, she wanted every husband to stand next to the one person who made his life worth living. As the clock struck midnight, the bartender was almost crushed to death.
GAM Editor
Lisa Faria