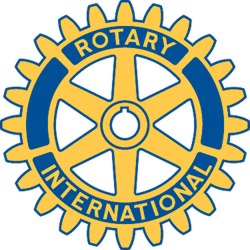 Rotary Club of New Bedford, MA - Weekly GAM
GAM...A nautical term describing the exchange of news between vessels departing from and returning to their ports...
March 20, 2015
This Week
We had another great turnout this week. It was great to see Kristen Morgan again, she was visiting and informed us that she is back in the area for work and interested in rejoining us. This got an enthusiastic round of applause. Welcome back Kristen. Our guest speakers representing the Kennedy Donovan Center "KDC" were Anne Buono, Vice President of Development and Public Relations; and Richard Harwood, Board Member of the KDC and also a Rotarian from the Attleboro Club. Their presentation included information on the mission of the KDC, which included: the service area and locations, programs being offered, plans for growth and improvement, and financial goals. Did you know that the KDC has three locations in New Bedford? They offer services to a diverse population of our community including Early Intervention, Day Habilitation, Special Education, Foster Care, Residential and Adult Support Services, and Healthy Family Services. Their services cover infants to elderly. Having recently purchased a new facility on County Street that they are calling their South Campus (formerly Ahavath Achim synagogue/Grinnell Jr. mansion), the KDC is looking to raise $500,000 in private funding for the renovations to this facility. They are holding their Annual Spring Celebration dinner and dance, fundraiser in April – Saturday, April 18th at Lombardo's. Time is 6:00-11:00 pm. For more information call 508-772-1216.
VISITORS AND GUESTS: Kristen Morgan, Anne Buono, Richard Harwood.
Upcoming events:
March 25th – "Rotary After Hours" membership drive night. Wamsutta Club, 5 to 7 pm. Complimentary cocktails and Hors d'oeuvres - this is our end of month meeting. Come join the festivities and meet some potential members.
April 30th - Rotafest wine tasting event will be at The Seaport Inn in Fairhaven, MA. Tickets are being distributed to each member. All are asked to sell, sell and sell those tickets.
Next Week
March 25th – Monthly evening meeting and membership drive will be held at The Wamsutta Club.
March 31st – April Board of Directors Meeting – schedule change due to a conflict.
April 1st – Salvation Army Recognition Luncheon
One More Thing
If you're being chased by a police dog, try not to go through a tunnel, then on to a little seesaw, then jump through a hoop of fire. They're trained for that!
Cheryl Barrett filling in for Lisa Faria
GAM Editor?