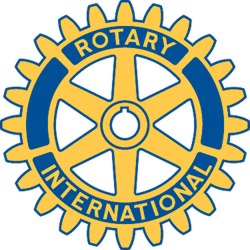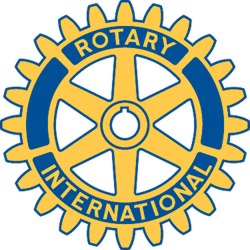 Rotary Club of New Bedford, MA - Weekly GAM
GAM...A nautical term describing the exchange of news between vessels departing and returning from its port...
2008
This Week
Today's meeting was a work-party at MO Life's Food Pantry on Pleasant Street in Downtown New Bedford, located in the lower level of the former New Bedford Hotel. Almost twenty Rotarians took advantage of their childhood experiences of playing "store", helping the Food Pantry staff by opening dozens of cases of foodstuffs and re-stocking their shelves... sort of "unpackin & stackin" if you will. This was a good turn-out considering that another almost twenty of our "regulars" were AWOL. MO Life is a project of DG Nominee Charlie Murphy, and serves approximately 300 New Bedford area residents each month. This was also a Million-Dollar Meal, with delicious pizza a-plenty provided by Riccardi's. Those not in attendance will be receiving a friendly reminder of $1,000,000.00-meal responsibility from Holly W.
Coming Attractions
Tuesday, July 29th is NB Rotary trip to the PawSox game. Area youth organizations are invited to make this event available to their members as our part of Rotary International "Make Dreams Real" campaign. Sarah needs to know ASAP all who are interested in joining our members on the bus, or on their own, so tickets to the game can be ordered.
Wednesday, July 30th is our annual scholarship luncheon. Kathy Castro needs a head count in advance since this will be a "sit-down" event.
Saturday, August 9th will be "District 7950 Fun Day" at the Barnstable County Fairgrounds down on the Cape. This will be an afternoon of food and fun for the entire family. More on this as the date draws nearer, but get it on your calendar now.
Next Week
Our speaker will be a representative of Special Olympics, an annual competition for young folks with disabilities vying for medals in several Olympic events.
Odds & Ends
MAKE UP A MEETING - Rotarians who miss their home Club meetings are encouraged to add to their Rotary experience by visiting another Club in their District, or for that matter, almost anywhere in the world. New Bedford Rotarians have several convenient "Make-Up" locations options with Fairhaven meeting at noon on Tuesday, Fall River meeting at noon on Thursday, and Dartmouth meeting on Thursday evening. Simply show up, tell them you are a New Bedford Rotarian, and enjoy the fellowship and variety of becoming acquainted with one of your neighboring Rotary Clubs.
And Finally
Since I can't see writing a weekly newsletter without a touch of humor my dissertation will end each week with a quip, quote or query from my 1939 "10,000 Jokes, Toasts and Stories" book. Some, may be even mildly humorous. So - "This is PROFESSOR Brown talking", said the phone caller. "No - not Bond - Brown! B as in Brontosaurus, R as in Rizophorace, O as in Ophisthotelae, W as in Willingbalya, and N as in Nucifraga - Brown. Do you comprehend?"
P.S. The GAM wishes to publicly apologize to a great Rotarian, Alan, for offending him in last week's issue...... geeze, what a sissy!
Orren Robbins
GAM Editor