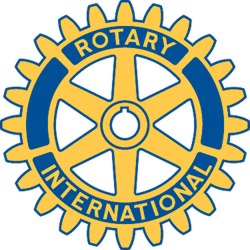 Rotary Club of New Bedford, MA - Weekly GAM
GAM...A nautical term describing the exchange of news between vessels departing from and returning to their ports...
March 8, 2015
This Week
We had a fantastic turn out this week with 19 Rotarians. Hopefully, this is a sign that spring is right around the corner and we are starting to come out of hibernation. We did not have a guest speaker this week but President Cheryl did go over some mid-year meeting information she wanted to share with the club. Public Image was a huge focus at the meeting. We need to tell The Rotary Story which we can start at The Membership Drive. We need to work on how we promote the club which she came up with a few suggestions. Put a press release in the paper when we induct a new member or when we do a community service. Also, it was suggested that we try to reach out to MOLIFE for one of our community projects which Carole was going to call. Regretfully Kendra Strangis had to resign from our club due to a change of jobs. On a good note Carl Soares was finally approved to be re-inducted back into our club and Orren Robbins was approved as an Honorary Rotarian at our monthly Board Meeting.
Upcoming events:
March 18th – Tom Riley from Better Community Living has announced that they will be having Dining for a Cause at Pub 99 in Fairhaven that evening. He will bring in some flyers at our next meeting for anyone that is interested.
April 1st. – Salvation Army Luncheon
April 30th - Rotafest wine tasting event will be at The Seaport Inn in Fairhaven, Ma. Tickets are being distributed to each member. All are asked to sell, sell and sell those tickets.
Next Week
March 11th – our weekly meeting will be held at The Wamsutta Club. Our guest speaker is Heidi Eastman from the Interact Club. Also, we will be re-inducting Carl Soares back into the club.
March 18th – our weekly meeting will be held at The Wamsutta Club. Our guest speaker is Anne Boneau from Kennedy Donovan Center. She will be doing a presentation on what they are doing for individuals and families in the community. Also, Rich Howard will be her guest who is a Rotarian.
March 25th – Membership Drive at The Wamsutta Club
One More Thing
A husband took his wife dancing. They saw a man out on the floor living it up – breakdancing, moonwalking, the works. "See that guy?" the wife asked. "He proposed to me 25 years ago, but I turned him down." The husband replied, "Looks like he's still celebrating."
Lisa Faria
GAM Editor