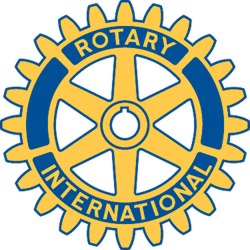 Rotary Club of New Bedford, MA - Weekly GAM
GAM...A nautical term describing the exchange of news between vessels departing from and returning to their ports...
February 16, 2015
This Week
We had a very nice turnout this week considering who our guest speaker was. We had 8 Rotarian's and 2 guests. It is always a pleasure and inspiration when I hear Carole speak. With the many obstacles she has had in her life and she still has such a positive attitude. She is always looking to help the less fortunate instead of looking the other way. Carole is on the Paul Harris Foundation committee and is trying to encourage all to participate in donating to the foundation. She wants everyone to think how they can give whether it can be just donating the change you save or doing a weekly contribution. Any donation can help so many people. There are several ways to donate. You have the option to do a weekly contribution or yearly. You can decide how much and how often. There will be additional information provided in our future meetings. Tom Riley and Kathy Castro donate $2.00 per week. It's very simple and you do not even notice it coming out of your pay check each week once it starts.
Kristine David our visiting District Governor Elect presented Carole with the 1st pin she has given out for her year "be a gift to the world" and she gave it to Carole because she is a gift to this world.
VISITORS AND GUESTS: District Governor Elect Kristine David from Rhode Island Rotary and Carl Soares (former Rotarian who will be sworn in March)
Upcoming events:
February 25th – Salvation Army Luncheon
February 25th – Membership Drive at The Wamsutta Club
April 30th - Rotafest wine tasting event will be at The Seaport Inn in Fairhaven, Ma. Tickets are being distributed to each member.
Next Week
February 18th – This week's meeting will be held at The Wamsutta Club and our guest speaker will be Sheila McCarthy from Bulfinch Group
One More Thing
When my boss asked me who is the stupid one, me or him? I told him everyone knows he doesn't hire stupid people. - Anonymous
Lisa Faria
GAM Editor