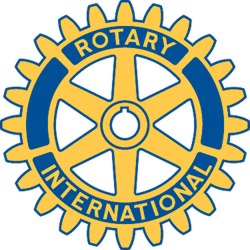 Rotary Club of New Bedford, MA - Weekly GAM
GAM...A nautical term describing the exchange of news between vessels departing from and returning to their ports...
October 27, 2014
This Week
What a great joint Area 7 meeting we had this week at White's of Westport. We had a short presentation from Mission Wolf. We were introduced to three most beautiful wolves named Abraham, Magpie & Zeab. They are on a five state tour through Massachusetts, New York, New Hampshire, Vermont and Kansas. They are traveling in an old Marine Bus. What a sight to see. It was very interesting the discussion on how wolves are not out to hurt people. I would love to see a longer presentation from them maybe next year. If you want to see a little more information on Mission Wolf go to: www.MissionWolf.org
Our guest speakers were Paulette Boudrot and Terri Fitch who spoke about Rotary International Foundation and why we should donate. Forty eight percent of Rotarians donate to the Foundation. For every dollar that is donated fifty cents goes back to district. The funds can be used for local or international projects.
District 7950 is holding a Paul Harris Foundation Dinner on November 13th at Venus De Milo.
Cocktails will be from 5:30-6:45 and dinner will be served at 7:00. As always spouses, family and friends are invited. There will be great speakers and should be a wonderful event.
Rotary Night Providence Bruins – November 7th at 7:05pm. We have 2 vans for kids if anyone knows of a group that would like to go. Please contact Pam Maloney @ 774- 644-2571 or pamalot1@gmail.com
Community Service Projects:
Bridge Home Project will probably be a spring project. They will be moving into their new home on November 1st

Breakfast with Santa has been set for November 30th

Distribution of Turkeys with M.O. Life – more information to follow

Salvation Army Ringing of the Bells will be in December
Next Week
October 29th – this will be our Social Evening Meeting. Location – TBA
One More Thing
Insanity is hereditary. You get it from your children. – Sam Levonson
GAM Editor
Lisa Faria