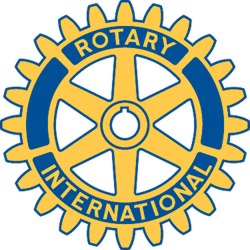 Rotary Club of New Bedford, MA - Weekly GAM
GAM...A nautical term describing the exchange of news between vessels departing from and returning to their ports...
October 12, 2014
This Week
This week's speaker was Robert H. Steele author of "The Curse: Big Time Gambling's Seduction of a Small New England Town." This was a very interesting discussion because I myself enjoy gambling only penny machines but I can actually see how people can get addicted to this especially if they are gambling high monies. He explained the history of casino's, the Indian Tribes and how the casinos have grown over the years. This is America's newest past time even bigger than sports. They just legalized on-line gambling in New Jersey and Nevada. It actually makes sense when he said it does not help the local merchants and community. He explained how the local businesses see no benefit. Everyone goes directly to the casino, spends the day there, eats and they head directly home. They do not stop anywhere to eat, shop or even gas up their vehicles because they have already gassed up at the casino before they left. This is a serious problem and needs to be addressed in this area.
VISITORS AND GUESTS: Our guest speaker Robert H. Steele, Reverend David Lima, Charlie Barret and visiting Rotarian from Sweden Lennert Hager.
District 7950 is holding a Paul Harris Foundation Dinner on November 13th at Venus De Milo.
Cocktails will be from 5:30-6:45 and dinner will be served at 7:00. There will be great speakers and should be a wonderful event.
Marc Shpritzer – discussed Breakfast with Santa. We need everyone to help out in selling the placemat ads. The sponsorship forms were handed out at the meeting and I did email them to everyone in case you were not able to make the meeting.
Community Service Projects:
Bridge Home Project will probably be a spring project. They will be moving into their new home on November 1st

Breakfast with Santa has been set for November 30th

Distribution of Turkeys with M.O. Life – more information to follow

Salvation Army Ringing of the Bells will be in December
Next Week
October 15th – there will be no weekly meeting this week. In place of our weekly meeting we will have a booth at The New Bedford Chamber Business Expo at White's of Westport. If you are working the booth you may want to stop by and sign in as this will go towards your attendance.
Odds & Ends
October 23rd - this week's meeting will be held on Thursday instead of Wednesday at White's of Westport at the same time as our regular meeting 12:15. Area 7 is holding a joint club meeting. Our speakers will be Paulette Boudrot and Terri Fitch who will talk about the Foundation and its work around the world. If you have not yet responded to my email last week please let me know if you will be able to attend or not.
October 29th – this will be our Social Evening Meeting. Location - TBD
One More Thing
God gave us our relatives; thank God we can choose our friends. – Ethel Mumford
Lisa Faria
GAM Editor