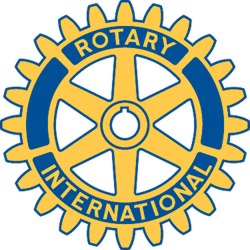 Rotary Club of New Bedford, MA - Weekly GAM
GAM...A nautical term describing the exchange of news between vessels departing from and returning to their ports...
September 13, 2014
This Week
This week's meeting was held at The Wamsutta Club. Our guest Charlie Barrett was in attendance taking pictures of the event. As always we appreciate Charlie's efforts. We inducted three new members Joseph Andrade, Peter Ashworth and Kendra Strangis. It is a pleasure and honor to have these three members be part of our club. We are looking forward to their involvement and input in the club. Orren as always did a great job handling the induction. Good job Orren.
Kathy Castro was presented with two pins. A membership pin and a Paul Harris pin.
Congratulations Kathy!
Schwartz Center Walkathon – is this Sunday September 14th. We will be supporting Carole's team. We were given a challenge from Carole. If we raised $300.00 of donations for Carole's team she would walk ¼ mile in the walkathon. Alan of course is very competitive and raised the goal to $500.00. The donation sheet was passed around at this week's meeting and we were up to $400.00 when the meeting ended on Wednesday. Anyone who missed the meeting and would like to help us achieve our goal with a donation please let Cheryl, Carole or myself know. Let's make every effort to reach our goal to make Carole walk the ¼ mile, instead of watching her get pushed in a wheelchair like a queen throughout the whole walkathon.
Next Week
September 17th – Meeting will be held at The Wamsutta Club and our guest speaker will be Patricia Saint Aubin who is running for State Auditor.
Odds & Ends
September 24th – This week's meeting will be our Social Evening Meeting which will be held at President Cheryl and Charlie's home
One More Thing
Q: What can a husband do when his wife is going through menopause?
A: Keep busy. If he's handy with tools, he can finish the basement. Then when he's finished, he'll have a place to live.
Lisa Faria
GAM Editor