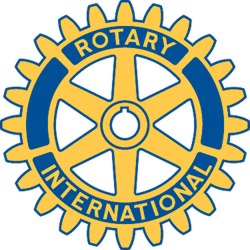 Rotary Club of New Bedford, MA - Weekly GAM
GAM...A nautical term describing the exchange of news between vessels departing from and returning to their ports...
August 29, 2014
This Week
This week's weeks meeting was our social meeting which was held at First Citizens' Federal Credit Union. The branch was pretty filled with business professionals networking. Peter Ashworth, Cheryl Barrett, Nancy Dupont, Lisa Faria, Alan Freitas, Ron Melbourne, Roy Nascimento, Tara Pacheco, Linda Silveira and Kendra Strangis were amongst the crowd along with guest Charlie Barrett, Frank Faria, Joy Freitas and Joy's aunt. Our own fellow Rotarian Tara Pacheco won the door prize.
CONGRATULATIONS TARA!!
A big thank you to Alan and Joy for opening up their home to the Bridge Home staff and children last Saturday. The weather was absolutely beautiful. It was great to see the children having such a fun time there and just being kids.
The New Bedford High School's Community Project: Mark Treadup volunteered all 3 days helping out at the school weeding and painting. Let's give Mark a hand for his hard work this weekend. If you volunteered anytime for this project remember this is a makeup.
Schwartz Center Walkathon - Sunday September 14th. Registration will begin @ 8:30am. Additional information will be provided. This will be one of our Community Project Service's. I walked for the first time last year and it was a fun event. What a great turnout of people who walked and lots of fun.
New Bedford Chamber of Commerce Business Expo – The Board has agreed to purchase space at the Business Expo on Wednesday October 15th @ White's of Westport. We will be looking for volunteers to man the booth for this event. More information to follow.
Next Week
September 3rd – Meeting will be back at The Wamsutta Club and our own Rotarian Kendra Strangis has volunteered to do her classification speech. (Thank you Kendra)
Odds & Ends
September 2nd – Board Meeting will be held at The Hathaway Manor at 5:00. Everyone is invited to attend this will count as a make up
September 10th – Meeting will be held at The Wamsutta Club and we will be inducting our 2 new members Kendra Strangis and Peter Ashworth.
September 17th – Meeting will be held at The Wamsutta Club and our guest speaker will be Patricia Saint Aubin who is running for State Auditor.
One More Thing
My therapist told me the way to achieve true inner piece is to finish what I start. So far I've finished two bags of M&Ms and a chocolate cake. I feel better already.
Lisa Faria
GAM Editor